Guess Which Vikings Rookie Will Make an Instant Impact?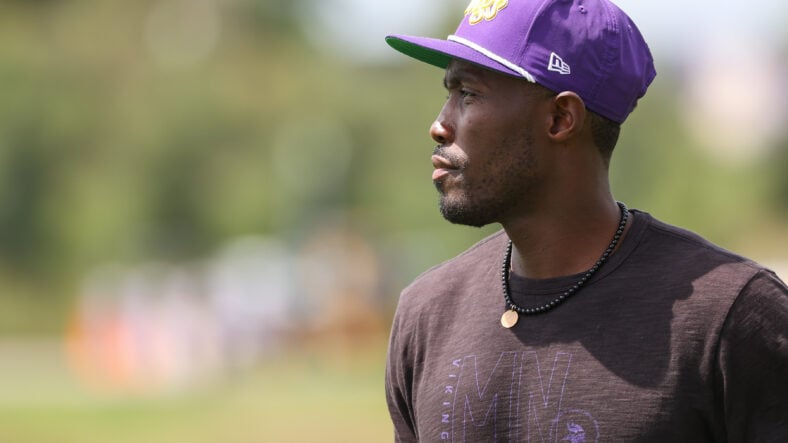 Jul 27, 2022; Eagan, MN, USA; Minnesota Vikings general manager Kwesi Adofo-Mensah looks on at TCO Performance Center. Mandatory Credit: Matt Krohn-USA TODAY Sports.
General manager Kwesi Adofo-Mensah added six players to his Vikings team in the draft, his second one in charge of the organization. He picked some intriguing prospects. Some of them will have bigger roles than others. However, besides QB Jaren Hall, they all have a chance to see the field in their debut seasons.
On defense, Jaquelin Roy, Jay Ward, and Mekhi Blackmon can all help the team with the much-needed defensive turnaround. DeWayne McBride, a running back, is talented enough to push the guys ahead of him on the depth chart for some carries.
Guess Which Vikings Rookie Will Make an Instant Impact
Even though all those guys have a shot at making an impact, the top rookie is always expected to make the most significant impact, and wide receiver Jordan Addison is no different.
In a writeup of Chris Trapasso from CBSSports, Addison ranks 6th among the top 10 instant impact rookies in the NFL.
Addison was my WR5. I had a grade on him in the 40s. But I acknowledged that if he landed with a team that wouldn't ask him to be the alpha receiver instantly, Addison could have a Calvin Ridley-like start to his NFL career. And, yeah, Justin Jefferson might be the most alpha wideout in football, so Addison will take a backseat to him early which will lead to plenty of one-on-one matchups and limited safeties over the top.

Ideal situation for Addison to thrive. Remember, Ridley, as the Robin to Julio Jones' Batman, went for 821 yards with 10 touchdowns in his rookie season with the Falcons. Believe it or not, the Vikings attempted the third-most passes in football last year (672!) during the regular season.
Trapasso wasn't the biggest Addison fan pre-draft, but he likes the situation he was put in. Justin Jefferson will get the bulk of the targets and most of the defensive attention. He is the reigning offensive player of the year and is coming off a season in which he led the league in receptions and receiving yards.
The job as his partner in crime was vacant because Adam Thielen departed in the offseason. He signed with the Panthers after Minnesota released him. K.J. Osborn was expected by many to take over before the draft. The Vikings apparently didn't agree with those expectations. He had 655 and 650 receiving yards in the last couple of seasons and scored 12 times. However, he must beat out Addison to win that WR2 job, but that is unlikely considering Addison's talent.
The rookie is considered pro ready. He is a great route runner, racked up a lot of yards in college, and can now feast with Jefferson going up against double-teams all game.
Addison recorded 1,593 receiving yards and 17 touchdowns in his sophomore season. He won the Biletnikoff Award as the nation's best receiver before transferring to USC to play with star QB Caleb Williams under head coach Lincoln Riley. His numbers dropped in a completely different spread offense, but he still had 59 catches for 875 yards and 8 touchdowns in 11 games.
The new Vikings playmaker is an excellent route runner and a smooth mover. Footwork and agility are outstanding. He can play inside and outside, which is perfect for playing alongside Justin Jefferson and K.J. Osborn, who both can do the same. That will give head coach Kevin O'Connell flexibility to draw up every play for every player. He can now hunt mismatches depending on the defensive matchups.
Similar to when Jefferson came out, Addison can immediately run the full route tree and won't need much coaching. He should instantly translate to the NFL game and receive offensive snaps starting in Week 1. Where he needs to improve is his release against press coverage when the cornerback can give him a push and be physical with him. Once he learns how to work around that, he will form a scary duo with Jefferson.
Quarterback Kirk Cousins must be happy. He will have the choice to throw the ball to one of his top receivers or tight ends T.J. Hockenson and Josh Oliver. There's no doubt about it –Addison will be a Week 1 impact player because of his talent alone.
The five players ranked ahead of him on Trapasso's list are Patriots CB Christian Gonzalez, Giants CB Deonte Banks, Lions RB Jaymir Gibbs, Falcons RB Bijan Robinson, and Darnell Wright, OT for the Bears.
---
Janik Eckardt is a football fan who likes numbers and stats. The Vikings became his favorite team despite their quarterback at the time, Christian Ponder. He is a walking soccer encyclopedia, loves watching sitcoms, and Classic rock is his music genre of choice. Follow him on Twitter if you like the Vikings: @JanikEckardt