Vikings Player Calls Coach 'a Gamer'
Aug 14, 2022; Paradise, Nevada, USA; Las Vegas Raiders wide receiver Keelan Cole (84) is defended by Minnesota Vikings cornerback Andrew Booth Jr. (23) in the first half at Allegiant Stadium. Mandatory Credit: Kirby Lee-USA TODAY Sports.
The Vikings organization underwent some big changes in the last few months. Crucial players in recent years, like Adam Thielen and Eric Kendricks, are no longer on the team. Patrick Peterson and Dalvin Tomlinson, two top players in 2022, also moved on.
In addition to new players, the Vikings added a new coach, an overseer for the defense. Former Dolphins head coach Brian Flores took over the struggling defensive unit from Ed Donatell, who was let go after a disastrous playoff loss with abysmal defense against the Giants. The players seem to like Flores.
Vikings Player Calls Coach 'a Gamer'
Donatell's problems are debatable. Didn't his scheme match the players? Were the players simply too slow and, in general, the wrong players for his defense? Was the scheme outdated, a scheme that many teams across the league run?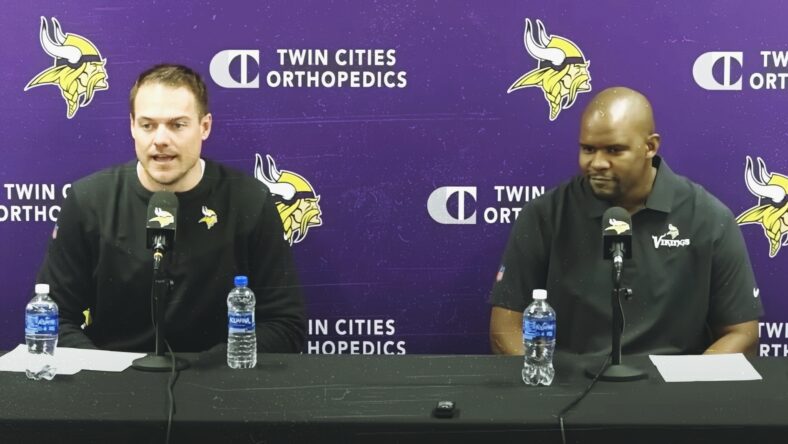 We will never fully answer all those questions, but we can answer some once we see Flores coordinate the defensive unit in the upcoming season. His style of defense, and his scheme, might be a better fit, but we won't know that until we see it in September and beyond.
Cornerback Andrew Booth might play a crucial role in the defensive turnaround. He was asked by reporters about his new coordinator.
Coach (Brian Flores) is a gamer. His defense (has) different schemes, how he can mix it up. He expects all of us to know every position in the back seven because it can change and it changes based on the play call, different variations of what we do. That's what he is expecting out of me, just building my knowledge for the overall game and that mental aspect, growing in that.

CB Andrew Booth
Flores is kind of a gamer in the sense of calling an aggressive defense. He likes to blitz. He wants to blitz to an extent that gives the offense one-on-one matchups across the board, which can be a risk. However, the 2022 Vikings' defense clearly lacked any kind of risk. They died a slow death every week, sitting back in coverage and, while not allowing any big plays because of that coverage, watching opposing quarterbacks slice up the defense one play after another.
Those QBs didn't even have to be any superstars. Guys like Mac Jones and Mike White were good enough to do that and had career games against the purple team.
Blitzing more and playing more man coverage on the outside will, on one hand, add some stress to the secondary and the unproven CB room, but it will also help the guys in coverage because the passer has to get the ball out quickly. Don't expect Flores to do what Donatell did. He will be aggressive. That will work in some instances, and it won't in others, but at the very least, the offenses will get the best Vikings shot.
Booth obviously likes the idea of playing in that defense. He is uber-aggressive himself. Like blitzing, that will sometimes pay off but not so much in other plays. Once he steps onto the field, he can be prone to flags, but his physicality will prevent some completions. One of his specialties is blowing up a screen pass. He is excellent at recognizing the play and then making a hard tackle.
The second-round cornerback of last year's draft was clearly overwhelmed with the NFL in his debut season. Booth struggled heavily when he was on the field and couldn't show any improvements because injuries limited his playtime. At first, he missed time with a hamstring injury in training camp, preseason, and the beginning of the season. Later he missed the second half of the campaign on IR with a meniscus injury. Regardless, he was a second-rounder for a reason. Many even thought he should go in the first.
Booth must earn this year's job against fellow 2022 rookie Akayleb Evans who looked better in his limited snaps. Both young cornerbacks get new competition after the selection of Mekhi Blackmon out of USC in the third round.
Blackmon is another aggressive cornerback, and he was handpicked by Flores, which should give him an edge. Expect the competition to stay open for a while, maybe even in the first weeks of the regular season.
Rookie Jay Ward, a defensive back out of LSU, should be viewed as the favorite to be the slot cornerback. He is as versatile as it gets and can play safety, cornerback, and even as a small linebacker in some packages.
Because Flores wants to confuse the offenses with different and very creative looks, players must know more than only their position, as Booth described. He will be asked to go in the slot. On a different play, he could be asked to blitz. On a third play, the defense rotates, and he might end up as a deep safety. Versatility and aggressiveness are the two keywords you will hear all year long with Flores at the helm.
---
Janik Eckardt is a football fan who likes numbers and stats. The Vikings became his favorite team despite their quarterback at the time, Christian Ponder. He is a walking soccer encyclopedia, loves watching sitcoms, and Classic rock is his music genre of choice. Follow him on Twitter if you like the Vikings: @JanikEckardt