Blitzing Became a Problem against Chargers
Sep 24, 2023; Minneapolis, Minnesota, USA; Los Angeles Chargers quarterback Justin Herbert (10) drops back to pass against the Minnesota Vikings in the third quarter at U.S. Bank Stadium. Mandatory Credit: Brad Rempel-USA TODAY Sports
The Minnesota Vikings came into the contest against the Los Angeles Chargers needing a victory to get in the win column. Not only did they come up short, but the pressure they brought with the blitz was as empty as the result in the win column.
Blitzing Became a Problem against Chargers
Coming into the year, there was a change from Ed Donatell's passive scheme to Brian Flores' more aggressive plan of attack. The hope for Minnesota's defense is that while Flores couldn't overhaul the entire unit, he would be able to coach up the squad and better position them for success. That has happened to a certain degree, but his focal point has been blitzing, leaving plenty to be desired.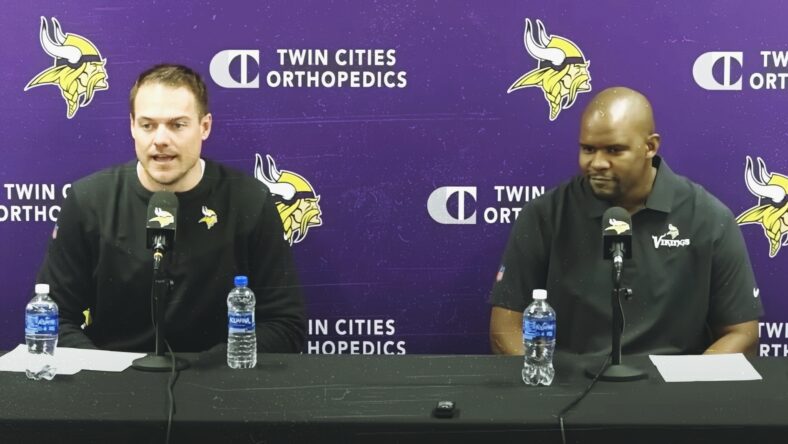 Minnesota has brought pressure at a breakneck pace this season, and it makes sense to provide less coverage time for the secondary, but only if the blitz is effective. On Sunday against the Los Angeles Chargers, nearly every play was a blitz from Flores, and the results weren't good.
As Vikings reporter Kevin Seifert points out succinctly in a follow-up tweet, "We knew that blitzing would be central to Flores' scheme. But at some point it goes beyond preference and makes you wonder if what the internal assessment is of the Vikings' base personnel. Because the blitz was historically ineffective today."
Blitzing makes sense for the Vikings, given their inability to stay with receivers and their overall ineffectiveness from a defensive perspective. The problem is that if you're going to do it often, you must get home. On Sunday, the Vikings recorded just a single sack, three tackles for losses, and five quarterback hits. The pressure they put on Chargers quarterback Justin Herbert was more in theory than actuality.
Despite seeing constant blitzes, Herbert completed 40 of 47 passes for 405 yards and three touchdowns. He found Keenan Allen 18 times for 215 yards. Flores continued to dial up the same pressure, but he could not adjust his defense on the fly, and the Vikings never found a way to stop anything that Los Angeles wanted to do.
Danielle Hunter has been as expected this season, leading the league in sacks and getting to the quarterback. Marcus Davenport has been anything but. The edge rusher expected to slot in for Za'Darius Smith has been non-existent because of an ankle injury. That makes it more difficult for the Vikings to scheme blitz packages, and the interior defensive line is a problem in and of itself.
While Flores certainly brings plenty of pedigree to the table, he can only work with what he has available, and it may be worth adjusting schemes in that sense. Minnesota's defense has looked better, but what happened on Sunday was the definition of insanity. They continued to bring blitz pressure only to watch Herbert carve them up with the same pass catcher play after play.
Although the playoffs are probably out of the window by this point, figuring out a way to make things better going forward is a must.
---
Ted Schwerzler is a blogger from the Twin Cities that is focused on all things Minnesota Twins and Minnesota Vikings. He's active on Twitter and writes weekly for Twins Daily. As a former college athlete and avid sports fan, covering our pro teams with a passion has always seemed like such a natural outlet.