Vikings Could Get Starter Back for Week 4
Dec 10, 2017; Charlotte, NC, USA; Minnesota Vikings fan in the stands at Bank of America Stadium. Mandatory Credit: Bob Donnan-USA TODAY Sports.
On a game-by-game basis, everything is breaking bad for the 2023 Minnesota Vikings.
All the close games the team won in 2022 are now resulting in losses, from a Justin Jefferson endzone fumble to a dropped Akayleb Evans interception that caused a touchdown.
Vikings Could Get Starter Back for Week 4
So, the club will welcome any help it can in the way of positivity, and heading into Week 4, the offensive line might be a bit healthier.
The Athletic's Alec Lewis tweeted Monday, "Vikings HC Kevin O'Connell said he hopes to have center Garrett Bradbury this Sunday against the Panthers."
Bradbury has battled a back injury in the last two weeks (three games) after playing just a few snaps in Week 1 against the Tampa Bay Buccaneers. He dealt with a similar injury last year before rejoining the Vikings in free agency last March.
In relief of Bradbury, Minnesota has turned to veteran reservist commodity Austin Schlottmann, but he's a downgrade from Bradbury. While Bradbury certainly isn't an All-Pro performer, he did improve last year under Kevin O'Connell's first year of tutelage and has also featured supreme run-blocking traits since entering the NFL in 2019.
Now, the Vikings need him back, and that could be on the agenda for Week 4.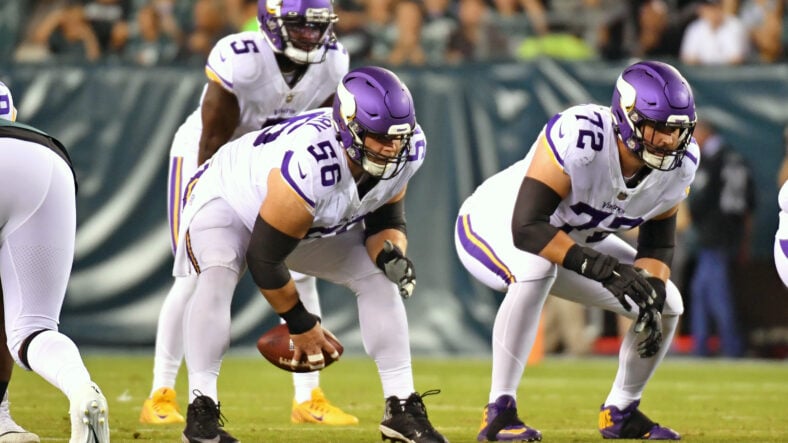 Dating back to last year's playoff loss, Minnesota has dropped four straight games, the most since the end of 2019 (a loss at the San Francisco 49ers) into 2020 (losses to Green Bay, at Indianapolis, versus Tennessee). And if the Vikings lose at Carolina on Sunday, it'll be their first in-season four-game losing streak since 2016.
Thankfully for Bradbury, the Vikings, and Vikings fans' sake, the Panthers aren't a very daunting opponent, owners of an 0-3 record in their own respect. Chicago also owns Carolina's draft pick, so if the losing continues at its current 0-3 rate, the Bears will gain a pretty spiffy draft pick next April — on top of their probably-spiffy organic draft pick.
In Bradbury's first two seasons, 2019 and 2020, he missed zero games and was one of the most durable players in the sport. Since the start of 2021, however, Bradbury has been off the field for 32.4% of all Vikings games due to injury.
The Vikings are early three-point favorites to down the Panthers in Week 4.
If O'Connell spoke too soon, the aforementioned Schlottmann will likely get his 14th career start. Minnesota also signed Dalton Risner, an offensive guard, for interior line depth one week ago.
---
Dustin Baker is a political scientist who graduated from the University of Minnesota in 2007. Subscribe to his daily YouTube Channel, VikesNow. He hosts a podcast with Bryant McKinnie, which airs every Wednesday with Raun Sawh and Sal Spice. His Vikings obsession dates back to 1996. Listed guilty pleasures: Peanut Butter Ice Cream, 'The Sopranos,' Basset Hounds, and The Doors (the band).
All statistics provided by Pro Football Reference / Stathead; all contractual information provided by OverTheCap.com.