The New-Look Vikings Defense
Sep 10, 2023; Minneapolis, Minnesota, USA; Tampa Bay Buccaneers running back Rachaad White (1) is tackled by Minnesota Vikings linebacker Danielle Hunter (99) and defensive end Dean Lowry (94) and linebacker Ivan Pace Jr. (40) as guard Luke Goedeke (67) attempts to block during the second quarter at U.S. Bank Stadium. Mandatory Credit: Jeffrey Becker-USA TODAY Sports.
The Minnesota Vikings defense was right there with the Detroit Lions as one of the worst units in the NFL last season. They needed to fix the unit if they were going to have any hope of competing in 2023, and while an overhaul of personnel wasn't likely, a change in philosophy could work.
The New-Look Vikings Defense
Rather than run it back with Ed Donatell, who likely could've been fired at any point during the 2022 season, Kevin O'Connell turned to defensive guru Brian Flores. The former Miami Dolphins head coach and Bill Belichick discipline brought plenty of respect regarding his abilities to coach a unit. The Vikings are now two weeks into the change, and while the record isn't good, it's clear the defense is different.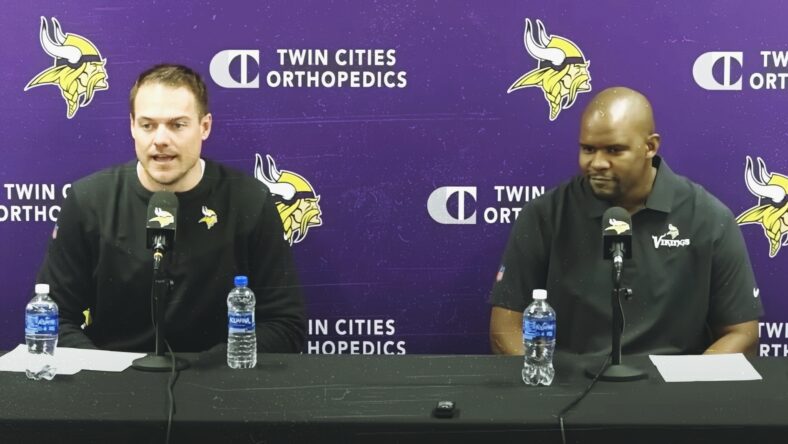 During Week 1 against the Tampa Bay Buccaneers, Minnesota's defensive presence was felt much more in the first half than in the second. Generating pressure and keeping Baker Mayfield on his toes, it appeared that Flores had orchestrated a gameplan to be proud of. The unit lagged in the second half, and the game turned sloppy in most facets, but there was something to work with.
Playing in Philadelphia against a much better Eagles team on a short week, the Vikings were going to be up against it. Ultimately, they lost the game due to self-inflicted wounds in the form of untimely turnovers. The defense looked impressive at times, however, and kept Jalen Hurts relatively under wraps.
What Flores is doing seems relatively straightforward. With a group still leaving plenty to be desired, he's not allowing the opposition time to let plays develop. Blitzing at the highest rate in the NFL, the Vikings defense is going after opposing signal callers, and that could prove even more fruitful as they go up against less mobile quarterbacks.
On Sunday, Justin Herbert will come to U.S. Bank Stadium. He is not the runner that either Mayfield or Hurts is, and while he can be mobile, that's not his first action plan. If the Vikings continue to send pressure at him, the goal will be to force action rather than allowing him to pick apart the defense. Los Angeles has talent at the wide receiver position in Keenan Allen and Mike Williams, but the less the cornerbacks have to constantly be tested, the better.
It's not just blitzes that are getting home, either. With additional defenders chasing down the football, edge rusher Danielle Hunter has been able to get home. His 4.0 sacks lead the NFL, and he was able to tackle Hurts three times on Thursday night. After a slower start to his 2022 season, Hunter has come out like a madman for the Vikings. Marcus Davenport has largely been non-existent on the opposite side, so Hunter is doing this while being the focal point for the opposing line.
If there's an area for this thing to come full circle, it's against the run. Blitzing impacts the running game a bit less, and the Vikings have been gashed on the ground. Looking for another defensive tackle might help, but Flores has to find a way to improve that aspect of the group. Philadelphia ran all over Minnesota, and with talented rushers still left on the schedule, more of the same cannot continue.
The Vikings defense still is not good enough, nor does it have the personnel to sit back in coverage. Flores isn't new to this, and being aware, he is trying to force the action as much as he can. So far, that blueprint is working, and if the team can play a complete game in all facets, they should chalk up a victory sooner rather than later.
---
Ted Schwerzler is a blogger from the Twin Cities that is focused on all things Minnesota Twins and Minnesota Vikings. He's active on Twitter and writes weekly for Twins Daily. As a former college athlete and avid sports fan, covering our pro teams with a passion has always seemed like such a natural outlet.