Vikings Have 2 of the Fastest RBs in NFL, per 'Madden'
Mar 4, 2022; Indianapolis, IN, USA; North Carolina running back Ty Chandler. Mandatory Credit: Kirby Lee-USA TODAY Sports.
Speed won't be a problem for the 2022 Minnesota Vikings.
The attribute wasn't an issue in 2021 either, but the franchise became even faster this season with the selection of Ty Chandler from North Carolina in the 2022 NFL Draft. Couple Chandler's rookie speed with a rookie from last year, Kene Nwangwu, and the Vikings have two of the fastest running backs in the NFL, according to the EA Sports game Madden.
Indeed, Madden ratings, a summer spectacle each year before training camp, were released last week, and Chandler plus Nwangwu landed in the Top 10 among RBs for the game's speed scores. The Madden 23 Twitter account tweeted this graphic last week: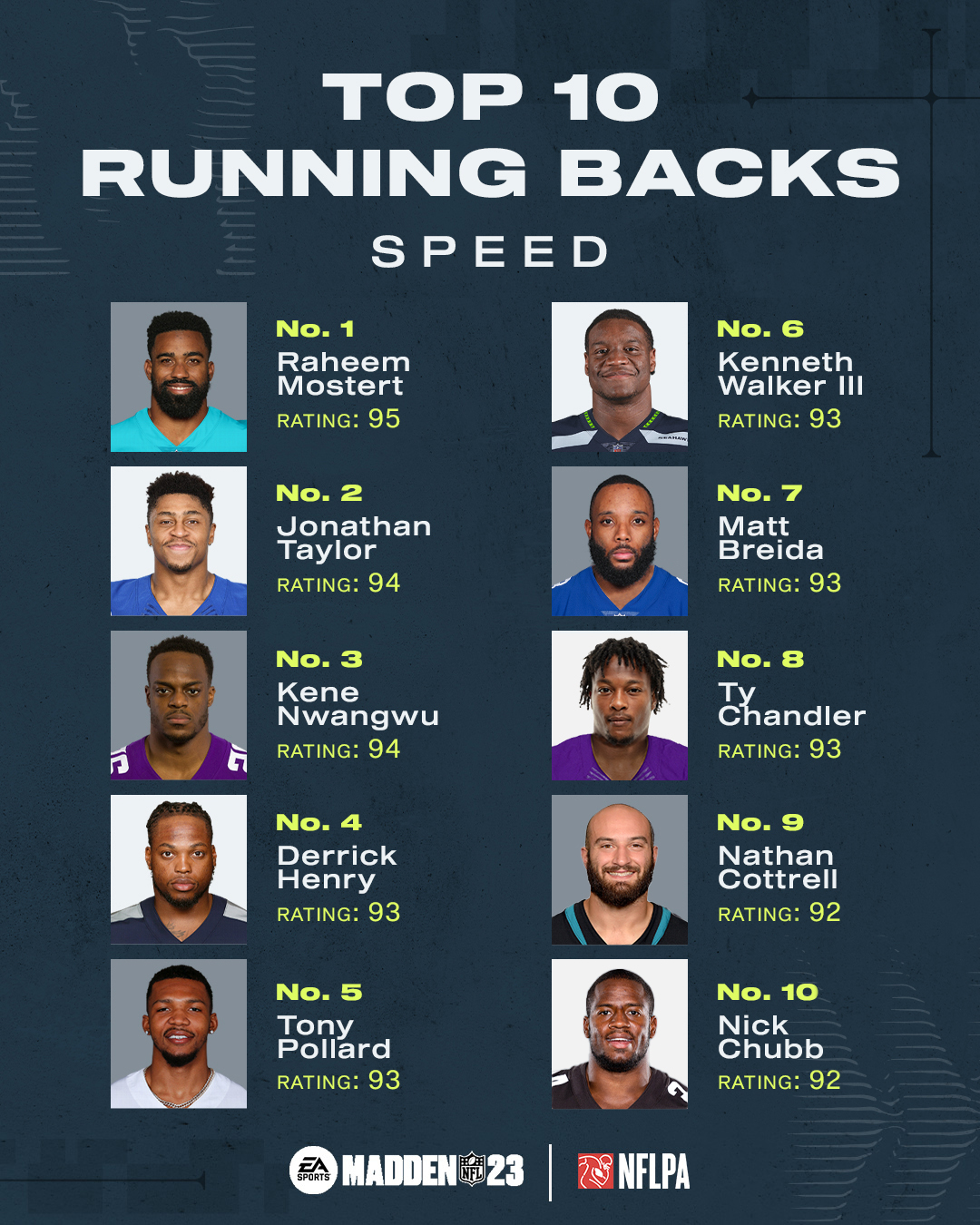 Vikings fans could've predicted — somewhat easily — Nwangwu's presence on this list because last year's rookie was a special teams phenom. Nwangwu returned two kicks for touchdowns, albeit in losses for the team, showcasing blazing speed each time his hands touched pigskin. Moreover, speed was always Nwangwu's modus operandi at Iowa State as a collegiate athlete, so onlookers of the Vikings waited to see if his skillset would aptly transfer to the pros.
It did.
At his Pro Day in 2021, Nwangwu clocked an unholy 4.29 time in the 40-yard dash. The only item left to witness was in-game theatrics. Often, the fastest players in an NFL draft amount to nothing. So far, that ain't Nwangwu.
Chandler, on the other hand, is a pleasant surprise for the Madden speed reveal. One would just assume he's fast because he's a running back. But notching Top 10 "video game" speed basically came out of nowhere. At the NFL Combine, Chandler recorded a 4.38 40-time — a commendable figure but not in the ballpark of Nwangwu from 2021. Still, Madden afforded Chandler respect in its rankings.
Now, the big question — will either man have an impact on offense in 2022? That remains to be seen. The answer is a solid "probably."
The new head coach, Kevin O'Connell, is an offense-first thinker — and speed kills. He'd be silly to relegate Nwangwu and Chandler to "special team only" during his maiden voyage as skipper. Therefore, he probably won't.
Vikings training camp began on Sunday, and the big mystery regarding these two men is Chandler. Will he make the 53-man roster? If so, will Alexander Mattison be cut? Can Nwangwu then win the RB2 job?
No matter what, though, there will be speed. Madden believes so, anyway.
---
---
Dustin Baker is a political scientist who graduated from the University of Minnesota in 2007. Subscribe to his daily YouTube Channel, VikesNow. He hosts a podcast with Bryant McKinnie, which airs every Wednesday with Raun Sawh and Sally from Minneapolis. His Viking fandom dates back to 1996. Listed guilty pleasures: Peanut Butter Ice Cream, 'The Sopranos,' and The Doors (the band).