12 Snap Reactions after Vikings-Cardinals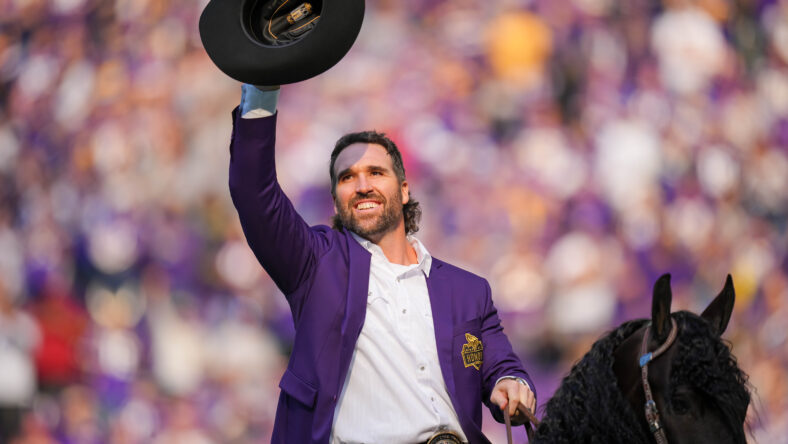 Oct 30, 2022; Minneapolis, Minnesota, USA; Minnesota Vikings Jared Allen (69) is inducted into the Ring of Honor against the Arizona Cardinals at half time at U.S. Bank Stadium. Mandatory Credit: Brad Rempel-USA TODAY Sports.
From a suggestion by a reader, we continue our "snap reactions" weekly piece detailing thoughts and analysis after a Minnesota Vikings game.
This will be off-the-cuff, a wee bit "random," and hopefully insightful.
The Vikings climbed to 6-1 atop the NFC North after a squeaker win over the Arizona Cardinals in Week 8. Minnesota downed Arizona 34-26.
1 – You can grab your "is this team actually any good?" takes and put them in a trash can. Those reservations, although above-board and worthwhile, are no longer valid. The Vikings are 6-1, and even if they fired up a 3-7 record the rest of the way, they would likely still make the postseason. And for a first-year head coach, that's really, really impressive.
2 – Kirk Cousins, while not perfect, is increasing his comfort inside Kevin O-Connell's offense. You can see the growth week by week. He's due for a big stretch of games, and the stars seem to be aligning accordingly in November — his best as a quarterback throughout his 10-year career.
3 – Some of the Vikings 3rd Down, 4th Down, or goal-to-go plays are simply phenomenal, utilizing trickery and misdirection as wise offense-first coordinators should. Minnesota hasn't thrown together a truly dominant offensive performance, but each week showcases offensive creativity — which wasn't necessarily evident with Mike Zimmer.
4 – Dalvin Cook produced his first 100-yard rushing game since Week 14 of 2021. Like Cousins, he's getting stronger, too.
5 – Za'Darius Smith was not only the Vikings best 2022 offseason addition. He may be the best free-agent agent addition, period, in the NFL.
6 – The Vikings were 5 for 5 in the redzone on Sunday, and it won them the game.
7 – Even if the Vikings espouse the title of a "pass-first offense," they're at their best when running the football effectively. Such is the case for nearly any NFL team anywhere, however, it must be called out as Vikings fans seem to be enamored with "pass-first." It's great, but balance carries teams to Super Bowls.
8 – Harrison Smith's interception of Kyler Murray's eff-it-Hopkins-down-there-somewhere pass was the game's turning point.
9 – All K.J. Osborn does is catch clutch touchdowns.
10 – The Cardinals have lost 11 consecutive times in the state of Minnesota, a drought lasting 45 years — with more to come.
11 – Greg Joseph's woes are no longer just a nuisance. Unless he fixes the troubles, his missed field goals and extra points will cost the Vikings a crucial game against a playoff-bound opponent. He must repair what's ailing him, or Minnesota should consult a contingency plan.
12 – The Vikings run defense has quietly emerged from "meh, it's getting better" to quite good. Not dominant or elite — but pretty damn good. That characteristic has been missing from the Vikings defense since 2019.
---
---
---
Dustin Baker is a political scientist who graduated from the University of Minnesota in 2007. Subscribe to his daily YouTube Channel, VikesNow. He hosts a podcast with Bryant McKinnie, which airs every Wednesday with Raun Sawh and Sally from Minneapolis. His Viking fandom dates back to 1996. Listed guilty pleasures: Peanut Butter Ice Cream, 'The Sopranos,' and The Doors (the band).