Ranking the Vikings Needs Prior to Free Agency
The Minnesota Vikings have many holes on their roster, some self-created. Releases of the franchise cornerstones Adam Thielen and Eric Kendricks were expected to some extent, but it created even more weak spots on the team. However, considering their huge contracts, the two veterans didn't play as well as they should have and therefore had to pack their bags. The Vikings regime is not playing around in their second offseason.
Minnesota must still make some moves in the next few days to get under the salary cap and to have some money to spend in free agency. Some needs are more significant than others.
Ranking the Vikings Needs Prior to Free Agency
The Vikings front office must allocate the resources in the next two months to the right places. Both cap space and draft capital are limited.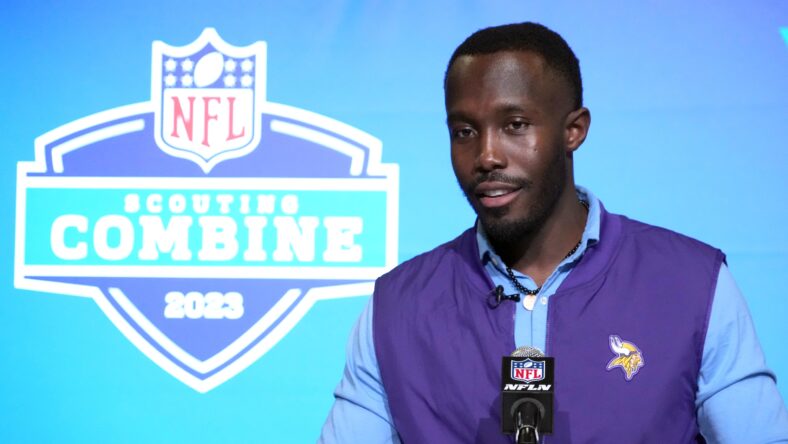 Essential Needs
The Vikings are in trouble if they don't address these positions.
Cornerback
Before the beginning of free agency, the Vikings have four cornerbacks on the roster, three of whom were rookies last season and none of them has any meaningful experience in the NFL. Andrew Booth Jr. and Akayleb Evans were injured in big stretches of the 2022 campaign, but if they can improve their games, they might win a starting spot. Tay Gowan and Kalon Barnes are closer to the practice squad than the starting lineup.
After the release of Cameron Dantzler, the Vikings don't have anyone who is a safe starting-caliber player. Some fantasy and imagination are necessary to project Booth and Evans as starters. The Vikings must add a couple of outside cornerbacks who can start in 2023 and an additional slot cornerback if Chandon Sullivan doesn't return. They could bring one or more of Sullivan, Patrick Peterson, and Duke Shelley back. There are many excellent CBs available on the market. Jamel Dean is considered by many the top cover player, but he will be expensive. Cameron Sutton, Rock Ya-Sin, and Byron Murphy are also free to sign and are good alternatives.
Center
The Vikings need a new starting center. Garrett Bradbury is set to enter free agency after starting at the position in the last four seasons. The team could opt to re-sign Bradbury. If he doesn't return to the purple team, a handful of starting-caliber centers are available. In addition to that, the Vikings could pick one in the draft.
Some good centers are usually available in rounds three and four, and the 2023 draft class is good at that position. Many Minnesota sports fans dream about keeping John Michael Schmitz in the state after he played for the Golden Gophers. He is considered the top center in the draft by many. Backup center Austin Schlottmann is also a free agent, but third-stringer Chris Reed is still under contract. Reed played well in the limited playing time he received, but the veteran is not a natural center.
Interior Defensive Line
The two starting defensive linemen, Dalvin Tomlinson and Jonathan Bullard, are free agents. Bullard is a replacement-level player and, therefore, could be brought back with another cheap deal near the veteran minimum, or he will be replaced. Tomlinson, however, is a bigger problem. He has played wonderfully, and the Vikings could even partially get rid of his high dead cap in 2023 by re-signing him.
The problem is that the defensive tackle market is booming. Teams are starting to realize how important the position is and give out big contracts. There are always good run-stuffing defensive tackles available later in the draft, but they don't come close to Tomlinson's pass-rushing ability. He will be hard to replace. The interior defensive line room needs an upgrade. The projected starters are Harrison Phillips, Khyiris Tonga, James Lynch, Esezi Otomewo, and Ross Blacklock.
Kicker
The Vikings currently don't have a kicker. They could opt to re-sign Greg Joseph, who is a free agent. He disappointed at times in 2022 but hit some huge game-winners. They could also draft one or sign a different veteran or undrafted free agent.
Wide Receiver
Adam Thielen was let go, and the Vikings need a new secondary receiver next to Justin Jefferson. K.J. Osborn might be better suited as a third option. There are many candidates available, including in the draft or via trade. Someone needs to take some pressure off of Jefferson. The Vikings play a pass-first offense, and having no threat on the outside to capitalize when opponents throw double teams at the star wideout, is a big problem. Addressing the position will cost a lot of money, but it has to be done. Here is a list of candidates.
Quarterback
This is an interesting one, and not only because it's the most important and polarizing position. The Vikings must, at the very least, add a backup quarterback. Nick Mullens, the backup in 2022, is a free agent. In addition to that, the Vikings are trending towards not extending Kirk Cousins' contract. His successor could be targeted in the draft, but that could be expensive, as the universally viewed top four passers will most likely be picked in the top 10. However, taking a stab at a QB prospect later in the draft is possible.
Could Become Need/Upgrade Is Possible
A future roster move could torpedo the positions to the top of the list. The Vikings might want to add an upgrade.
Linebacker
The position is an optional need at this point, but that could change as soon as the Vikings release Jordan Hicks. The move is a way to save $5 million in cap space. If the Vikings keep him on the team, the two starters could be set with Brian Asamoah and Hicks, but if they move on from Hicks, the position skyrockets behind cornerback near the top of the list, and the position might be targeted in the first round of the draft with pick 23.
The Vikings could also sign a veteran defender. Two available starting-caliber linebackers on the market are Kyle Van Noy and Devin Bush. Both worked with defensive coordinator Brian Flores before, which makes them even more intriguing. Neither of the two should be an expensive signing.
Offensive Guard
Both starters of 2022 are returning to the Vikings and are penciled in as starters once again. Ed Ingram, a 2022 rookie, was one of the worst guards in the league but could be in line for an improvement heading into his second season. Ezra Cleveland is mostly solid but has a few stinkers every season. Additionally, Cleveland is entering the final year of his rookie deal. The Vikings might try to bring in some competition. It's not a necessity, but Kevin O'Connell possibly wants better pass protection from his interior linemen.
EDGE Rusher
The outside linebacker position group is similar to the inside linebackers, as the position could be much more critical after one roster move. Za'Darius Smith reportedly asked to be released. If the Vikings end up doing that, they still have some capable backups who could fill in. DJ Wonnum and Patrick Jones might be asked to play a bigger role.
However, they aren't good enough to simply replace Smith's production. At some point in the next few years, the Vikings must invest in the position, especially because Danielle Hunter is also getting older. If Smith stays, the Vikings don't need to spend capital here in 2023.
Running Back
The position depends on a future roster move. If the Vikings move on from Dalvin Cook, they need a new starting running back, especially because backup Alexander Mattison is a free agent. Ty Chandler could have a bigger role in his second season, and running backs can be found for cheap on the open market and in the draft in later rounds.
No Move Necessary
Tight End
The tight end room is almost set with T.J. Hockenson and Johnny Mundt returning. Hockenson is one of the top players at his position, while Mundt has shown to be a solid running mate. The Vikings might want to upgrade the backup position or add a new third right end. 2022 7th-rounder Nick Muse could also be an option. A late-round draft pick or a cheap free agent could be targeted.
Safety
The Vikings don't need a safety unless Harrison Smith is let go. But then the Vikings still have 2022 starter Camryn Bynum, his backup Josh Metellus, who played phenomenal when needed, and first-round pick Lewis Cine on the team, which should be a serviceable safety group. Unless Flores wants a different type of safety, the Vikings are set.
Offensive Tackle
It is arguably the best position on the roster. The two starters, Brian O'Neill and Christian Darrisaw, belong to a tier of top tackles in the league, while backup Blake Brandel is coming back just like Vederian Lowe.
---
Janik Eckardt is a football fan who likes numbers and stats. The Vikings became his favorite team despite their quarterback at the time, Christian Ponder. He is a walking soccer encyclopedia, loves watching sitcoms, and Classic rock is his music genre of choice. Follow him on Twitter if you like the Vikings: @JanikEckardt