CBS Sports Suggests an Old Friend at QB1 for 2023 Vikings
With one of the weirdest offseason takes to date, CBS Sports has a stirring new theory about the Minnesota Vikings quarterback plans — trade Kirk Cousins, stockpile some draft picks, and reunite with Teddy Bridgewater.
The idea is wildly unlikely to materialize, but it's on CBS Sports' agenda nevertheless.
CBS Sports Suggests an Old Friend at QB1 for 2023 Vikings
The Vikings selected Bridgewater in the 1st Round of the 2014 NFL Draft, and now is the time to evidently bring him home as a patchover quarterback.
Bridgewater, an impending free agent, is free to sign anywhere in the NFL next week, and if Cody Benjamin is correct, that might just be with his first NFL squad. Benjamin wrote about trade theories this week, with players like Aaron Rodgers' future nearing fruition, and Kirk Cousins joining the San Francisco 49ers was the first installment in his Vikings-themed plan.
Benjamin wrote, "You thought Rodgers was the only NFC North QB set for a big move? Cousins is the contemporary poster child for the middle-tier QB; while his resume and traits have a surefire ceiling, he's been too productive to convince his bosses that the alternative — a total rebuild — is worth the risk."
"But Vikings general manager Kwesi Adofo-Mensah is forward-thinking, and the 49ers know better than anyone how important it is to have multiple options under center. Reuniting Cousins with Kyle Shanahan would allow both Trey Lance and Brock Purdy to be patient in rehab and/or actively shopped down the road," Benjamin elaborated on the Cousins-trade portion of the theory.
Cousins has been long-linked to a 49ers trade — some media outfits talk about it almost daily — as San Francisco's head coach Kyle Shanahan has a documented affinity for the 34-year-old.
Benjamin wrapped up the trade scenario and slipped in the Bridgewater nugget, "As for the Vikings? Freed of annual re-commitments to Cousins, they could explore a trade up in the draft and/or a cheaper placeholder (old friend Teddy Bridgewater?) as they restock premium positions on both sides of the ball."
It is unclear which quarterback, per Benjamin, the Vikings would target in April's draft via trade-up, but the sensible choice would probably be Kentucky's Will Levis or Florida's Anthony Richardson. Both dazzled at last week's combine and may have cemented statuses as Top 10 picks.
So, the thought here — with the Vikings apparently ready to divorce Cousins, a theory without evidence — is that Adofo-Mensah would trade Cousins to the 49ers for a 2023 3rd-Round pick and 2024 2nd-Round pick. Then, he'd turn around and sign a former Vikings mini-hero in Bridgewater to "bridge" the gap between himself and Levis or Richardson.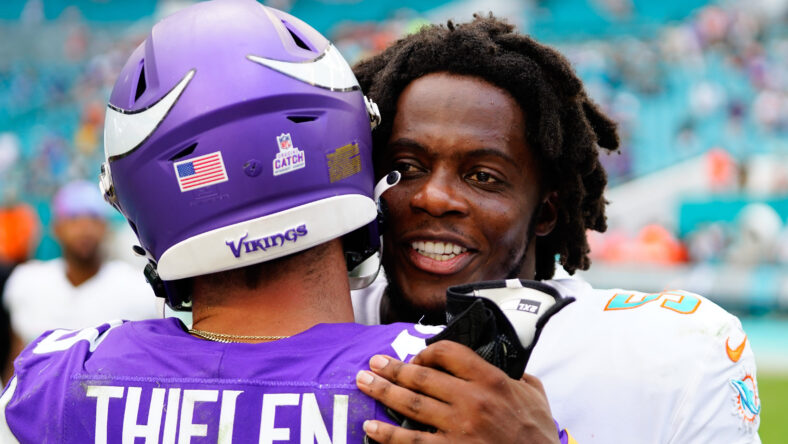 Since leaving the Vikings after a freak injury in 2016-2017, teams led by Bridgewater are 16-21 (.432). Scaled to a 17-game season, Bridgewater has dimed 20 touchdown passes to 11 interceptions per year. That would represent a grave dip from Cousins' habitual annual production, meaning Bridgewater would have to be a short-term fix.
The conjecture is intriguing but unlikely to occur. When mentioning Cousins, Vikings brass usually speaks highly of its QB1 heading into 2023 — not chomping at the bit to trade him while swallowing a gaudy dead cap hit.
Bridgewater could return to Minnesota as a QB2, though, if Nick Mullens isn't re-signed.
---
Dustin Baker is a political scientist who graduated from the University of Minnesota in 2007. Subscribe to his daily YouTube Channel, VikesNow. He hosts a podcast with Bryant McKinnie, which airs every Wednesday with Raun Sawh and Sal Spice. His Vikings obsession dates back to 1996. Listed guilty pleasures: Peanut Butter Ice Cream, 'The Sopranos,' and The Doors (the band).
All statistics provided by Pro Football Reference / Stathead; all contractual information provided by OverTheCap.com.