Derek Carr's New Contract Has Kirk Cousins Implications
Former Las Vegas Raiders quarterback Derek Carr found a new gridiron home Monday, joining the New Orleans Saints for the next four years.
Carr, 31, divorced the Raiders near the end of the 2022 season and embarked on a free-agent world tour about a month ago, with stops in New York (Jets) and Tampa Bay to gauge a possible relationship. But Carr chose the Saints and will now attempt to rectify the post-Drew-Brees era for Dennis Allen's team.
Derek Carr's New Contract Has Kirk Cousins Implications
And his new deal has a roundabout effect on Minnesota Vikings quarterback Kirk Cousins. Carr and Cousins are often considered performance bedfellows, although Cousins' personal statistics generally outshine Carr's.
NFL Network's Ian Rapoport tweeted Carr's new deal parameters, "The Saints & Derek Carr agreed on a 4-yr deal for $150M with $100M in total guarantees, per me & Mike Garafolo. He gets $70M effectively fully guaranteed ($60M at signing, another $10M in Year 3 vesting after Year 1). Carr structures his deal to accommodate Saints' cap issues."
That's $37.5 million per season for Carr — which means a similar figure will emphatically be on the way for Cousins and the Vikings if Minnesota chooses to extend the 34-year-old.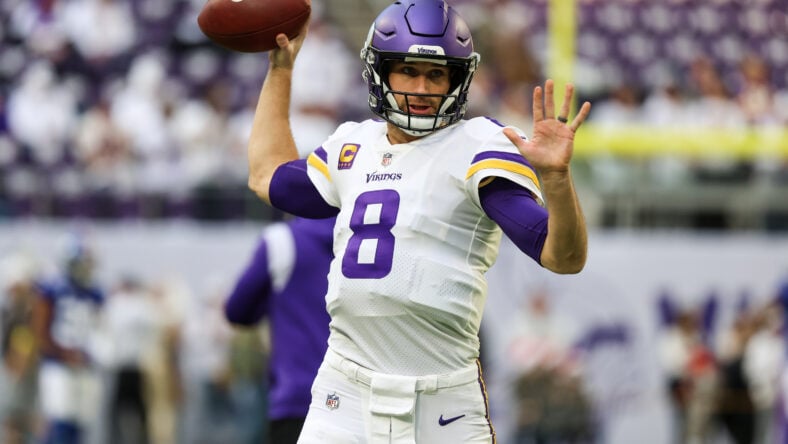 For some, Carr's fresh $37.5 million per year or Cousins' $35 million from 2022 are considered loathsome, gruesome, or gaudy, but in reality, that's the going rate for a decent quarterback. Often, casual fans see "Cousins is making $35 million" and assume that's elite-tier QB cash. But that is false.
In fact, Cousins' $35 million a year ranks 10th leaguewide per average annual salary after the Carr extension, but many remain steadfast that $35 million is "Mahomes money." The statement is erroneous, as the top-paid passers earn $50 million per season. Aaron Rodgers can tell you all about it.
Generally speaking, it is unclear if the Vikings will extend Cousins this offseason. He's under contract through the end of next year, and barring a mind-boggling trade, will lead Minnesota at QB1 this September. However, beyond that is a mystery. General manager Kwesi Adofo-Mensah could add extra years onto the deal as it is rare that a franchise quarterback plays on the final year of his contract. Adofo-Mensah could also "do nothing' and let the contract play out, eyeing 2024 as life after Cousins.
Now, though, the bottom floor for Cousins' services after 2023 is established. Cousins' next deal will fetch at least $37.5 million per year. And there's really no confusion about it, thanks to the Saints-Carr transaction.
Cousins will turn 35 in August. A decision — or lack thereof — should occur before the "legal tampering" phase of free agency commences on March 13th.
---
Dustin Baker is a political scientist who graduated from the University of Minnesota in 2007. Subscribe to his daily YouTube Channel, VikesNow. He hosts a podcast with Bryant McKinnie, which airs every Wednesday with Raun Sawh and Sal Spice. His Vikings obsession dates back to 1996. Listed guilty pleasures: Peanut Butter Ice Cream, 'The Sopranos,' and The Doors (the band).
All statistics provided by Pro Football Reference / Stathead; all contractual information provided by OverTheCap.com.