Vikings Make a Wonderful Gesture to Rick Spielman
Jul 28, 2018; Eagan, MN, USA; Minnesota Vikings general manager Rick Spielman. Mandatory Credit: Brad Rempel-USA TODAY Sports.
The Minnesota Vikings underwent significant changes after the 2021 season, the second consecutive one without a playoff appearance. 8-9 and 7-9 records were insufficient to keep the same captains on the ship.
Head coach Mike Zimmer and general manager Rick Spielman were dismissed after their long tenures with the organization.
Vikings Make a Wonderful Gesture to Rick Spielman
Spielman joined the franchise in May 2006 as the team's vice president of player personnel. He was officially named general manager in January 2012 and kept the position for ten years. The longtime employee lost his football memorabilia when Hurricane Ian hit his home in Florida in 2022.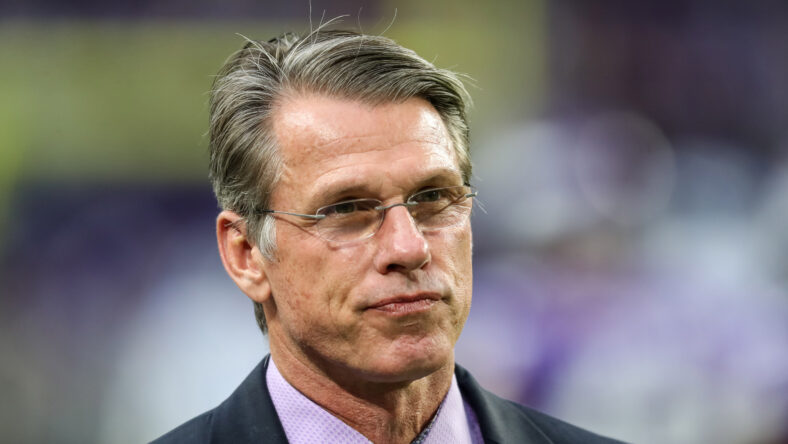 The game balls he received from his former team were part of that collection. Spielman said in a video on Twitter:
Today when I got home, I had a package at my door. When I opened up the package, I was at a loss for words. I had expressed to a few people that we went through Hurricane Ian down here where I live in Santa Belle, Florida, and one of the things that I lost was all my memorabilia and a lot of my game balls.

I want to read something from the Wilf family – from Mark, from Zygi, from Lenny and their entire family: "I understand that losing all your NFL memorabilia including the collection of game balls in the aftermath of Hurricane Ian. While we can not make up for the devastation you and your family are experiencing, we hope that this can restore some of the happy memories you have of your many accomplishments with the Minnesota Vikings. We appreciate everything you did for our organization and continue to think about you, Michele, and the rest of the kids as long as you rebuild your life in Florida. Thank you. – Zygi, Mark, Lenny, and the Wilf family. ownership group."

So everybody looks at this business and how harsh it can be, how cutthroat it can be but this is just an example of how special the Wilf family is, how special the Minnesota Vikings are, and how special the NFL family is. I am very appreciative to have been able to be the general manager of the Minnesota Vikings.

I hope this shows you that it's just not all a cutthroat business, that people do care and love for each other and this was a gesture from the Wilf family to show me and my family how much they care and love us. To the Wilf family: I can't put into words how to thank you but I am truly grateful that I had the opportunity to work with you and your family and the Minnesota Vikings.

Rick Spielman
The former GM also posted a picture of his new collection of game balls:
It is possible to spot why he deserved a couple of them. He received one of the balls for the divisional round playoff win against the Saints ( the Minneapolis Miracle game) in 2018 and another for the back-to-back NFC North titles in 2008 and 2009. The Vikings don't have these balls just lying around; they had them custom-made for Spielman.
It was a wonderful gesture from the Wilf family as they were not obligated to do something for someone they fired over a year ago. It shows the deep respect they have for Spielman and the other way around. They had always mentioned their great relationship during Spielman's employment.
The predecessor of Kwesi Adofo-Mensah built some strong teams in the 2010s with Mike Zimmer at the helm, who he also hired in 2014. His defense was feared for years, filled with players brought in by Spielman.
He also built the foundation for the 2022 division title, as most players were drafted or signed with the former GM in charge. The stars Justin Jefferson, Christian Darrisaw, Brian O'Neill, Harrison Smith, Danielle Hunter, Dalvin Cook, and Kirk Cousins all joined the franchise because he pulled the trigger.
While his tenure with the Vikes didn't end on a high note, and not every decision was a good one, he still assembled some excellent teams and was a highly respected general manager in the NFL for a long time. He should be remembered for his positive influence on the organization.
Spielman is now working as an analyst for CBS Sports and The 33rd Team.
---
Janik Eckardt is a football fan who likes numbers and stats. The Vikings became his favorite team despite their quarterback at the time, Christian Ponder. He is a walking soccer encyclopedia, loves watching sitcoms, and Classic rock is his music genre of choice. Follow him on Twitter if you like the Vikings: @JanikEckardt