Vikings GM Peels Back the Curtain on Process Behind Recent Quarterback Trade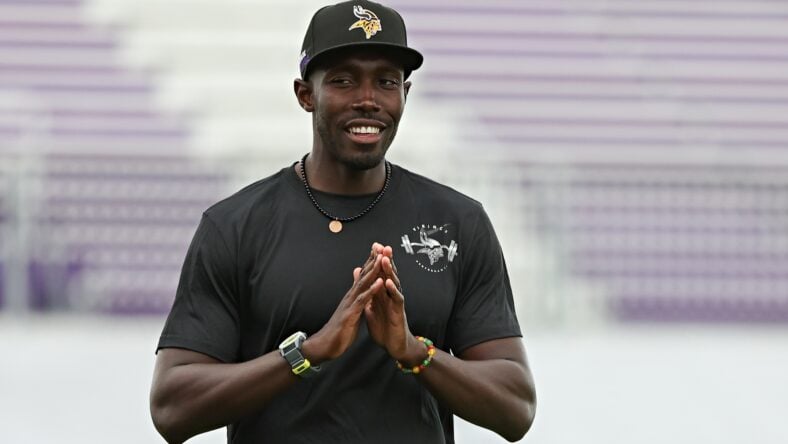 Jul 28, 2022; Minneapolis, MN, USA; Minnesota Vikings general manager Kwesi Adofo-Mensah looks on during training camp at TCO Performance Center. Mandatory Credit: Matt Krohn-USA TODAY Sports.
Since taking over as the Vikings GM, Kwesi Adofo-Mensah hasn't been shy about putting together trades. He has been in the captain's chair for less than two years and is already up to 19 trades.
One of the more recent deals, of course, was to bring in Joshua Dobbs, the former Arizona Cardinal who is being tasked with taking on QB2 duties (and potentially QB1 duties). Adofo-Mensah tends to be fairly vague with the details he'll discuss for decisions like this one, but the GM did peel back the curtain a bit when discussing how the Dobbs trade materialized.
Vikings GM Peels Back Curtain on Dobbs Trade
Many in the Twin Cities were interested in learning a bit more about how the trade deadline went done in Minnesota.
The Dobbs deal stands out since it's always notable when a team brings in a new quarterback, but the Vikings also said goodbye to Ezra Cleveland. He was their starting left guard until an injury opened the opportunity for Dalton Risner to prove himself capable of taking on the task.
"I first want to thank Ezra," the GM notes, "He's played a lot of good football for this organization before I got here, and obviously this year. It was just a situation where we had really good depth at that position, and we felt like it was a move we could make."
Bringing things around to the QB was a bit more revelatory. Per the GM, the Vikings got into the deal at least partly due to the relationships that already exist between Arizona and Minnesota:
My personnel staff had identified that he was somebody that they had liked before, and then when they saw he maybe wasn't starting, the ideas kind of clicked that maybe he'd be somebody that was available. And those dialogues always come down to relationships. J.G. and K.O. have a relationship, and I have a relationship with Monti – and you kind of, just talking, and you formulate those things.
Translation: Kevin O'Connell knows Jonathan Gannon, the head coach in Arizona. Kwesi Adofo-Mensah knows Monti Ossenfort, the GM in Arizona. Those relationships matter, folks.
Kwesi does note that after the injury arose, he received plenty of phone calls: "You know, when you have a quarterback injury in the NFL, your phone becomes the most popular phone, I think, in the Minnesota area." We know from reports that there was at least some consideration of Jacoby Brissett, the Commanders' QB2.
In the end, the deal for Dobbs was the one that made the most sense in Minnesota.
The expectation is that Joshua Dobbs will pickup the playbook in short order. After all, we're talking about someone who has an elite background in academics (Kwesi refers to him as a rocket scientist in the presser). The Vikings deliberately made the decision to bring in someone with impressive athleticism but an even more impressive brain.
In things proceed in the expected manner, Jaren Hall will get the chance to run with the starting job until he proves that he's not capable of being a starter in the NFL. And, to be sure, there's good reason to be skeptical about his abilities to do so (and that's no insult to Hall).
As a 5th-round rookie, Hall is facing an uphill battle. Every so often, someone like Brock Purdy comes along and exceeds expectations by an incredible amount, but those examples are rare. Purdy is certainly an exception. Most late-round QBs struggle.
And we shouldn't forget that Kyle Shanahan is arguably the game's most impressive offensive mastermind who also boasts some elite skill players. The 49ers are set up perfectly the let a youngster jump into the game and thrive once there. It remains to be seen if the Vikings will provide a similar setup, especially since Justin Jefferson remains on the sideline.
Hall's first test arrives on Sunday, November 5th when the Vikings travel to Atlanta to take on the Falcons. Overcoming the Falcon foes will involve Minnesota climbing to 5-4, which would be the first winning record of the 2023 season.
Dobbs will be on the sideline as the main backup, ready to roll if there's any need for a QB switch in the middle of the game.
---
K. Joudry is the Senior Editor for Vikings Territory and PurplePTSD. He has been covering the Vikings full time since the summer of 2021. He can be found on Twitter and as a co-host for Notes from the North, a humble Vikings podcast.