Vikings Drawing Pretty Strong 'Trade Interest' for Star Defender
Jan 15, 2023; Minneapolis, Minnesota, USA; Minnesota Vikings fans react during the fourth quarter during a wild card game against the New York Giants at U.S. Bank Stadium. Mandatory Credit: Matt Krohn-USA TODAY Sports.
A handful of stars have already departed from the Vikings in the 2023 offseason. The team released Adam Thielen and Eric Kendricks to save valuable cap space and traded away Za'Darius Smith to the Cleveland Browns because he wanted out. In addition to those three, Patrick Peterson and Dalvin Tomlinson left in free agency after their contracts expired. Now, another star could be on his way out.
Vikings Drawing Pretty Strong 'Trade Interest' for Star Defender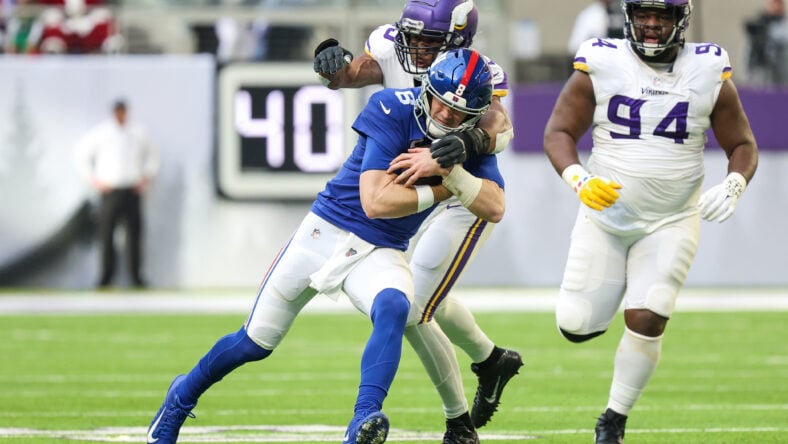 Dalvin Cook has been rumored to be part of a trade for months but now Danielle Hunter is receiving the same treatment. The reason for those rumors is the fact that Hunter is due to earn just $5.5 million in the 2023 season, the final year of his contract. He has been unhappy with his payment for a while, especially because he was underpaid for years. The Vikings moved up some payments in a couple of instances which is why he has so little left on his deal.
The longtime Vikings defender is drawing strong trade interest according to Ian Rapoport. He reported on NFL Network:
Somewhat murky future for Danielle Hunter in Minnesota. Here's my understanding of where it stands: Sources say that teams have been calling the Minnesota Vikings regarding Danielle Hunter. He has, in fact, generated some trade interest. This is something we've heard rumors about for the last several months.

You try to figure out why, and there are a couple reasons. First of all, he is very, very good. Teams usually like really, really good players at premium positions like pass rusher. He's also due to make just $5.5 million this year because they moved money from this year up a couple years back to better properly compensate him. The Vikings and Hunter have not yet been able to strike a long-term deal to compensate him at a level he wants.

And when there are rumors about a player not getting the contract he wants, usually there are teams that call. My understanding is the interest is pretty serious. Now the Vikings have tried to make this work, they've tried to do kind of a bandaid-type deal to compensate him for 2023 and then we'll see after this. A trade probably would've been a lot easier before the draft because then the Vikings would've been able to replace him. Much more difficult now, but these conversations are happening, and we will see where they end up.

Ian Rapoport
As Rapoport said, Hunter is really good. He has been one of the best edge rushers for years and only injuries were able to slow him down. Hunter missed the whole 2020 season because of a herniated disc in his neck and all but seven games in 2021 after tearing his pectoral muscle. Besides those two incidents, Hunter has been remarkably healthy in his eight-year career.
According to PFF, the defender ranked 6th in QB pressures and 4th in QB hurries in the 2022 season among edge rushers. He also ranked in the top 20 in pass rush win percentage and racked up 10.5 sacks. Additionally, Hunter is an excellent run defender, as he had the 13th-best run-stop percentage of edge defenders with at least 200 run-defense snaps. Hunter fired up all of that production despite having to learn a new position and some different techniques after the defense switched from a 4-3 to a 3-4.
The three-time Pro Bowler produced 71 sacks in his career, including a total of 39.5 in his last three fully-healthy seasons. In 2021, Hunter still managed to record 6 sacks in only 7 games.
So why would the Vikes even entertain those trade calls? Well, he wants a new contract and those star pass rushers aren't cheap. Hunter likely commands a contract north of $20 million annually, deservedly so, which would rank him 7th in the edge rusher rankings tied with Von Miller, trailing the likes of T.J. Watt, Joey Bosa, Myles Garrett, Maxx Crosby, Khalil Mack, and Bradley Chubb. If he commands $25 million, he would rank 3rd.
General manager Kwesi Adofo-Mensah might not be willing to offer Hunter a new long-term extension worth that kind of money. There are multiple reasons why. One is that Hunter is 28 years old with only 24 games played in the last three seasons, even though he has been healthy in 2022. Another reason could be that he doesn't want to tie up that type of money into one player when the future at QB is unsure and Justin Jefferson and T.J. Hockenson will sign big contracts. The salary cap limits the spending and Adofo-Mensah has shown that he likes flexibility.
A trade of their star would save the Vikings only $5.5 million in cap space in 2023 and inherit a dead cap hit of $11,240,000 in 2024 because of the prorated bonus into future void years. The Vikings likely request to get a high draft pick in return, maybe even a first-rounder. That would give the team the flexibility to trade up in the draft to find the future franchise quarterback. Minnesota lacked the ammo for such a deal in the 2023 draft.
A trade would undoubtedly make the team worse but it would also prevent the Vikings from spending a lot of money on one player, even though he is very very good (to quote Rapoport). The future of Hunter will show what the Vikings' plan is in the upcoming season. If they indeed trade away their best defender, the debates about neither committing to a full rebuild nor an all-in season will reignite.
---
Janik Eckardt is a football fan who likes numbers and stats. The Vikings became his favorite team despite their quarterback at the time, Christian Ponder. He is a walking soccer encyclopedia, loves watching sitcoms, and Classic rock is his music genre of choice. Follow him on Twitter if you like the Vikings: @JanikEckardt