Tanking or Not, There's 1 Guy the Vikings Should Inquire About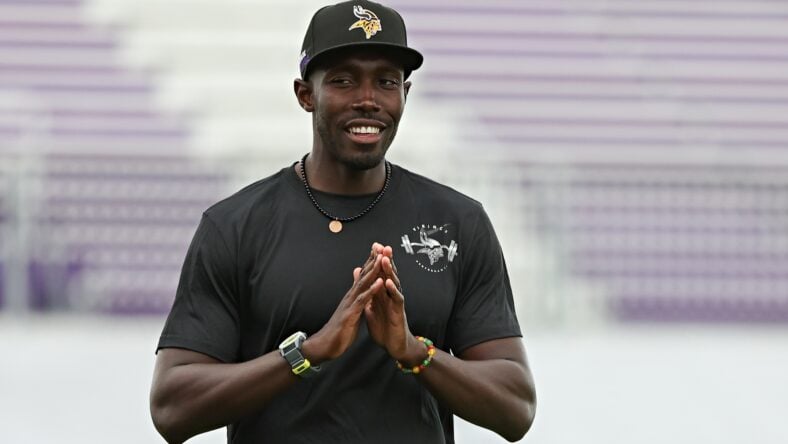 Jul 28, 2022; Minneapolis, MN, USA; Minnesota Vikings general manager Kwesi Adofo-Mensah looks on during training camp at TCO Performance Center. Mandatory Credit: Matt Krohn-USA TODAY Sports.
The expectations were high for the Vikings after winning the NFC North in 2022 with a dominant 13-4 record. Entering the 2023 season with a 2-4 record, many expect the Vikings to be sellers at the approaching trade deadline. And they certainly have a point. The never-ending sloppy play of the purple team hasn't given folks any hope that a winning streak is realistic.
Tanking or Not, There's 1 Guy the Vikings Should Inquire About
The horrendous start led to all kinds of trade rumors. Kirk Cousins was the QB of the Jets a couple of weeks into the season, and now seemingly every pundit wants to ship star defender Danielle Hunter to the Jacksonville Jaguars or the Atlanta Falcons. But what if the Vikings aren't actually looking to sell players but repeat last year's surprise splash move when they added T.J. Hockenson to the roster?
Well, that guy could be pass-rusher Chase Young this year. The former second-overall pick could be available for a trade. Young is in the final year of his rookie contract, just like Montez Sweat. Unlike Young, Sweat had his fifth-year option picked up and has emerged as a reliable contributor in Washington's defensive unit, registering 33.5 sacks in 65 games, including 4.5 in 2023.
Young, meanwhile, was electric in his rookie season when he had 7.5 sacks and looked like a future Hall of Famer and a great draft choice even for a second overall pick. He had a slower sophomore season before he tore his ACL in Week 10, knocking him out for the remainder of the season and most of the 2022 campaign. He only appeared in three games. Young played in 32 of the possible 56 contests and recorded 12 sacks.
So why should the Vikings trade for a player who can't stay healthy? It would be a bet on his potential and talent. A bet to get the guy everyone saw dominate at Ohio State and in his rookie season, and he certainly looks like that in 2023.
Young has already recorded three sacks in five games in the 2023 season. He also logged 31 QB pressures in five games, according to PFF, the sixth-most among edge rushers. Just for comparison, Hunter pressured passers 21 times despite playing an additional game. Young ranks in the top ten in pass-rush win rate and QB hurries.
The former Rookie of the Year is healthy and back to his elite explosiveness. He might be available because paying both Young and Sweat is expensive. So, instead of losing them in free agency, the Commanders would get something in return.
The best part for the Vikings is that a deal makes sense no matter their direction. Minnesota's future at the outside linebacker position is a disaster, with Hunter and Marcus Davenport scheduled to hit free agency in March, just like backup D.J. Wonnum.
General manager Kwesi Adofo-Mensah almost has to re-sign one of them to a huge price to prevent the team from entering the draft with Andre Carter and Patrick Jones as the primary pass rusher, forcing him to draft someone early. Trading for Young would obviously go hand-in-hand with a contract extension for the 24-year-old, which would take the pressure off the Vikings next offseason.
If Minnesota's leadership decides to enter a full tank mode in 2023 and ships away Cousins and Hunter, then acquiring Young would still make sense. Having a young star defender to build around is not the worst outlook for a rebuild.
On the flip side, if the Vikings want to be serious in 2023 and actually contend, then they need another disruptive pass-rusher opposite Hunter. Davenport entered IR and is out for 4-6 weeks with a high ankle sprain. Young would be that guy, making Brian Flores' defense a whole lot scarier.
PFF's Brad Spielberger put together some trade proposals he would like to see at the deadline. One of them sent Young to Baltimore for a couple of third-round picks.
You can make a legitimate case that this trade is way too much and also too little. It's arguably too much because there's a very realistic scenario where Young becomes an unrestricted free agent after the season and is free to sign with any team for zero draft pick capital. It's arguably too little because Washington could, in theory, extend fellow edge defender Montez Sweat before the franchise tag deadline and then place the tag on Young.

Brad Spielberger, PFF
It is always hard to figure out the trade compensation, but Spielberger usually comes close with his numbers for contracts and trades. He doesn't think Young would fetch a first-round pick and instead come closer to the Vikings price for Hockenson.
Kwesi Adofo-Mensah has been willing to bet on potential and has been aggressive in trades. Young is still only 24 years old, and if he comes close to what he brought to the table in his rookie season, and his 2023 season sure looks like he's back in shape, he would be a steal for the Vikings. He could help to compete in 2023, be a foundational piece for a rebuilding team, and is simply a value pick with his upside, something Adofo-Mensah loves.
---
Janik Eckardt is a football fan who likes numbers and stats. The Vikings became his favorite team despite their quarterback at the time, Christian Ponder. He is a walking soccer encyclopedia, loves watching sitcoms, and Classic rock is his music genre of choice. Follow him on Twitter if you like the Vikings: @JanikEckardt