Vikings QB at ATL Will Remain a Mystery
Oct 15, 2023; Chicago, Illinois, USA; Minnesota Vikings head coach Kevin O'Connell looks up at the scoreboard in the second half against the Chicago Bears at Soldier Field. Mandatory Credit: Jamie Sabau-USA TODAY Sports.
"We're still working through that," he said.
That's the message from Minnesota Vikings head coach Kevin O'Connell about the next QB starter after the club lost quarterback Kirk Cousins for the rest of the season in Week 8. The team confirmed Monday that Cousins tore his Achilles, ending Cousins' magnificent season.
Vikings QB at ATL Will Remain a Mystery
Somebody will start for the Vikings at quarterback in Atlanta on Sunday, but nobody knows the man's identity as of Monday afternoon.
O'Connell also said about the next QB1 and the possibility of an outsider, "You wouldn't believe some of the things I've received on my cell phone the past 24 hours."
So, Minnesota's QB room will remain fluid, with rookie passer Jaren Hall probably the frontrunner for Sunday. The Vikings are 4-4 through Week 8, winners of three straight after a rocky 1-4 start. QB2 Nick Mullens and WR Justin Jefferson are eligible to return from injured reserve in Week 10, thickening the plot on the season's prognosis.
Mullens would likely play in Week 9 if he weren't injured, revealed as the QB2 at the start of the regular season. Yet, nursing a back injury, Jaren Hall and Sean Mannion remain the only healthy quarterbacks on Minnesota's roster.
O'Connell also said about using resources to find a new quarterback, "I think there's a lot of scenarios to that. What are the resources? I think the conversations that lead you down the road help clearly define the answer to that question, based upon it is a short-term only thing. Is it something that could be more long-term? Is it something that truly is an upgrade versus just the sheer dealing with the reality of a tough situation right now?"
Players like Trey Lance, Case Keenum, Ryan Tannehill, or Jameis Winston could, in theory, be available for trade, but it is unclear if the Vikings prefer a newcomer.
"That's what we have to work through, and that goes back to my communication with Kwesi, his staff, and our coaching staff and just the fact that we're all synched up, and we understand that we signed up to live in this dual world, that ultimately make the best decision collectively, and more often than not, that's worked out for us so far," O'Connell added.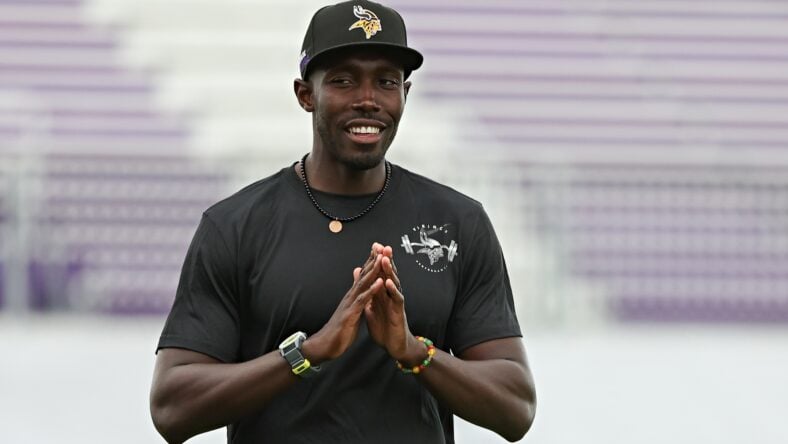 That coach-speak word salad essentially means the Vikings are open to trades or free agents. Otherwise, O'Connell would've waltzed out Monday and named Hall the unabashed starter. No cigar.
Without Cousins, the Vikings are a 4.5-point underdog at Atlanta this weekend.
The last Vikings quarterback to make his first career start was Teddy Bridgewater in 2014 — also against the Falcons.
---
Dustin Baker is a political scientist who graduated from the University of Minnesota in 2007. Subscribe to his daily YouTube Channel, VikesNow. He hosts a podcast with Bryant McKinnie, which airs every Wednesday with Raun Sawh and Sal Spice. His Vikings obsession dates back to 1996. Listed guilty pleasures: Peanut Butter Ice Cream, 'The Sopranos,' Basset Hounds, and The Doors (the band).
All statistics provided by Pro Football Reference / Stathead; all contractual information provided by OverTheCap.com.