ESPN Recommends Fire Sale for Vikings
Sep 14, 2023; Philadelphia, Pennsylvania, USA; Minnesota Vikings linebacker Danielle Hunter (99) against the Philadelphia Eagles at Lincoln Financial Field. Mandatory Credit: Eric Hartline-USA TODAY Sports.
Even before Minnesota Vikings quarterback Kirk Cousins was injured in Week 8, the team's buy-or-sell prognosis at the NFL's Halloween trade deadline was as debatable as it was confusing.
ESPN Recommends Fire Sale for Vikings
The Vikings started the season 1-4 and lost their best player, Justin Jefferson, after falling to the lousy record. Some Vikings fans and most NFL pundits called for a Minneapolis fire sale, trading players like Danielle Hunter, Jordan Hicks, and K.J. Osborn, to name a few.
Then, Minnesota got hot, winning three straight games, including a Monday Night Football triumph over the San Francisco 49ers, a team considered the league's best heading into the matchup. After the win, the stakes changed, and perhaps Vikings general manager Kwesi Adofo-Mensah would morph into a buyer at the trade deadline.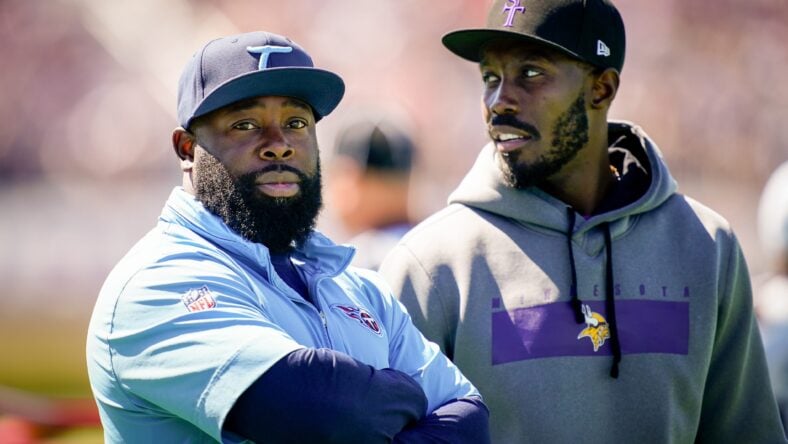 Fast forward to Week 8, and Minnesota thumped Green Bay at its house, a fabulous beginning for the Vikings in a post-Aaron Rodgers era. The price? Cousins reportedly tore his Achilles' tendon and will likely be confirmed as out for the season by Monday afternoon.
So — what now?
Well, ESPN claimed on Monday that the Vikings should subtract talent — not add it — vis-a-vis players like Danielle Hunter.
Vikings fans are back to where they lived after Week 5, facing the grim outlook that the team won't win a Super Bowl, especially with Cousins on the shelf, so why not mail it for 2023?
ESPN's Bill Barnwell analyzed every NFL team's role as a buyer or seller heading into Tuesday, and for Minnesota, he settled on this mantra: "The verdict: Should subtract talent, will likely stay put."
The Vikings are expected to start rookie passer Jaren Hall on Sunday, with veteran signal-caller Nick Mullens perhaps available the following week after returning from injured reserve. Hall might have one shot to keep the job, and if he plays pitifully, Minnesota could pivot to Mullens, the team's original QB2 when the regular season kicked off.
Barnwell explained the buy or sell stakes, "It's even more complicated considering the Vikings have a player with considerable valuable trade value in edge rusher Danielle Hunter, who is a free agent after the season, has a no-tag clause and also didn't get an extension from the team over the summer. Hunter likely wouldn't net anything higher than a second-round pick, but even that would be useful if the Vikings want to try to move around in next year's draft. He might theoretically net a compensatory pick in 2025, but that would require them to avoid signing a meaningful free agent to cancel out that selection."
Hunter told reporters in August that he "wanted to be a Viking for life."
"It's better for a team to get a superior pick a year early when it has no hope of winning a Super Bowl, but can the Vikings really give up on the season after Cousins' injury? Would they destroy their locker room in the process? My rational side looks at the situation and can't fathom them holding on to Hunter when they aren't going anywhere, but my human side reads the quotes from that locker room about Cousins and can't fathom giving up, either. The uniqueness of Minnesota's situation might just immobilize it from making any meaningful moves before the deadline, which might be the worst path of all," Barnwell concluded before recommending a subtraction of assets.
Minnesota is situated in the NFC's seventh playoff seed as of October 30th. It is also 1.5 games of the Detroit Lions for first place in the NFC North.
But according to ESPN, now is the time to subtract, cease all playoff aspirations, and focus on 2024.
NFL teams have until 4:00 pm EST on October 31st to trade players.
---
Dustin Baker is a political scientist who graduated from the University of Minnesota in 2007. Subscribe to his daily YouTube Channel, VikesNow. He hosts a podcast with Bryant McKinnie, which airs every Wednesday with Raun Sawh and Sal Spice. His Vikings obsession dates back to 1996. Listed guilty pleasures: Peanut Butter Ice Cream, 'The Sopranos,' Basset Hounds, and The Doors (the band).
All statistics provided by Pro Football Reference / Stathead; all contractual information provided by OverTheCap.com.