The P/PTSD Perspective: Purple Cash to Burn, Kwesi's Worst Trade, & an Elite Front Five
Nov 6, 2022; Landover, Maryland, USA; Minnesota Vikings center Garrett Bradbury (56) prepares to snap the ball against the Washington Commanders during the first half at FedExField. Mandatory Credit: Brad Mills-USA TODAY Sports.
PurplePTSD works in partnership with Vikings Territory, similarly doing their utmost to offer top-notch coverage of the Minnesota Vikings. As a result, we're promoting five of their top articles of the past week in "The P/PTSD Perspective." Take a peak at some of their best stuff.
The P/PTSD Perspective: October 14th, 2023
1) As the Dust Settles, the Vikings Find Themselves with Some Cash to Burn: Cash, otherwise known as cap space, represents hope. A fanbase without hope is one that is soon to lose interest in its team. Now, it's worth noting that having cap space is simply a means to an end. The ultimate goal is to leverage that budgetary freedom into signing excellent football players.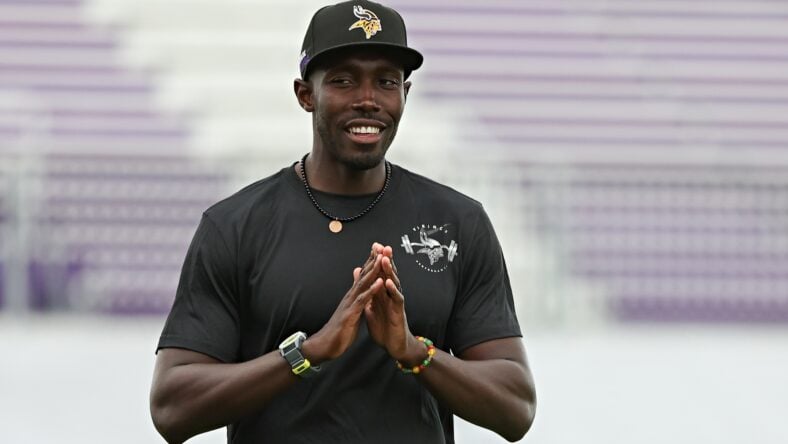 2) Locked & Loaded, the Vikings are Scampering Toward Relevance with Reinforcements in Tow: No doubt, re-adding Marcus Davenport makes the defense more dangerous. And Garrett Bradbury looked pretty steady in his return, so there is some hope that the offensive line can elevate at a time when the offense is going through some adversity.
3) Vikings Elevate Veteran WR from Practice Squad for Week 5: The veteran WR is more important than ever. Losing Justin Jefferson for the next four games is a major hit to the team's chances of making the playoffs. N'Keal Harry and Trishton Jackson aren't expected to be world beaters but, hopefully, strong contributors.
4) The Worst Trade of Kwesi's Career? That's Still a Debate: When a GM trades as much as Kwesi Adofo-Mensah, there are bound to be some misses. Right now, the Andrew Booth deal is looking pretty bad, especially when we remember that the Colts used the trio of picks they landed to pick up a trio of starters for their rebuilding offense.
5) One Position Group Has Been Elite for the Vikings in 2023: A strange irony, that's for sure. The Vikings' offensive line is getting some praise at some of the sites that peddle advanced stats. Is the continuity actually paying off?
Enjoy the extra reading, Vikings fans.
---
K. Joudry is the Senior Editor for Vikings Territory and PurplePTSD. He has been covering the Vikings full time since the summer of 2021. He can be found on Twitter and as a co-host for Notes from the North, a humble Vikings podcast.