Kirk Cousins Confirms What Folks Thought
Jan 5, 2020; New Orleans, Louisiana, USA; Minnesota Vikings quarterback Kirk Cousins (8) reacts during the second quarter of a NFC Wild Card playoff football game against the New Orleans Saints at the Mercedes-Benz Superdome. Mandatory Credit: Chuck Cook -USA TODAY Sports
Oddly, Kirk Cousins will enter his final season with the Minnesota Vikings, on paper, as the franchise opted not to extend the passer beyond 2023.
Cousins is the NFL's 13th highest-paid quarterback per average annual value as of June 14th.
Kirk Cousins Confirms What Folks Thought
Generally, quarterbacks of Cousins' caliber, at least statistically, don't hit contract years. Clubs hope to 'wrap them up' in advance. Such is not the case for Cousins in 2023, and for the first time ever, the Vikings aren't committed to Cousins beyond one season.
And don't expect that to change anytime soon. The 2023 season is indeed shaping up Cousins' final year, with the team having the option to explore an extension next offseason. Source? Cousins personally.
Reporters asked Cousins at Vikings mandatory minicamp Wednesday if extension talks were ongoing, and he replied, "I think we'll probably talk about the contract next March. Until then, [we'll] just focus on this season and the job to do right now."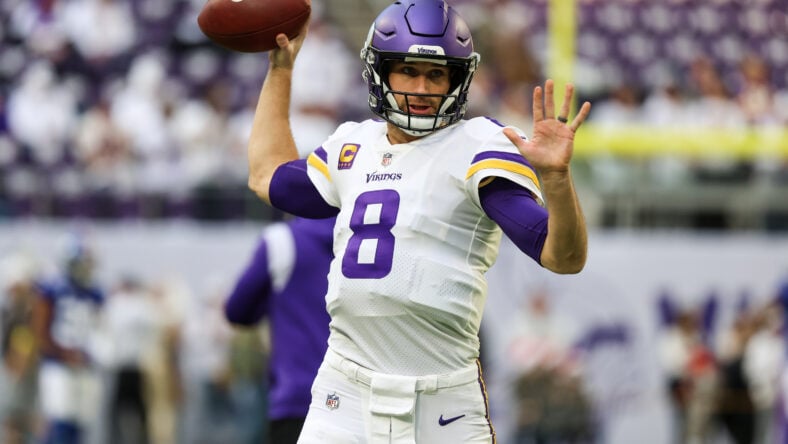 A major development regarding Vikings football, Cousins is now somewhat formally expected to hit true-blue free agency in nine months. Why is that important? Well, if Cousins performs in typical style — 4,000 passing yards and 30+ touchdowns — but Minnesota fails to go beyond the postseason's first round, the soon-to-be 35-year-old can experience a bidding war for his services, perhaps involving a team like the San Francisco 49ers that has been offhandedly linked to Cousins for years.
Conversely, if Cousins produces his usual statline — or improves — while the Vikings nibble at the Super Bowl, he can turn around and demand about $45 million per season via his next contract. By next offseason, $45 million annually will be around the eighth-highest salary in the NFL.
Vikings general manager Adofo-Mensah told reporters in April when asked about Cousins' extension and lack thereof, "Kirk doesn't need to do show anything to me. Kirk has played football at a high level before I got to the Minnesota Vikings. Last year, we won 13 games. I don't know what he would need to prove to me or anybody else."
He added, "Sometimes you come to a place [in contract talks] where you decide, 'Hey, let's talk later. This is a solution for now.' That's all that's happened."
With Cousins' clarification now public knowledge, it seems Adofo-Mensah's 'talk later' as a solution probably means after the 2023 season, which will be Cousins' ninth as a full-time starter.
Cousins ranks fourth leaguewide in touchdown passes and fifth in passing yards since joining Minnesota in 2018.
---
Dustin Baker is a political scientist who graduated from the University of Minnesota in 2007. Subscribe to his daily YouTube Channel, VikesNow. He hosts a podcast with Bryant McKinnie, which airs every Wednesday with Raun Sawh and Sal Spice. His Vikings obsession dates back to 1996. Listed guilty pleasures: Peanut Butter Ice Cream, 'The Sopranos,' Basset Hounds, and The Doors (the band).
All statistics provided by Pro Football Reference / Stathead; all contractual information provided by OverTheCap.com.