A Guard Upgrade Is Available if the Vikings Want It
Jan 15, 2023; Minneapolis, Minnesota, USA; Minnesota Vikings quarterback Kirk Cousins (8) prepares for the snap from center Garrett Bradbury (56) against the New York Giants during the second quarter of a wild card game at U.S. Bank Stadium. Mandatory Credit: Matt Krohn-USA TODAY Sports.
The Vikings struggled at some positions in 2022, and they took action. Patrick Peterson and the whole cornerback room departed from the organization. Free agent signing Byron Murphy and the young guys Akayleb Evans, Andrew Booth, and Mekhi Blackmon must step up.
On the offensive side, Adam Thielen was replaced by rookie Jordan Addison. It was time to give Justin Jefferson an improved running mate to help him when defenses focused on him. But not every weak spot was addressed in the offseason.
A Guard Upgrade Is Available if the Vikings Want It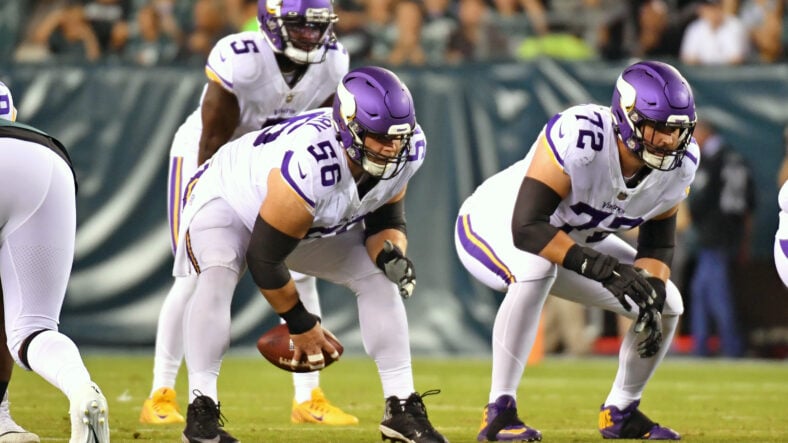 Offensive guard play has been a disaster in Minnesota for quite a while. For some reason, the Vikings either don't want to protect the quarterback or are not very good at it. The list of bad guards in recent years is endless. Among them are Dakota Dozier, Dru Samia, and Pat Elflein. Offensive guard has been a revolving door in the last decade.
Even though it is not easy to play guard because the opponents are large human beings, the mundane task of a guard in football is to keep defenders away from the quarterback while ideally not getting pushed back into the passer and opening running lanes. None of the things have worked very well. Cousins was the most-hit QB in the league in 2022, and it was certainly not because he likes to scramble behind the line of scrimmage, and the great offensive tackles Brian O'Neill and Christian Darrisaw are also not to blame.
Additionally, Dalvin Cook's and the whole team's running efficiency was poor in 2022, and it should be a clear point of emphasis to improve that.
Ezra Cleveland and Ed Ingram are the two starters. Outside of some undrafted guys, the Vikings didn't add another lineman to the roster but returned the whole group. Continuity can be a good thing, as the players learn to function better as a group over time. On the flip side, nobody will push the starters without some new bodies in the mix.
Cleveland has been a great guard at times, but he hasn't been very consistent, even though he got better in that department. He still has some awful games a few times every season. The former second-rounder is a good run blocker but struggles in pass protection. According to PFF, no player allowed more QB hits than Cleveland in 2022. He also ranked fourth-worst in pressures allowed.
His counterpart Ed Ingram has been even worse. He allowed the most sacks, second-most hits, and the most pressures, not just on the Vikings, in the whole league. However, he was a rookie after the team drafted him in the second round despite some off-field concerns. That implies how talented he is, and indeed, he improved late in the season and strung together some good games. A leap in the upcoming season is possible.
Regardless, if the Vikings want to make sure to improve the line and to help out Cousins in the high-volume passing game, they should consider one free agent. Former Broncos second-rounder Dalton Risner is available.
Risner came into the league with Vikings center Garrett Bradbury. Many thought he could be an option for the Vikes with the 18th overall pick. He played tackle at Kansas State and was an outstanding pass protector. The Broncos moved him to guard, where he played in the first four years of his career.
The former Bronco allowed 29 pressures in 2022, Ingram allowed 63, and Cleveland 55. He also allowed only six QB hits, the two Vikings combined for 40. Similar to what his scouting report said coming out of college, he is still a great pass-blocker. Considering the Vikings' pass-heavy offense that came with Kevin O'Connell, their passing percentage was third in the league; having good pass-blockers should be something to strive for.
Risner would certainly be an upgrade over Cleveland and Ingram. Why he is still available is a mystery. Minnesota cleared some cap space when they traded away Za'Darius Smith, and they could still get rid of Dalvin Cook and restructure Brian O'Neill's contract.
The chances are good that the Vikings will just run it back with last year's group, but it's not because there aren't any alternatives.
---
Janik Eckardt is a football fan who likes numbers and stats. The Vikings became his favorite team despite their quarterback at the time, Christian Ponder. He is a walking soccer encyclopedia, loves watching sitcoms, and Classic rock is his music genre of choice. Follow him on Twitter if you like the Vikings: @JanikEckardt