Vikings Begin Roster Cuts — Release First Players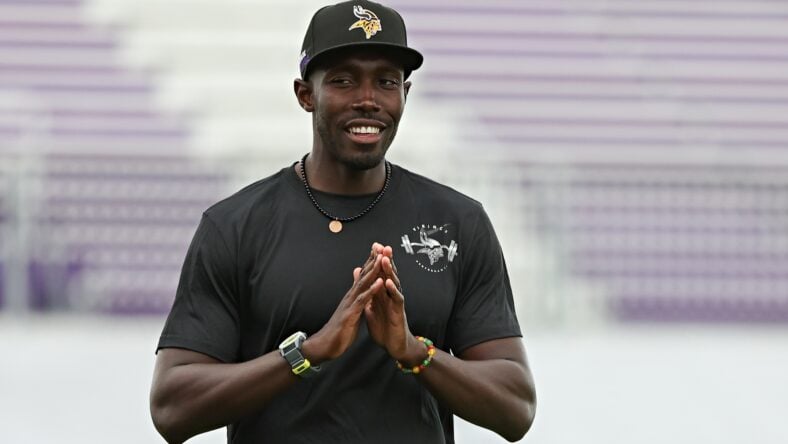 Jul 28, 2022; Minneapolis, MN, USA; Minnesota Vikings general manager Kwesi Adofo-Mensah looks on during training camp at TCO Performance Center. Mandatory Credit: Matt Krohn-USA TODAY Sports.
It will be a hard time for athletes, coaches, and general managers until the rosters get down to 53 players. The deadline for that is on Tuesday. Last year, the Vikings made some controversial calls when they parted ways with Ihmir Smith-Marsette and Armon Watts while most fans and pundits fully expected them to make the team and have roles on their respective units.
Vikings Begin Roster Cuts — Release First Players
It remains to be seen if GM Kwesi Adofo-Mensah repeats that this year and cuts a couple of guys out of nowhere. The first wave of cuts didn't include any shocking departures.
The Vikings released linebackers Tanner Vallejo and Wilson Huber and offensive tackle Jarrid Williams according to Tom Pelissero. None of the three was considered to be close to making the roster, although Vallejo's special teams prowess gave him the best chance.
The seven-year NFL veteran linebacker signed with the purple team two weeks ago and was a camp body and preseason depth piece for the organization. William Kwenkeu was hurt and Vallejo took his spot. Vallejo was a sixth-round selection in 2017 and he made a career out of his special teams skills. Not many players have played more than 1,500 special teams snaps like the Boise State product.
He appeared in 82 NFL games and started eight of them at linebacker, recording a total of 114 tackles and 2.5 sacks for four different franchises. Vallejo logged 31 snaps on defense and 20 on special teams in a couple of preseason games. As a vested veteran, he is an unrestricted free agent and doesn't have to go through the waiver process.
Wilson Huber was a signing of the undrafted rookie class. As a linebacker, he was obviously in the shadow of Ivan Pace who is set to make the 53-man roster. Huber was a teammate of Pace at Cincinnati but unlike Pace, he was not as highly regarded in the draft conversation even though they both landed in the UDFA pool.
Huber possesses decent athleticism at 6'4″ and 241 lbs with some excellent measurements in the pre-draft process and he offered special teams and defensive skills but it wasn't enough to earn a spot on the roster. He is a rookie so it might make sense to put him on the practice squad as he is familiar with the defensive scheme.
Jarrid Williams was signed after the first preseason game when the Vikings swapped out the depth tackles in the hope of improving the group and giving rookie QB Jaren Hall a better chance in the pocket but that didn't materialize.
Williams had a poor showing in the final preseason game, allowing a sack and three pressures in the two contests. The tackle was an undrafted rookie in the 2022 class and the Vikings were his fourth team. He is 26 years old.
There will be many more moves to come as the Vikings' roster count is still at 88 players. They will have to part ways with 35 more or place some guys on IR to get down to 53 players. Kene Nwangwu and Chris Reed could be two candidates for that.
Adofo-Mensah has also pulled off some trades in his tenure in Minnesota, four of them right before or on cutdown day. He traded for wideout Jalen Reagor, quarterback Nick Mullens, and defensive lineman Ross Blacklock while sending Jesse Davis to the Steelers. He could try to facilitate some more moves in the upcoming days.
---
Janik Eckardt is a football fan who likes numbers and stats. The Vikings became his favorite team despite their quarterback at the time, Christian Ponder. He is a walking soccer encyclopedia, loves watching sitcoms, and Classic rock is his music genre of choice. Follow him on Twitter if you like the Vikings: @JanikEckardt