The Vikings 7 Roster Battles Heading into Training Camp
Nov 6, 2022; Landover, Maryland, USA; Minnesota Vikings wide receiver K.J. Osborn (17) stands on the field during warmup prior to the game against the Washington Commanders at FedExField. Mandatory Credit: Geoff Burke-USA TODAY Sports.
Minnesota Vikings training camp begins Sunday with rookies arriving in Eagan.
Veteran players follow on July 25th.
The Vikings 7 Roster Battles Heading into Training Camp
Per general manager Kwesi Adofo-Mensah's terminology, the Vikings are undergoing a 'competitive rebuild;' accordingly, the Vikings have more roster battles than usual.
These are those roster battles, ranked in ascending order of importance (No. 1 = most important).
7. QB2
Frontrunner: Nick Mullens
Contender(s): Jaren Hall
Unless Jaren Hall really looks proficient and promising at training camp and in the preseason, this is Mullens' job to lose. In fact, Mullens is one of the NFL's best backup quarterbacks, so Hall will have to appear pretty damn special to take the QB2 throne.
Still, it could happen — and would actually be a welcomed development for Hall to emerge because it could imply he's an option for QB1 after Kirk Cousins eventually departs.
Prediction: Nick Mullens
6. Kicker
Frontrunner: Greg Joseph
Contender(s): Jack Podlesny
Minnesota made this a camp battle after the 2023 NFL Draft when Adofo-Mensah signed undrafted kicker Jack Podlesny from the University of Georgia.
The Vikings had a punter battle last year in the summer, and the UDFA won the thing — Ryan Wright. Podlesny could follow suit, although Joseph is expected to win the kicker job when it's all said and done.
Prediction: Greg Joseph
5. RB2
Frontrunner: Ty Chandler
Contender(s): Kene Nwangwu, DeWayne McBride
Most believe Alexander Mattison re-signed with the Vikings in March to alas secure an RB1 job. Ergo, the battle after Mattison on the depth chart is for RB2.
Chandler is incredibly fast, but so is Nwangwu. Some draft brains adored McBride, and it wouldn't be utterly shocking if he emerged as the RB2.
Chandler will likely win the post, but this competition will be fierce.
Prediction: Ty Chandler
4. Nose Tackle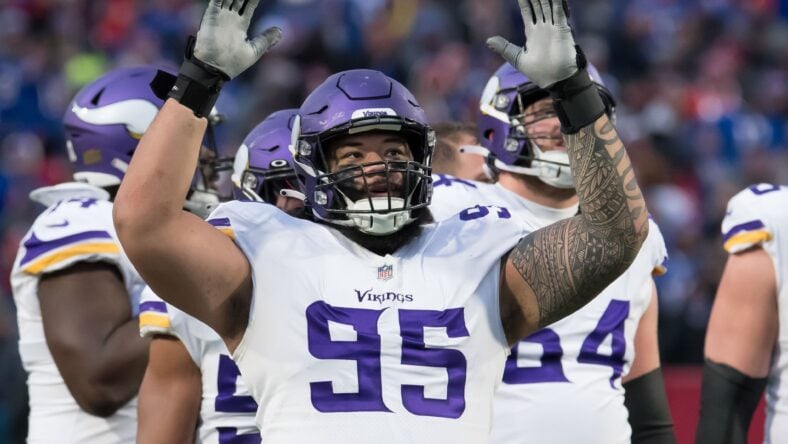 Frontrunner: Khyiris Tonga
Contender(s): Jaquelin Roy, Sheldon Day, Calvin Avery
Tonga executed a mini-breakout season in 2022 via somewhat limited playing time. His mighty 77.9 Pro Football Focus grade told the story.
He's likely to earn the chance for a sequel, this time as a starter, in 2023 but must stave off Roy, Day, and Avery. And if he replicates his 2022 performance, Tonga will become one of the NFL's top value players — on a one-year, $940,000 contract.
Prediction: Khyiris Tonga
3. Free Safety
Frontrunner: Camryn Bynum
Contender(s): Lewis Cine, Josh Metellus
Most Vikings fans will root for Cine to win this starter's job — and rightfully so — but he actually has a daunting task afoot.
Bynum played every single defensive snap for the 2022 Vikings, so he's no pushover. Moreover, NFL experts and Adofo-Mensah personally have banged the drum for Josh Metellus' impending breakout season.
Get your popcorn — this one will be fun.
Prediction: Josh Metellus
2. WR2
Frontrunner: Jordan Addison
Contender(s): K.J. Osborn
Perhaps the most exciting for fans, Addison and Osborn will duke it out this week at training camp. Osborn had developed wonderfully in the last two seasons and could be trusted with the WR2 gig had Minnesota not drafted Addison at all.
But the Vikings indeed plucked Addison from Round 1 of April's draft, meaning he has to start sooner or later.
Vikings fans love their receivers, so circle this one for July and August.
Prediction: K.J. Osborn
1. CB2
Frontrunner: Nobody
Contender(s): Andrew Booth, Akayleb Evans, Joejuan Williams
This camp battle is up in the air like a hot air balloon.
Assuming the Vikings don't sign Marcus Peters or Eli Apple from free agency, the Vikings will embark on 2023 with one of the least experienced CB rooms in franchise history. Quite frankly, you can take out a coin and start flipping it to predict who will win 'the other CB job' next to Byron Murphy.
Booth's draft stock suggests he should easily win the war, but he didn't look like a war-winner last year as a rookie.
This should be classified as the Vikings most fascinating camp battle in recent memory.
Prediction: Andrew Booth
---
Dustin Baker is a political scientist who graduated from the University of Minnesota in 2007. Subscribe to his daily YouTube Channel, VikesNow. He hosts a podcast with Bryant McKinnie, which airs every Wednesday with Raun Sawh and Sal Spice. His Vikings obsession dates back to 1996. Listed guilty pleasures: Peanut Butter Ice Cream, 'The Sopranos,' Basset Hounds, and The Doors (the band).
All statistics provided by Pro Football Reference / Stathead; all contractual information provided by OverTheCap.com.