Vikings at Seahawks | 7 Items To Watch
Aug 5, 2023; Eagan, MN, USA; Minnesota Vikings head coach Kevin O'Connell takes to wide receiver Jordan Addison (3) during training camp at Twin Cities Orthopedic Center. Mandatory Credit: Brad Rempel-USA TODAY Sports
The Minnesota Vikings kick off their 2023 season on Thursday with a preseason contest in Seattle. The team is coming off a 13-win season but is expected to take a large step back because of the departures of some big names. However, head coach Kevin O'Connell needs to find the next guys to step up and take their place to prevent that. Many of them will have their first NFL experience in the preseason.
Vikings at Seahawks | 7 Items To Watch
The Seahawks are trying to win their division for the first time since 2020. Adding fifth overall pick Devon Witherspoon and Ohio State's star wideout Jaxon Smith-Njigba is supposed to help them. Rookies are always a big thing to watch in preseason meetings.
Lewis Cine's Breakout?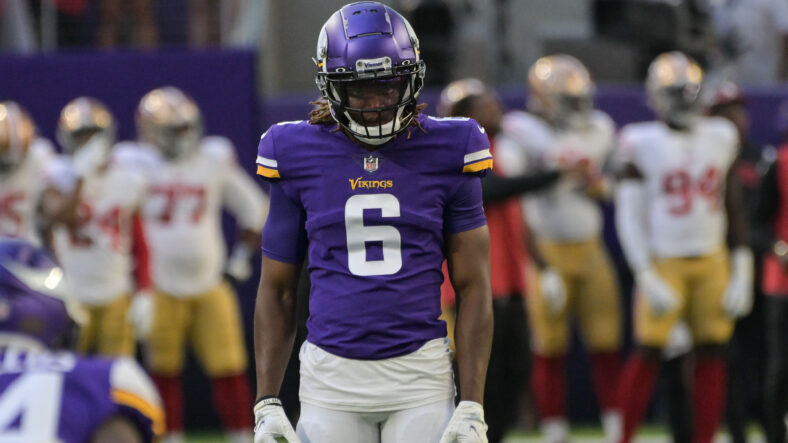 Many Vikings fans were unhappy when general manager Kwesi Adofo-Mensah traded down and then selected Lewis Cine, and so far, they have been right. In part because of Cine's performance but a brutal injury also played a large role. He missed most of his rookie campaign before he even had the chance to contribute.
Now in his second year, he has to compete with incumbent starter Camryn Bynum and versatile defender Josh Metellus for snaps in the secondary. Cine possesses outstanding athleticism and quickness but is late to plays at times because of slow diagnoses. More experience will help him in that regard. He must show consistency throughout a flawless performance and mix in a couple of highlight plays.
Kicking Competition
Barely a big deal in other organizations, the kicker has historically been an essential person in Minnesota. Greg Joseph has had the job for two seasons and has been a mixed bag since. He badly struggles to be a consistent kicker at hitting extra points, but his streak of seven straight game-winning kicks is impressive'.
Regardless, unless your kicker is Justin Tucker, he should have a competition to beat out to simulate game pressure in training camp and possibly find the next Tucker. Jack Podlesny is that guy for the Vikings. Coming in as an undrafted rookie, Podlesny kicked on the biggest stage at Georgia, winning back-to-back national titles. Special teams coordinator Matt Daniels called it a 'true competition,' and both should get the opportunity to kick a few field goals in the game. Will one of them misstep?
Brian Flores
The new defensive coordinator is directly connected to the hopes of Vikings fans. After watching three seasons of horrendous defensive units, it is time for an improved one, and Flores is the man that can make it happen, at least in the eyes of the Vikings.
The franchise made many personnel changes, but it is debatable if this year's players are better than last year's. A much bigger difference, however, is expected to come from Flores' approach of defensive play-calling- Blitzes are his thing, and if necessary in a specific game, he sends extra rushers on more than half of the plays. Defenses often use vanilla plays in the preseason, but he might still bring the heat.
Jordan Addison
While Adofo-Mensah's first first-round pick is on a concerning trajectory, his second one appears to be the opposite. No practice day in training camp goes by without someone raving about the rookie. He looks exactly like he did on his college tape.
Addison isn't the greatest athlete but a skilled route-runner with a nose to get open and excellent ball skills. Fans will get their first peak of the top rookie against the Seahawks, as Kevin O'Connell announced. Can he keep his momentum going?
Ivan Pace
Addison is the camp standout on offense, Pace is the defensive version. The undersized linebacker entered the draft with the expectation to be drafted, but he ended up signing as an undrafted rookie with the Vikings.
Ultimately, it was a good thing for him because he was able to pick the purple team and defensive coordinator Brian Flores, who is a perfect fit for the inside linebacker. Flores loves aggressiveness, and Pace provides that. He'll go up against more contact in the preseason than in practices, and his lack of size could show up. If it doesn't, he is the real deal.
Jaren Hall
The team went through a couple of extremes in terms of preseason quarterback play in the last few years. Kyle Sloter set the world on fire and looked like a future star against third-stringers, while Sean Mannion provided a boring style of football.
Rookie Jaren Hall was picked in the fifth round and has some things to work on, but he has shown his talent on a few plays in every practice. It will be his first game exposure against NFL competition, and struggles should be expected. Regardless, does he look like he belongs, and does his talent show up on the field?
Running Backs
Alexander Mattison is the starting running back in the first season without Dalvin Cook. But who will be RB2 in the upcoming season? Kick return star Kene Nwangwu has been hurt, so Ty Chandler and DeWayne McBride have a significant opportunity to showcase their skills.
Chandler played well in last year's preseason, showing excellent bust and contact balance. He appears to be the most complete running back in the room besides Mattison. McBride was a great college running back but lacked pass-catching ability. He needs to catch the ball whenever a quarterback targets him. The Vikings also employ XFL star Abram Smith who wants to make the best of his second chance in the NFL.
---
Janik Eckardt is a football fan who likes numbers and stats. The Vikings became his favorite team despite their quarterback at the time, Christian Ponder. He is a walking soccer encyclopedia, loves watching sitcoms, and Classic rock is his music genre of choice. Follow him on Twitter if you like the Vikings: @JanikEckardt