Vikings vs Titans | 6 Items To Watch
Dec 4, 2022; Minneapolis, Minnesota, USA; Minnesota Vikings wide receiver Jalen Reagor (5) makes a catch while New York Jets safety Lamarcus Joyner (29) defends during the second quarter at U.S. Bank Stadium. Mandatory Credit: Matt Krohn-USA TODAY Sports.
Roughly a week after losing the preseason opener in Seattle, the Vikings will have a chance to climb to 1-1 in the standings. The good news is that the results don't matter and the regular season will begin with a 0-0 record. Much more important is how players perform. The rookies will have their second showing in a Vikings uniform.
Vikings vs Titans | 6 Items To Watch
Tennessee is coming off a 7-10 season. Their offense ranked 28th in points scored and 30th in yards gained. Playing some games without starter Ryan Tannehill certainly hurt them. The defense allowed the 14th fewest points and ranked 23rd in yards allowed. Injuries also derailed the defense. Mike Vrabel addressed the poor offensive line in the first round by drafting Peter Skoronski with the 11th overall pick. Will Levis came off the board in the second round, so the Vikings might get a heavy dose of the Kentucky passer.
Jaren Hall Bounceback?
The rookie had a poor first performance but not all of that was his fault. He looked panicky at times in the pocket, scrambling to his right despite not facing any pressure. Immediate pressure multiple times early in the game cost him some confidence in himself and in his line.
He still showed excellent athleticism whenever he started to scramble and amazing touch on a dime to N'Keal Harry. Nick Mullens looked like a better QB in the first game, solidifying his backup status. However, Hall is a rookie and improvements should be expected.
More Consistency From Cine?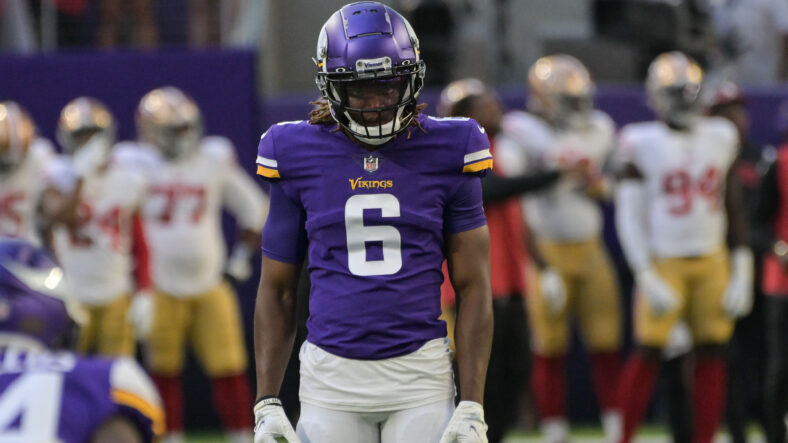 Last year's first-rounder Lewis Cine has not lived up to his draft status. It is still early in his career, too early to write him off. Cine was a highly-regarded safety for a reason. His speed and general explosiveness are outstanding and he showed that in the meeting with the Seahawks.
Problematic is his tackling form. Rookie running back Zach Charbonnet ran over him twice because Cine's pad level was too high. He also had some slow reads. On the flip side, he was in a position to make some plays where other players have no chance to be in because they don't possess his athleticism.
The next step is to be more consistent and to show more of the good than the bad.
Will Ed Ingram Play?
The Vikings rested their starting offensive line, expect one. Ed Ingram played a couple of drives and his performance led to some controversy. He had a couple of bad reps, although one of those was a miscommunication with backup center Austin Schlottmann.
A second-year jump is expected (and necessary) from the 2022 second-rounder. He was a liability in his rookie campaign and the offense can only function at their best with solid play in the trenches. It remains to be seen if he gets to play another game and if he does, how does he look?
More Ivan Pace Glory?
Undrafted rookies are always fan favorites but most of them never amount to anything. Pace is different. With almost two weeks to go before players will be cut, it would be a major shock if Pace was one of them. In fact, he is closer to cracking the starting lineup than to losing his roster spot.
In his preseason debut, Pace led the team with six tackles, he did his usual thing and blew up some guards in the running game and he shot some gaps with decent coverage play. And he did all of that while wearing the green dot which means he called the defense on the field. He has been nothing short of sensational but can he continue to do that?
Which WR Shines?
Jordan Addison will not play because he is in the concussion protocol. He was the star on offense last week. The wideout group is perhaps the most combative position on the roster with many players who deserve a roster spot. At the end of the day, it is a numbers game, and a great preseason showing helps.
Trishton Jackson returned to practice and made some highlight grabs. Jalen Reagor played well last week and earned some first-team reps in the absence of Addison and Jalen Nailor. N'Keal Harry is a big pass-catcher and a potential threat to claim a roster spot. Veteran returner Brandon Powell has shown some flashes in training camp just like rookie Thayer Thomas.
All of the players can turn into potential stars against the Titans but which one will it be?
Andrew Booth Breakout?
Just like Cine, the second-round pick from a year ago hasn't lived up to his draft status and injuries have played a role. But he also struggled in coverage and Akayleb Evans and Mekhi Blackmon are the clear favorites to start. I
In the matchup with the Seahawks, he played with the third-team defense and allowed a touchdown score from Jake Bobo, an undrafted rookie. He must finally show something promising. He was a highly touted college recruit and a second-round draft choice, the talent is somewhere hidden inside of him. It is time to unlock it.
Akayleb Evans and Mekhi Blackmon had an injury scare on Thursday. Their status for the game is unclear, Booth could be elevated to the starting group.
---
Janik Eckardt is a football fan who likes numbers and stats. The Vikings became his favorite team despite their quarterback at the time, Christian Ponder. He is a walking soccer encyclopedia, loves watching sitcoms, and Classic rock is his music genre of choice. Follow him on Twitter if you like the Vikings: @JanikEckardt