5 Vikings Camp Battles on the Way
Aug 20, 2022; Minneapolis, Minnesota, USA; Minnesota Vikings quarterback Sean Mannion (14) hands off to running back Ty Chandler (32) during the second quarter against the San Francisco 49ers at U.S. Bank Stadium. Mandatory Credit: Matt Krohn-USA TODAY Sports.
The Minnesota Vikings begin mandatory minicamp in June, training camp in July, and preseason in August.
Those events are not far away, so it's not too early to brainstorm summer camp battles.
5 Vikings Camp Battles on the Way
Minnesota will have an array of prominent position duels, and as of May 6th, these are the top five (ranked in no particular order).
1. Jordan Addison
v.

K.J. Osborn
Wide Receiver
Nobody will hand rookie Jordan Addison the keys to the WR2 job in September; let's get that factoid out of the way. K.J. Osborn won't allow it without a fight.
Addison has to arrive this summer and do the work — but most expect him to do just that. Osborn, on the other hand, will hit Eagan with a monster chip on his should hellbent on staving Addison off for Week 1 and beyond.
Also keep in mind — Addison may take a few weeks to get cooking in 2023. See: Christian Watson with the Packers in 2022.
Advantage: Addison
2. Andrew Booth
v.

Akayleb Evans
Cornerback
Because the Vikings front office and coaching staff enjoy these men so much, only one big-name CB was acquired via free agency — Byron Murphy.
The other starting job will be left for duel between the 2022 2nd-Rounder, Booth, and 4th-Rounder, Evans.
Evans was the more impressive commodity in 2022, but that's because he churned out a few good games, and Booth did not. Minnesota has exceedingly high hopes for Booth, who many believed had a 1st-Round grade during last year's draft lead-up.
Advantage: Booth
3. Greg Joseph
v.

Jack Podlesny
Kicker
Just to keep Joseph honest, general manager Kwesi Adofo-Mensah captured Georgia kicker Jack Podlesny from the UDFA wire last weekend. The Vikings used the same tactic in 2022 with rookie kicker Gabe Brkic. He didn't last long.
Joseph was phenomenal at one thing last year — cold-blooded clutch kicking. Aside from that — the regular field goals and extra points — he wasn't very good. It's tough to swallow because the man was a Godsend late in games, but it is the truth.
Joseph will likely prevail like last year, but the Podlesny development is intriguing.
Advantage: Joseph
4. Ty Chandler
v.

DeWayne McBride
RB2
Ty Chandler had an RB2 job all wrapped up — until last Saturday.
In Round 7, Adofo-Mensah unearthed DeWayne McBride from UAB, and he's a player who could've been drafted in Rounds 2, 3, or 4 a decade ago. Adofo-Mensah even said after the draft that the Vikings had a starter's grade for McBride while scouting.
Chandler will turn 25 soon, and McBride is 21. To play it safe for the projection, it's probably Chandler's time at RB2, at least for a year.
Advantage: Chandler
5. Khyiris Tonga
v.

Jaquelin Roy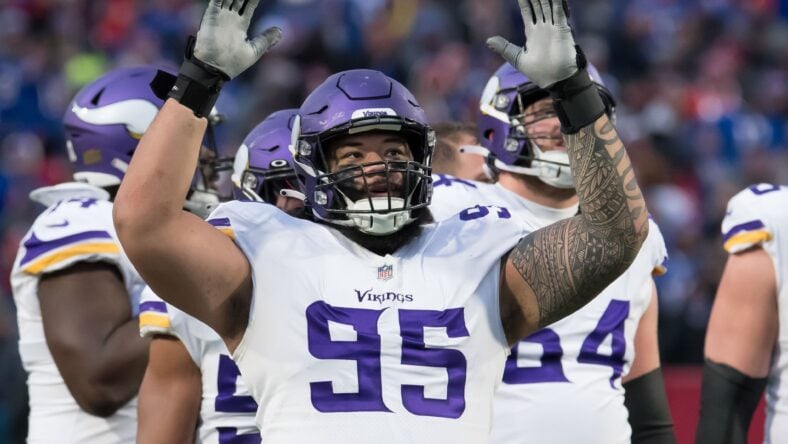 Nose Tackle
Aside from Harrison Phillips, the Vikings DT spot could be one gigantic camp battle involving at least five players. It depends on what lineup Brian Flores wants in the middle of the defense to replace Dalvin Tomlinson, who bolted for the Cleveland Browns in March.
Perhaps Minnesota desires no big-bodied stuffer in the middle of the defense, and in that case, Phillips would line up next to Dean Lowry — and then an Esezi Otomewo or Ross Blacklock-type lineman as the third DT. We shall see.
However, if the Vikings stick to the traditional scheme of at least one large NT-like man in the middle, the battle will be between Tonga and Roy. Tonga will likely prevail because Roy is a rookie from the 5th Round.
Advantage: Tonga
---
Dustin Baker is a political scientist who graduated from the University of Minnesota in 2007. Subscribe to his daily YouTube Channel, VikesNow. He hosts a podcast with Bryant McKinnie, which airs every Wednesday with Raun Sawh and Sal Spice. His Vikings obsession dates back to 1996. Listed guilty pleasures: Peanut Butter Ice Cream, 'The Sopranos,' and The Doors (the band).
All statistics provided by Pro Football Reference / Stathead; all contractual information provided by OverTheCap.com.