4 False Narratives Surrounding Vikings in 2023
Dec 31, 2017; Minneapolis, MN, USA; A Minnesota Vikings helmet against the Chicago Bears at U.S. Bank Stadium. Mandatory Credit: Brace Hemmelgarn-USA TODAY Sports
The Minnesota Vikings training camp is three weeks away, creating the here and now as the one and only deadzone for new NFL dealings on the annual calendar.
Business will heat up in late July.
4 False Narratives Surrounding Vikings in 2023
But for now, let's review the false talking points surrounding the 2023 Vikings. These are ranked in ascending order (No. 1 = the utmost falsehood).
4. Dalvin Cook as an Elite RB
For starters, this graph is from Sumer Sports' Tej Seth:
And, yes, that's Dalvin Cook way down at the bottom. Cook's 2022 season was propped up by about four wonderful plays — ones that actually saved Vikings games from demise.
Overall, however, he wasn't quite the same in his sixth season. The chart above isn't controversial. It's math.
The Vikings didn't retain Cook for two reasons: He wasn't worth a $14.1 million cap hit, and he probably won't improve in 2023. The man ranked sixth in rushing yards last year, indeed, but he also ranked sixth in rushing attempts. In addition to Yards over Expected, Cook also tallied the lowest per-carry total of his career.
Still, some NFL pundits maintain that Cook's exit from the Vikings is a sizable blow. Perhaps via locker room leadership this is the case, but the on-the-field numbers suggest otherwise.
3. A Defense Can't Be Fixed in a Year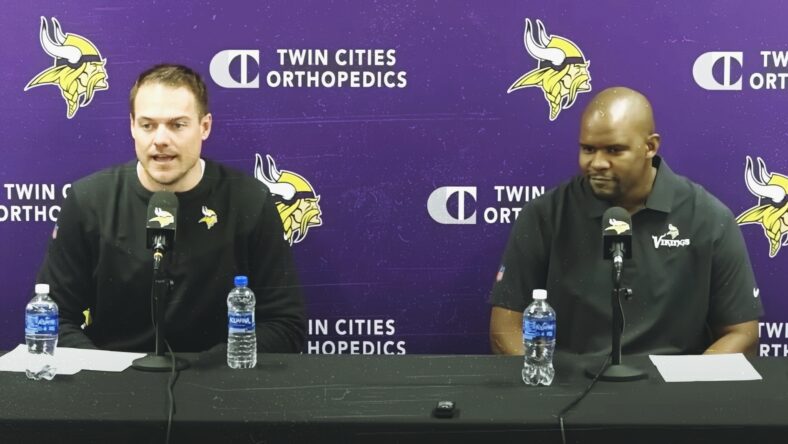 Usually, a new defensive coordinator does not turn a defense around in one offseason.
But it's not impossible. There is recent precedent for fixing a defense in one year.
Dallas Cowboys,
Defense,
2020-2022:
2020 DC: Mike Nolan
2021 DC: Dan Quinn
2022 DC: Dan Quinn
2020 DVOA: 23rd
2021 DVOA: 2nd
2022 DVOA: 2nd
2020 EPA/Play: 21st
2021 EPA/Play: 3rd
2022 EPA/Play: 2nd
The 2021 Dallas Cowboys climbed about 20 league rankings with a new defensive coordinator and Micah Parsons. Minnesota doesn't have Parsons, of course, but it's not wild to surmise the Brian Flores-led Vikings defense can climb to the middle of the pack or higher in 2023.
2. The Vikings Are 'Tearing It Down'
For undetermined reasons, folks believe an NFL team must do one of two strategies for team-building: trade draft picks out the wazoo to contend for a Super Bowl like the 2021 Los Angeles Rams — or visibly tank in a regular season for the following year's 1st overall pick. You'll frequently hear, "Are they contending or rebuilding?"
Well, Vikings general manager Kwesi Adofo-Mensah doesn't see the NFL world defined by two camps. How do we know this? He said it — more than once. Since taking the Vikings job 17 months ago, Adofo-Mensah has verbally outlined — and personally effectuated — what he calls a competitive rebuild. He's offloaded aging, expensive veterans' contracts while focusing on salary cap flexibility and youth. It's as plain as day. There is no ambiguity.
In March 2022, Adofo-Mensah was asked about the all-in versus rebuild debate — the contrived one — and he replied, "I think when people look at teams, they can sometimes do it in a very binary way. They ask are you either all-in, or are you tearing it down and rebuilding? I don't really look at the world that way. The way we look at it is we're trying to navigate both worlds."
Anytime you see someone calling the Vikings offseason a full rebuild, just know that is what that person wants the team to do. The narrative completely disregards reality and Adofo-Mensah's words.
1. Justin Jefferson Not in the Top 5
Former NFLer Keyshawn Johnson outlined his Top 5 WR rankings for the 2023 season this week:
Tyreek Hill
Davante Adams
Ja'Marr Chase
Stefon Diggs
A.J. Brown
And, yes, Justin Jefferson was missing from the fivesome. It isn't some sort of fringe assertion to plop Jefferson in the Top 5 WRs leaguewide. The man won the NFL's Offensive Player of the Year award in 2022. If Vikings fans were loudly defending Adam Thielen a couple of years ago or someone like Jordan Addison in the present — this 'debate' would make sense.
Johnson's co-host, Max Kellerman, seemed to clean up the Johnson list, "I'd probably put Jefferson at four or five. Because he is so productive. You know, guys like Jefferson and Cooper Kupp, I agree with you, even if it's the system or whatever else when they are in the right situation, they are going to get a million catches, a million yards, a million touchdowns."
Jefferson has experienced three offensive coordinators in three years as a pro. The system hasn't been consistent, and he still tabulated the most receiving yards in NFL history through a player's first three seasons. If it's not Jefferson or the system — it would mean Kirk Cousins is the kingmaker. Would folks endorse that? It'd be a first.
Beyond the shadow of a doubt, Jefferson is a Top 5 wideout despite Johnson's bizarre rankings.
---
Dustin Baker is a political scientist who graduated from the University of Minnesota in 2007. Subscribe to his daily YouTube Channel, VikesNow. He hosts a podcast with Bryant McKinnie, which airs every Wednesday with Raun Sawh and Sal Spice. His Vikings obsession dates back to 1996. Listed guilty pleasures: Peanut Butter Ice Cream, 'The Sopranos,' Basset Hounds, and The Doors (the band).
All statistics provided by Pro Football Reference / Stathead; all contractual information provided by OverTheCap.com.