One New Viking Is 'Tough as Hell'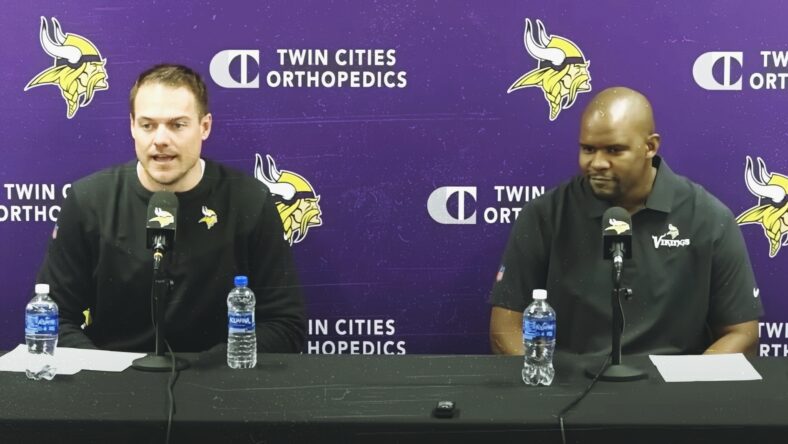 Minnesota Vikings Head Coach Kevin O'Connell introduced new Defensive Coordinator Brian Flores from the TCO Performance Center on February 15th, 2023. Flores coached for the New England Patriots, Miami Dolphins, and Pittsburgh Steelers before joining the Vikings in 2023.
The Minnesota Vikings moved on from 2022 defensive coordinator Ed Donatell just four days after the playoffs capped. The New York Giants dropped Minnesota in the postseason's Wildcard round, a disappointment for the Vikings after finishing 13-4 in head coach Kevin O'Connell's inaugural season.
One New Viking Is 'Tough as Hell'
A couple of weeks later, the Vikings leadership replaced Donatell with Brian Flores, an experienced coach from the Bill Belichick coaching tree whose resume contains a head coaching stop with the Miami Dolphins and, most recently, a linebackers gig in Pittsburgh.
And folks are excited about Flores, rest assured. It's not just Vikings fans, either.
Former Indianapolis Colts head coach Chuck Pagano, who now contributes to The 33rd Team, is among the 'B-Flo' enthusiasts. He outlined Flores' coaching scoring report this week, calling the Vikings new defensive coordinator a "tough-as-hell chess master."
"We all know B-Flo. B-Flo is aggressive. B-Flo has a big personality. He's a really good football coach. He's really good on the defensive side. Multiplicity. So, they may line up on paper — you can go on the internet and look up their depth chart — it's gonna like a 3-4 defense layout," Pagano began by breaking down Flores' philosophy.
Flores took over a Dolphins defense in 2019 that ranked 26th in the NFL per EPA/Play. By the end of 2020 — so two years later — Miami was the league's seventh-best team in the same analytics-focused metric.
Pagano continued on Flores, "But the thing about coming out of New England with that Bill Belichick-run defense is they're gonna surround themselves with really smart, good football players and football players that have a ton of versatility. I think the biggest thing that's gonna be different is — it's gonna be way more aggressive."
Pagano, too, is a defensively-minded coach, serving as defensive coordinator for the 2011 Baltimore Ravens and the Chicago Bears in 2019 and 2020.
"He's gonna do a great job there. He's tough as hell. He's got a disposition that's perfect for the defensive side of the ball. I think that's gonna carry over to everybody on the defensive side there," Pagano added.
Pagano's musings echo similar sentiments about Flores all offseason — from Flores' lips, the Vikings coaching staff, and NFL pundits. Last year, Minnesota specialized in 'shell coverage,' a system that touted bend-don't-break tendencies. Fans grew frustrated with the setup as the Vikings always seemed to allow opponents free reign up and down the field.
But 2023 should be different, at least in theory. Flores will deploy younger, faster, and more affordable assets like Brian Asamoah, Lewis Cine, and Byron Murphy, among others, on Sundays.
Glancing at the Vikings defensive numbers last year — they ranked 31st in yards allowed — up is close to the only direction available.
Vikings training camp kicks off in three weeks.
---
Dustin Baker is a political scientist who graduated from the University of Minnesota in 2007. Subscribe to his daily YouTube Channel, VikesNow. He hosts a podcast with Bryant McKinnie, which airs every Wednesday with Raun Sawh and Sal Spice. His Vikings obsession dates back to 1996. Listed guilty pleasures: Peanut Butter Ice Cream, 'The Sopranos,' Basset Hounds, and The Doors (the band).
All statistics provided by Pro Football Reference / Stathead; all contractual information provided by OverTheCap.com.