Vikings Fans Shouldn't Lose Sleep if Offensive Lineman Walks
In less than three weeks, 16 Minnesota Vikings players are scheduled to hit free agency. Some will return. Many will depart for good. It's the nature of the business.
One popular name in the Vikings free-agent mill is center Garrett Bradbury, and opinions are torn about retaining him. Some believe the former 1st-Rounder was revitalized under first-year head coach Kevin O'Connell. The numbers indeed showed improvement. Another faction of Vikings fans remains unconvinced that Bradbury is the real deal.
Vikings Fans Shouldn't Lose Sleep if Offensive Lineman Walks
Here's Bradbury's Pro Football Focus resume through four seasons;
2019 =

58.1

2020 =

61.4

2021 =

60.2

2022 =

70.2
The man did improve in 2022 as the Vikings operated under a new storefront. In particular, Bradbury's pass protection grade via PFF spiked from an embarrassing 43.7 grade in 2021 to a noteworthy 68.1 in 2022. Kevin O'Connell and offensive line coach Chris Kuper evidently brought the special sauce to Minnesota.
And that mini-breakthrough is enough for some folks to desire more Bradbury in 2023 and beyond. After all, Minnesota plucked the center from the 1st Round of the 2019 NFL Draft, so it really eases the pain if he "works out."
The Athletic's Alex Lewis unveiled a 10-part plan to 'set up the Vikings for the present and future' on Monday, and keeping Bradbury was on the agenda. Lewis wrote, "Re-signing Bradbury, who already knows coach Kevin O'Connell's playbook, makes sense. Yes, the front office declined Bradbury's fifth-year option before last season. And sure, Bradbury's 2022 back injury might be cause for future concern."
"Those important factors aside, Bradbury is likely to get a mid-level center contract of around $7 million per season in average annual value. Bradbury's cap number would likely start around $5 million, further dwindling what Minnesota has to spend in free agency," Lewis added.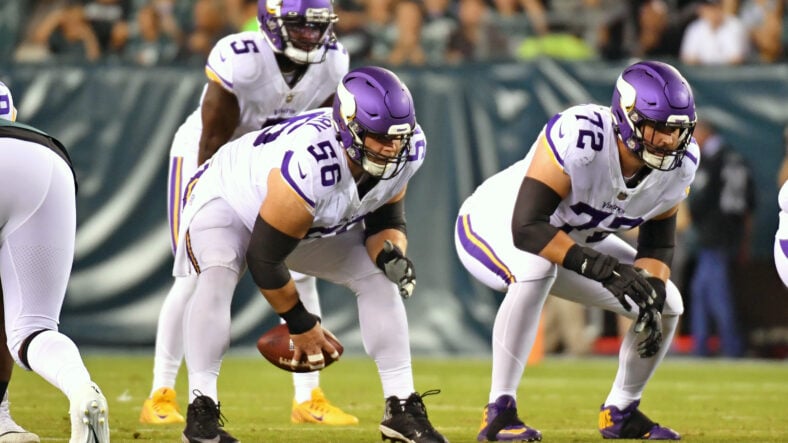 Lewis' theory checks out — welcoming Bradbury back at a reasonable price seems smart.
But what if Bradbury wants more than $7 million per year? That's where Vikings fans should merely shrug if he walks.
The purple masses view Bradbury through a lens of comparison. He wasn't terrible anymore in 2022, therefore — thank God. Former general manager Rick Spielman may have "got it right" after all with Bradbury.
Yet, here's the problem — Bradbury still isn't a 1st-Round caliber center. There's a reason general managers rarely spend 1st-Round draft capital on centers. They can be found in draft's later rounds. If a team chooses a center in Round 1, that player better be outstanding.
Bradbury wasn't or isn't outstanding. His pass protection from 2019 to 2021 was dreadful. Then, in 2022, it was not-dreadful and felt like cause for celebration.
That isn't how this should work.
If the Vikings and Bradbury want to maintain the existing relationship at a fair price — great. But if Bradbury prefers elsewhere, the franchise can draft a center not in the 1st Round like the rest of the world. Free agency could be utilized, too, for a Bradbury replacement.
It was quite exciting that Bradbury didn't stink in 2022, but a 68.1 pass-protection grade from PFF shouldn't mandate a parade. The guy was decent — not otherworldly. If he walks, the situation should be a relative nothingburger.
---
Dustin Baker is a political scientist who graduated from the University of Minnesota in 2007. Subscribe to his daily YouTube Channel, VikesNow. He hosts a podcast with Bryant McKinnie, which airs every Wednesday with Raun Sawh and Sal Spice. His Vikings obsession dates back to 1996. Listed guilty pleasures: Peanut Butter Ice Cream, 'The Sopranos,' and The Doors (the band).
All statistics provided by Pro Football Reference / Stathead; all contractual information provided by OverTheCap.com.