Kirk Cousins Trade Rumors Died. Here's Why.
About a month ago, "Should the Vikings Trade Kirk Cousins?" rumors circulated, an annual Minnesota tradition. The theories were spread by the same outfits that fire up the talking point every offseason, and 2023 was no different.
But, per usual, the trade-Cousins rumors totally fizzled, and all the time chatting about the topic was wasted and much ado about nothing.
Kirk Cousins Trade Rumors Died. Here's Why.
The Vikings will likely extend Cousins by a year or two or let his contract play out. The agreement ends at the end of next season. The franchise is expected to indulge the former.
So, what happened to the Cousins trade rumors? Well, a few things.
Brian Flores Hired as DC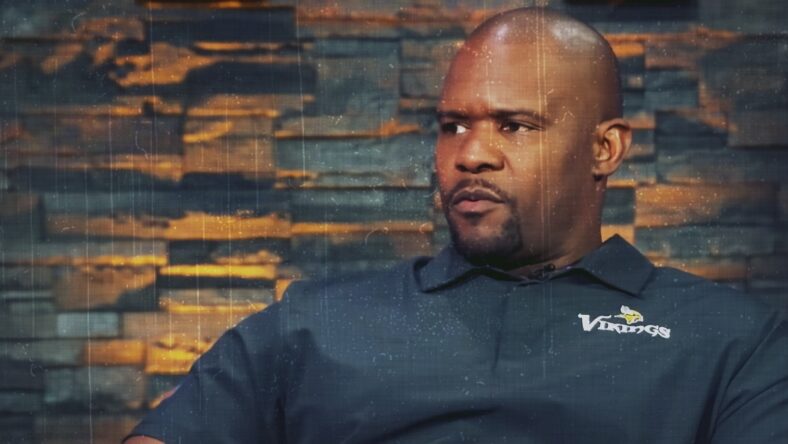 The origins of 2023 trade-Cousins fodder were rooted in a familiar place — no one was entirely sure if the franchise would, alas, rebuild.
Well, the Vikings never fully rebuild, but it could've traded Cousins after the Vikings home playoff loss to the New York Giants. They did not and instead hired Brian Flores as the 2023 defensive coordinator.
A cold hard reality of the Flores hire? He's guaranteed to coach the Vikings defense for just one season. The man deserves a head coaching job and could realistically land one in 11 months. Hiring Flores affirmed a familiar Vikings plan. The upcoming season would have in-it-to-win-it stakes. Minnesota wants to hold serve with its 13-4 record in 2022, seize the NFC North again, and win a damn Super Bowl.
Trading Cousins would've vividly inferred a junior rebuild or at least a paradigm shift. But getting Flores emphatically proved, "Oh, these guys want to fix the defense quickly and try to make a run."
"Bad" Draft Spot — Limited Draft Capital
Listen, very few fans will complain if the Vikings want to draft Cousins' successor in the 2023 NFL Draft. It's the 2017 Kansas City Chiefs plan.
You just have to pray that a "Patrick Mahomes type" is waiting to be picked.
No Mahomesian man is waiting in the draft class for discovery because, well, Mahomes is Mahomes, and they don't grow on trees. Even more difficult for the Vikings theoretical draft-a-QB plan is the draft spot. Minnesota lives at pick No. 23.
That's rookie-QB purgatory in this draft.
Therefore, general manager Kwesi Adofo-Mensah would have to trade up the draft board to "get his guy" while holstering just four draft picks entering the event. That's not enough. He would be tasked with dipping into 2024 and 2025 buckets for a trade.
Marinating with the 23rd overall pick and owning three picks thereafter is not conducive to a big get-rid-of-Cousins quarterback trade. It's actually a terrible formula.
A No-Trade Clause
Debates on Cousins' future were more than welcome to become rampant and fill the offseason media machine. But in the end, Cousins had [and has] a no-trade clause. That means something. It makes the offloading of his contract contingent on his desires. Last year, that nugget was not present in the discussion, and the Vikings could've traded him anywhere.
But not this time.
You can rest assured that the trade-Cousins zealotry will arrive again in 2024, and perhaps then Cousins won't have a tricky no-trade clause.
Folks Realized the Idea Wasn't Realistic
Just because you want something to happen — doesn't mean it will happen.
Folks pumped out the pro-trade-Cousins content, and then the Vikings leadership said the opposite — they fully expected Cousins to return as QB1 in 2023. After these events, there was a realization that "talking into the void" was a real thing. Vikings fans and media entities had to reflect and ask, "Will this really happen?"
The answer was the same as every offseason — nope, they're not trading him.
How long do you want to keep saying, tweeting, and begging for the same occurrence that never happens?
---
Dustin Baker is a political scientist who graduated from the University of Minnesota in 2007. Subscribe to his daily YouTube Channel, VikesNow. He hosts a podcast with Bryant McKinnie, which airs every Wednesday with Raun Sawh and Sal Spice. His Vikings obsession dates back to 1996. Listed guilty pleasures: Peanut Butter Ice Cream, 'The Sopranos,' and The Doors (the band).
All statistics provided by Pro Football Reference / Stathead; all contractual information provided by OverTheCap.com.