'GMFB' Host Bemoans Kirk Cousins as Vikings QB
Kirby Lee-USA TODAY Sports
Can't please 'em all.
The Minnesota Vikings opted not to extend quarterback Kirk Cousins' contract as of yet this offseason, but his mere existence on the 2023 depth chart still irritates some.
'GMFB' Host Bemoans Kirk Cousins as Vikings QB
The latest example was Jamie Erdahl, a host on NFL Network's Good Morning Football show Wednesday. Erdahl is flummoxed by Cousins' ability, in general, and the why of his continued presence on the Vikings roster.
If the Vikings were to release the 34-year-old, they'd be on the hook for a $48.5 million dead cap hit.
Erdahl quizzed the Good Morning Football panel about Cousins' existence on the Vikings active roster, "Can you make it to an NFC title game? Can you make it to a Super Bowl? Can you not lose in the first round of the playoffs again? Because Kirk Cousins, while I hope he does have the most competitive season in 2023, I'm not sure it necessarily needs to be with the Minnesota Vikings."
"I'm so sick of watching the Vikings play that way. I am. Having a quarterback that wins you regular season titles is great — but don't as an ownership, as management. I love Kwesi Adofo-Mensah. I think he's an unbelievable talent," Erdahl continued.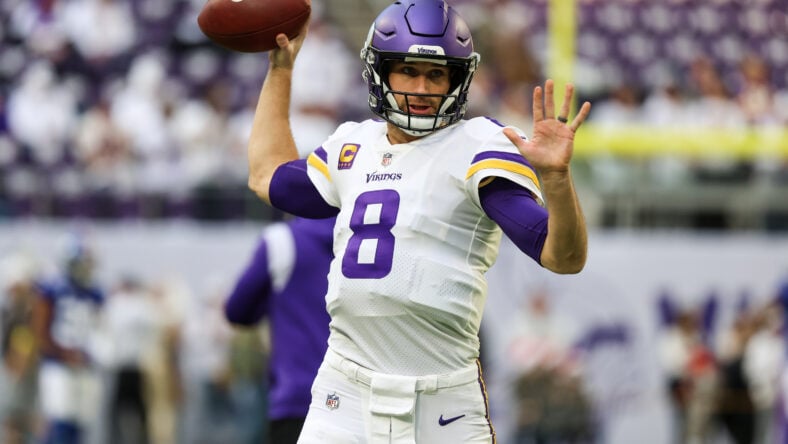 Cousins fired up the best playoff performance of any quarterback in the 2022 NFL playoffs per EPA+CPOE and was the only reason the Vikings were competitive against the New York Giants in the Wildcard showdown. Minnesota's defense leaked like a sieve versus an otherwise underwhelming Giants offense while Cousins was surgical — until the Vikings final offensive play.
Minnesota's QB1 was under siege by the Giants defensive line on a 4th and 8 play, flung to ball to tight end T.J. Hockenson, Cousins was drilled, Hockenson failed to convert the play for a 1st Down, and the subsequent narrative of "Cousins couldn't get it done" spiraled.
Such is life for Cousins — in any game.
Erdhal finished the monologue, "But don't come in and say you're going to change the culture and not have part of the culture be we're going to compete for Super Bowls. You are still on a list that you don't want to be on of a team that has not won a Super Bowl."
The Vikings new leadership duo of Kwesi Adofo-Mensah and Kevin O'Connell indeed changed the team's culture in one year, producing 13 wins — with Cousins as QB1 — after back-to-back nine-loss seasons with Rick Spielman and Mike Zimmer in 2020 and 2021. The team also ranked at the top of the NFL via the NFLPA's new "team report cards." Team Culture was cited at an apex.
Erdahl might get her wish, though. Cousins isn't committed to the Vikings roster beyond 2023, and draft brains have speculated amid the last week that Adofo-Mensah could select the quarterback of the future in April's draft.
Finally, Erdahl offered no details on how the Vikings would rid themselves of Cousins' $48.5 million remaining salary or trade the player with a no-trade clause. Therefore, the rant can be classified as generalized frustration with the quarterback who tied a single-season record in 2022 for game-winning drives.
---
Dustin Baker is a political scientist who graduated from the University of Minnesota in 2007. Subscribe to his daily YouTube Channel, VikesNow. He hosts a podcast with Bryant McKinnie, which airs every Wednesday with Raun Sawh and Sal Spice. His Vikings obsession dates back to 1996. Listed guilty pleasures: Peanut Butter Ice Cream, 'The Sopranos,' and The Doors (the band).
All statistics provided by Pro Football Reference / Stathead; all contractual information provided by OverTheCap.com.