The 6 Possible Trades in the Vikings Orbit Right Now
Kwesi Adofo-Mensah
The Minnesota Vikings lost seven players during free agency: Cameron Dantzler (CB, Commanders), Eric Kendricks (LB, Chargers), Patrick Peterson (CB, Steelers), Adam Thielen (WR, Panthers), Dalvin Tomlinson (DT, Browns), Duke Shelley (CB, Raiders), and Irv Smith (TE, Bengals).
They've added Josh Oliver (TE, Ravens), Marcus Davenport (EDGE, Saints), Byron Murphy (CB, Cardinals), Dean Lowry (DT, Packers), Brandon Powell (WR, Rams), and Troy Reeder (LB, Chargers) as newcomers.
The 6 Possible Trades in the Vikings Orbit Right Now
Now, some possible trades are on the docket. These are those, ranked in ascending order of likelihood.
6. Lamar Jackson to MIN
The financial game of Twister would be sheer hell, but former league MVPs don't hit the trade market often, especially not for "only" two 1st-Rounders.
That's right. The Vikings can donate a huge contract + two 1st-Round draft picks to the Lamar Jackson sweepstakes and then hope the Ravens are truly ready to be done with Jackson, the 26-year-old quarterback.
Much of the deal doesn't make sense from a monetary standpoint, nor does Jackson's injury history inspire confidence. But the trade would be the almighty "statement move" from general manager Kwesi Adofo-Mensah. Plus, the realism, at least according to oddsmakers, is there.
5. Trey Lance to MIN
The rookie from the 2021 Draft class evidently has to compete for a QB1 gig this summer with Sam Darnold while awaiting Brock Purdy's return from injury.
Lance's trade price is at its lowest valley, and the Vikings could theoretically acquire him for pennies on the dollar. He hasn't been healthy, and when he has played, Lance has looked "okay" on the field.
If the 49ers like Purdy or even Darnold — stop smirking — Lance could be on his way out, as not to muddy the quarterback room with distraction. Now would be the best time for a team to buy low on the North Dakota State alumnus.
He could sit for a year behind Kirk Cousins, or Minnesota could send Cousins to the 49ers, an oft-rumored trade scenario.
4. Trade Up in Draft for QB
Various draft pundits decided last week that the Vikings might trade up in the 2023 NFL Draft to secure a plan for life after Cousins.
This could involve trading the farm to the Arizona Cardinals for the No. 3 pick for C.J. Stroud or Will Levis. Or — trading up the Detroit Lions spot, No. 6, for whichever quarterback fell a few spots (that the Vikings also conveniently happen to love).
Trading up on draft night for the future QB1 all depends on how aggressive Kwesi Adofo-Mensah wants to be with one year left on Cousins' contract. He can find "his guy" now or leave it until 2024, when there is no other option but to draft the next guy.
3. Trade Za'Darius Smith Elsewhere
Smith tweeted three weeks ago, "I just want to say 'Thank you!' to Skol Nation for an amazing season & experience! Thank you to all of my Teammates, Coaches & the entire Minnesota Vikings Organization! 💜."
Then, nothing happened. No release. No trade. No come-to-Jesus meeting with Vikings brass.
The goodbye tweet must be resolved somehow, and this may be heading toward a Smith trade before or during the NFL draft.
2. Trade Dalvin Cook Elsewhere
The Vikings are tentatively scheduled to pay all running backs, per cap hit, about $20 million in 2023. That seems utterly backward for a "Moneyball" general manager in the pass-happy NFL.
Adofo-Mensah also re-signed Alexander Mattison recently, appearing to nominate the 24-year-old for RB1 duty.
Like Smith, a Cook trade is likely heading to a smartphone notification near you — perhaps to the Atlanta Falcons, Buffalo Bills, or Cincinnati Bengals.
1. Trade Down from 23rd Draft Pick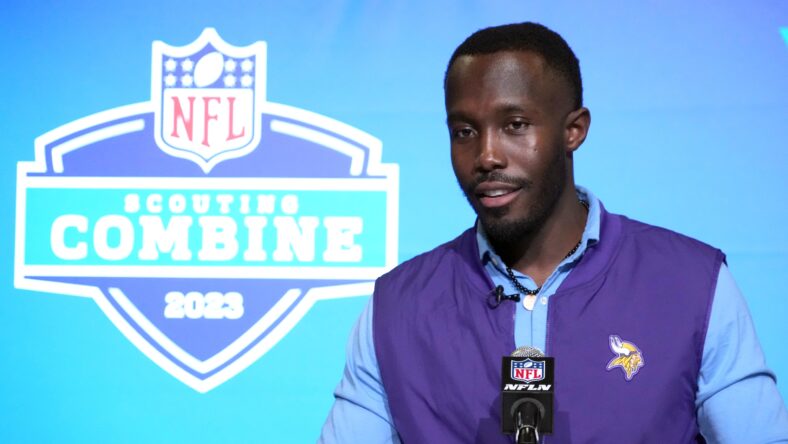 The one you should thoroughly and emotionally prepare for.
The Vikings most likely draft outcome on April 27th is not staying put and drafting the best player available with the 23rd pick, nor is it trading up for Will Levis, Anthony Richardson, or C.J. Stroud.
It's doing precisely what Adofo-Mensah did last year — trading down to procure more draft capital. He did it one year ago during his first draft assignment on the job, landing Lewis Cine, Andrew Booth, Ed Ingram, and Brian Asmoah for his troubles.
Minnesota needs draft picks, and the best way to do it is to trade back and collect more lottery tickets. Watch for the Kansas City Chiefs and Pittsburgh Steelers as dance partners in trading back.
---
Dustin Baker is a political scientist who graduated from the University of Minnesota in 2007. Subscribe to his daily YouTube Channel, VikesNow. He hosts a podcast with Bryant McKinnie, which airs every Wednesday with Raun Sawh and Sal Spice. His Vikings obsession dates back to 1996. Listed guilty pleasures: Peanut Butter Ice Cream, 'The Sopranos,' and The Doors (the band).
All statistics provided by Pro Football Reference / Stathead; all contractual information provided by OverTheCap.com.