Even Rick Spielman Thinks Vikings May Trade Star Defender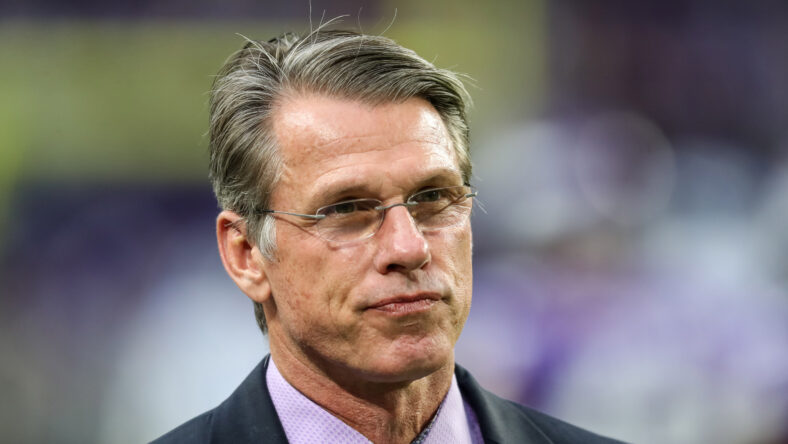 Nov 4, 2018; Minneapolis, MN, USA; Minnesota Vikings general manager Rick Spielman looks on prior to the game against the Detroit Lions at U.S. Bank Stadium. Mandatory Credit: Brace Hemmelgarn-USA TODAY Sports.
Very soon, in the next 12 days, Minnesota Vikings general manager Kwesi Adofo-Mensah must decide if his organization is a buyer at the NFL's October 31st trade deadline, a seller, or idle.
The Vikings are 2-4 after Week 6, taking on the San Francisco 49ers and Green Bay Packers in the next 10 days.
Even Rick Spielman Thinks Vikings May Trade Star Defender
Regarding that decision, a blast from the past seems to think one Viking, in particular, could be traded, and that's Rick Spielman's belief that Danielle Hunter could head elsewhere.
Spielman worked for the Vikings from 2006 to 2022, was let go after the 2021 season, and served as some iteration of general manager during most of his tenure.
Now that job belongs to Adofo-Mensah, and Spielman thinks Hunter could be traded.
Writing for The 33rd Team, Spielman explained this week, "Any NFL team in contention for a playoff berth and needs a push to get to the next level should take a strong look at trading for Minnesota Vikings DE Danielle Hunter."
Hunter leads the NFL in sacks and tackles for loss and has nearly singlehandedly provided Minnesota's 2023 pass rush. Spielman drafted Hunter personally eight years ago.
"There are plenty of teams that should be interested in acquiring Hunter, who turns 29 on Oct. 29, before the trade deadline. The team that would benefit the most is the Jacksonville Jaguars. The AFC South leaders are on a three-game win streak and have several things going for them. They have a franchise quarterback in Trevor Lawrence, good skill-position players such as RB Travis Etienne and receivers Calvin Ridley and Christian Kirk as well as a defense that has played better this season," Spielman nominated the AFC team as a landing spot.
Last week, KSTP's Darren Wolfson talked about Jacksonville's Hunter interest on SKOR North's Mackey and Judd Show, "I know this, Jacksonville has all sorts of interest in Danielle Hunter. What are they willing to offer? Can you complete that trade?"
If the Vikings trade Hunter, the club will very much be "mailing it in" on 2023, as the franchise's other starting outside linebacker, Marcus Davenport, hit injured reserve on Wednesday, on deck to miss at least four games.
Spielman concluded, "This type of power move would help the Jaguars close the gap on the Chiefs, Bills, Cincinnati Bengals and the Miami Dolphins in the hyper-competitive AFC. Danielle Hunter is the type of difference-making player worth pursuing."
It is unclear how much trade compensation Hunter would fetch for Minnesota, but a 2nd-Round pick and some change is a responsible bet. A faction of Vikings fans vehemently maintains Hunter will command a 1st-Rounder, but for a player on an expiring contract, the theory has some holes.
CBS Sports also linked Hunter to Jacksonville in its trade rumor mill last week.
---
Dustin Baker is a political scientist who graduated from the University of Minnesota in 2007. Subscribe to his daily YouTube Channel, VikesNow. He hosts a podcast with Bryant McKinnie, which airs every Wednesday with Raun Sawh and Sal Spice. His Vikings obsession dates back to 1996. Listed guilty pleasures: Peanut Butter Ice Cream, 'The Sopranos,' Basset Hounds, and The Doors (the band).
All statistics provided by Pro Football Reference / Stathead; all contractual information provided by OverTheCap.com.