Brian Flores Quite Complimentary of Young Vikings Defender
Minnesota Vikings Defensive Coordinator Brian Flores addressed the media from the TCO Performance Center. Flores was hired in February 2023 to take over for Ed Donatel after Minnesota finished 30th in points allowed.
Remember Andrew Booth?
The Minnesota Vikings 2nd-Round pick from 2022 was almost a forgotten man to start the 2023 season, but all of a sudden, he's arrived and might nestle into the purple defense to stay.
Brian Flores Quite Complimentary of Young Vikings Defender
Booth logged 26 defensive snaps against the Chicago Bears on Sunday, a division win at Soldier Field, 19-13. Rookie cornerback Mekhi Blackmon spent most of the game on the sidelines, while Byron Murphy, Akayleb Evans, Josh Metellus, and Booth took care of the rest via CB duty.
And it wasn't just defensive playing time. Booth played quite well and made no egregious mistakes that might affect young corners.
Defensive coordinator Brian Flores spoke Wednesday to the media, and Booth's name popped up, "You know, he's done a really good job in practice. We'd kind of seen that over the course of two, three weeks. And Mekhi had been playing well, too. But we just felt like, 'Hey, let's give Andrew an opportunity.'
Booth fired up a decent 67.9 Pro Football Focus grade at Chicago, as the Vikings defense held a duo of Justin Fields and Tyson Bagent to 113 passing yards, zero touchdowns, and grabbed two interceptions.
"I thought he did a nice job with his snaps throughout the game. Made some good tackles, coverage was competitive. So he did some good things," Flores added about Booth.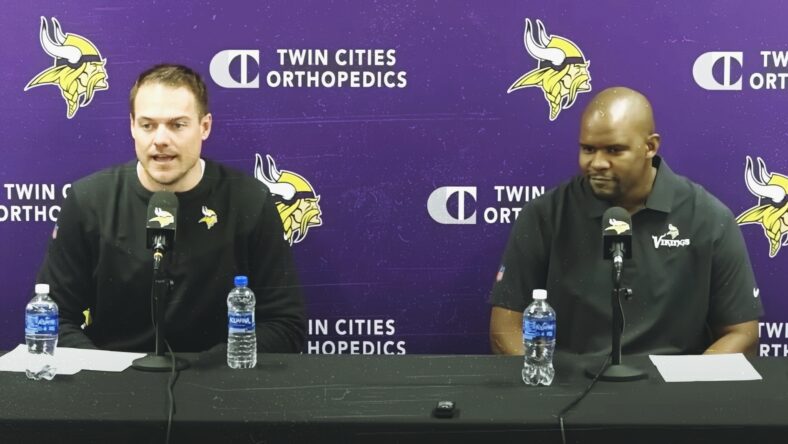 General manager Kwesi Adofo-Mensah spent 2nd-Round draft capital on Booth 18 months ago, and because he didn't perform well in 2022 and didn't win a starter's job to start 2023, oodles of Vikings fans wrote him off entirely and declared Adofo-Mensah a terrible scout of talent.
But that synopsis might've been premature.
Booth registered a couple of tackles and an impressive pass break-up in the second half, while Blackmon curiously played just one snap. Blackmon had no injury announcement and had played 114 defensive snaps before Week 6.
Booth, 23, showing up to put a thumbprint on the Vikings defense is a sign of development, a shift from Flores, and a to be determined on Booth's involvement in the coming weeks. The Vikings host the San Francisco 49ers on Monday Night Football in four days, and with the aforementioned Evans battling an oblique tweak, Booth could be on deck for more playing time.
Minnesota is 2-4 through six games, clinging to playoff hopes and needing all the help it can get from, well, anybody and everybody. The Vikings have around a 25% chance to reach the playoffs after Week 6, and a win over San Francisco would drag the probability closer to 45%.
---
Dustin Baker is a political scientist who graduated from the University of Minnesota in 2007. Subscribe to his daily YouTube Channel, VikesNow. He hosts a podcast with Bryant McKinnie, which airs every Wednesday with Raun Sawh and Sal Spice. His Vikings obsession dates back to 1996. Listed guilty pleasures: Peanut Butter Ice Cream, 'The Sopranos,' Basset Hounds, and The Doors (the band).
All statistics provided by Pro Football Reference / Stathead; all contractual information provided by OverTheCap.com.