Garrett Bradbury Is a Lesson in Patience
Nov 13, 2022; Orchard Park, New York, USA; Minnesota Vikings center Garrett Bradbury (56) on the sidelines before a game against the Buffalo Bills at Highmark Stadium. Mandatory Credit: Mark Konezny-USA TODAY Sports.
Patience. There's not much of it to go around in the sporting world. In the NFL, when you are a first-round draft pick, there is even less. Vikings center Garrett Bradbury is a lesson in patience. It has taken four years to get there, but he finally looks like the part of a very good starting center in the NFL.
Garrett Bradbury Is a Lesson in Patience
The Vikings drafted Bradbury with the 18th overall pick of the 2019 draft. He immediately became the Vikings starting center and has started every game, when healthy, since then. Bradbury soon garnered a reputation as an athletic center who was good in the run game. Unfortunately, his struggles in pass protection were obvious and damaging for the Vikings. In his first two seasons, Pro Football Focus gave Bradbury pass-blocking grades of below 40 and then 43.7 in his third season. Simply put, he was bad — very bad.
A change in leadership occurred in Minnesota, and with Kwesi Adofo-Mensah now running things, the Vikings opted against triggering Bradbury's fifth-year option. That left Bradbury playing on an expiring contract last season and having to prove his worth. Bradbury delivered. Playing under the guidance of new offensive line coach Chris Kuper, Bradbury had the best season of his career. The center was rewarded when he signed a three-year, $15.7 million contract extension with the Vikings during the offseason.
Playing His Best Football
On the back of his new contract and hoping to kick on even further, disaster struck for Bradbury as he went down injured in Week 1. The back injury suffered against the Buccaneers would keep him out of the following three games. Austin Schlottman deputized well enough that when the Vikings sat with a 1-4 record, Bradbury being on the trade block should the Vikings look to blow things up felt realistic. Two wins later and Bradbury back in the center of the Vikings OL and playing well — those ideas have been scrapped.
PFF has him graded as the ninth-best center in the league so far this season, with an overall grade of 72.6. His 77.3 run-blocking grade is still where his strength lies, but his pass-blocking grade of 66.4 has drastically improved his efforts early in his career. On Monday night against San Francisco, Bradbury played his part in one of the most impressive offensive line displays of recent times. Against a dominant defensive front, the Vikings OL stood strong and gave Kirk Cousins the time he needed to put on one of the best quarterbacking displays of his career.
Bradbury's 53.3 (41.1 pass-blocking) grade against the 49ers brought his PFF grade for the season down. Outside of analytics, it was the most impressive night for himself and the whole OL group of the season. It might not have impressed the analytics guys, but standing up to arguably the league's best defenses and coming out on top impressed many. The Vikings center is the only offensive lineman in the NFL this season to play 100+ pass protection snaps without allowing pressure. Considering Bradbury was averaging 26.25 pressures a season (1.8 per game) and being beaten quickly in pass protection was his major weakness — that is quite the statistic.
The Bar Has Been Set
Bradbury has set a personal standard that he must uphold. The problem was always the pass blocking, and if that came along to a good standard, the Vikings would have a good player. His athleticism is what you want when running a zone offense, and he is good at all the nuances of being a center — the snap and calling protections. There was a lot of chatter about whether the Vikings should re-sign Bradbury or go in a different direction during the offseason. The decision to bring their guy back was made, and right now, it looks like a very good decision.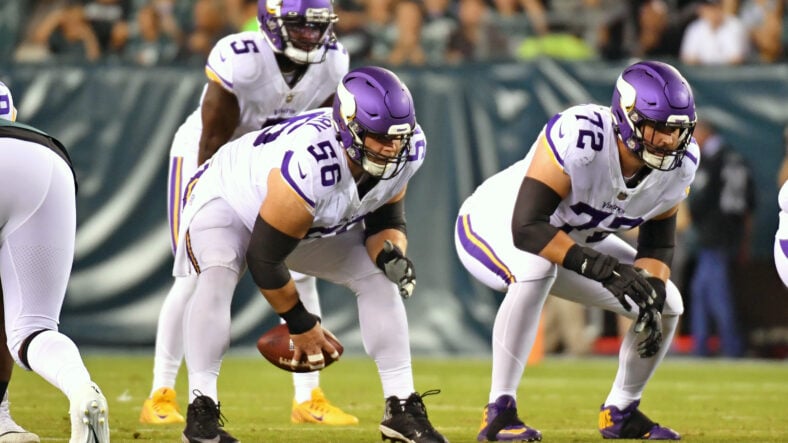 It's not only Bradbury that has set a standard. The whole OL did against the 49ers. With that kind of protection and eventually the return of Justin Jefferson, this Vikings offense will be extremely dangerous. Inside that OL group is a player that has come under similar scrutiny to what Bradbury received. Left guard Ed Ingram (2022 second-round pick) has had some very bad reps in his short career, but the Vikings are sticking with him as he continues to show improvement. His 64.3 grade from PFF is up on last year (57.1), and while Minnesota will want that to continue to rise, Ingram is showing growth in just his second season.
Bradbury is a lesson in patience and proof that sometimes it takes time for players to get to their best. In the case of Ingram, he's fortunate to be playing in a Vikings OL that is playing well, which is not something that Bradbury and others before him had the fortune to do.
---