Where Vikings Trade Options Stand after MNF
Kwesi Adofo-Mensah & Kevin O'Connell Talk Free Agent Moves, Future at Quarterback & 2023 NFL Draft in Eagan, Minnesota, on April 13th, 2023. Adofo-Mensah and O'Connell joined the organization in January and February 2022, respectively.
The trade deadline looms at 4 pm EST on October 31st, and the Vikings trade options have been a hot topic of discussion. Following Monday night's huge win over the San Francisco 49ers, we can rule out a fire sale and the Vikings desperately trying to recoup draft capital on a lost season. The season is alive and kicking after a statement win against one of the league's best teams.
Where Vikings Trade Options Stand after MNF
The Vikings still have to play in Green Bay on Sunday before the deadline. The Vikings could be 4-4 when the trade deadline looms, but even if it's 3-5, the season won't be toast. Minnesota has a favorable second half of the schedule and will continue to believe they can make a push for the playoffs.
What does this mean for the Vikings trade options?
Vikings Trade Options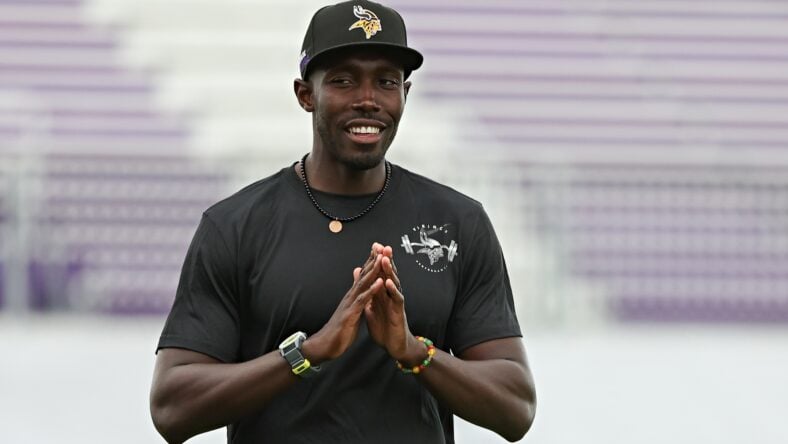 There are a few Vikings trade options we can immediately rule out. Justin Jefferson is not about to get traded. The plan is still to sign Jefferson to a long-term contract. The Vikings would have liked to have had that done by now, but there is no immediate rush. We can rule Marcus Davenport out after his latest injury, too, and I can't foresee Harrison Smith going anywhere.
Several names have been doing the rounds, and I do think there is still a possibility the Vikings do some business. They may even see themselves in the buyer's market now, and the Vikings could certainly benefit from adding a big defensive lineman or edge rusher to their ranks — even more so with Davenport's injury and Luiji Vilain being picked up off the practice squad by Carolina. Vilain was elevated to the gameday squad in Davenport's absence, and his exit leaves the Vikings short at the edge position. 
For now, I want to look at the names linked with an exit from Minnesota and where they currently stand.
Kirk Cousins
All the noise surrounding a Kirk Cousins trade has quieted after most people have realized it won't happen. Playing on an expiring contract with a no-trade clause always meant a trade was unlikely. It required a particular set of circumstances to materialize, a team that believed it was competing but needed an immediate upgrade at QB — most likely through injury. On the flip side, it would've needed to be enticing enough to make Cousins want to leave, which would likely have required a commitment for a big contract extension from the new team. 
It also needed the Vikings to view themselves as out of contention. After putting in the biggest game of his life in front of those "dreaded" Monday night lights, those circumstances haven't arisen, and Cousins is very likely here for at least the remainder of the season. The only question now is, will he be in Minnesota longer?
Verdict: No Trade
Ezra Cleveland
At the top of my trade list since the offseason has been left guard Ezra Cleveland. The Vikings brought in Dalton Risner a few weeks into the season, and while he has had to bide his time for an opportunity, that came on Monday night with Cleveland absent with a foot injury. The Vikings put on the best OL performance I can remember in a long time without Cleveland in the mix.
Cleveland has always been an excellent run blocker who struggled but has gradually improved regarding pass blocking. The Vikings are such a pass-heavy offense, so is Cleveland the right fit? That's the question Minnesota needs to ask, and if he's a guy they want to give a significant pay rise to next season. Cleveland will have suitors when he hits free agency at the end of this season. Given Risner's performance, should the Vikings cash in on some draft capital? 
Pro Football Focus named Cleveland a target for the San Francisco 49ers, and the fourth-round pick they suggest in return seems a fair deal to me, especially if the Vikings aren't set on paying Cleveland to stick around at the end of the season.
Trade compensation: 2025 fourth-round pick
Contract acquired: One year, $1,662,778

The 49ers guards are two of the lowest-graded players at the position in the entire NFL, left tackle Trent Williams is dealing with a short-term injury and right tackle Colton McKivitz has been solid at best. San Francisco cleared a ton of cap room for 2023, currently leading the league with nearly $40 million, and while the primary objective is to maximize as much carryover cap space as possible for 2024, they presumably are open to adding reinforcements in a clear Super Bowl window.

Cleveland has run-blocking grades of 71.9 or better in three straight seasons, including 2023, and his pass-block grade has taken a leap thus far in 2023. He sports a 72.3 pass-blocking grade and just a 2.6% pressure rate allowed.

Brad Spielberger, Pro Football Focus
Danielle Hunter
Elite edge rushers are not easy to come by, so when you have one in the building yet to turn 29, you don't let them walk out the door. Danielle Hunter is the league's sack leader through seven weeks and is the man the Vikings need to build the defensive front around. Outside of Hunter, things look grim for the Vikings on the defensive line and the edge. Forget about trading a guy on an expiring contract that lowers his stock. It's time for Kwesi Adofo-Mensah to work out how to keep Hunter in Minnesota long-term.
Verdict: No Trade
Garrett Bradbury
After going down injured in Week 1, Bradbury didn't return until Week 5. Austin Schlottmann held down the fort in his stead and did a reasonable job. If the Vikings were tearing it down, then trying to move Bradbury on and seeing out the season with Schlottmann at center would make sense. The Vikings are now back in the mix, and Bradbury plays a big part. His 72.6 grade makes him the ninth-best center in the league per the PFF grading system. The Vikings OL had a statement performance against one of the league's best defenses on Monday; now is not the time to go breaking that unit up.
Verdict: No Trade
Lewis Cine
Life in the NFL hasn't gone the way Lewis Cine would have hoped. After a horrible injury (compound fracture of the left leg), there was optimism that we would finally see what the 2022 first-round pick has to offer this season. That hasn't happened. There have been some hamstring injuries – not uncommon when returning from a significant injury — and he has been a healthy scratch on gameday in recent weeks. 
The Vikings look strong at the safety position with Camryn Bynum having an incredible season and Josh Metellus playing well as the third safety. Smith will be 35 next season and can't go on forever, but can Cine still be the guy to replace him? We don't know exactly what is happening with Cine, as the Vikings aren't saying much publicly. Is he struggling to come back from his injury? Which is a mental challenge as well as a physical one. Is he not good on special teams, causing him to be left out with him not being a starter? Or is he just not as good as the Vikings had hoped?
Maybe a change of scenery would do Cine good, but I suspect the Vikings will stick with him for now. Even if he doesn't play much this season — and barring injuries, it is difficult to see how he does — he will get the chance to come back next offseason and try again to impress. 
Verdict: Trade Unlikely
---