Vikings Contract Year Players Have Been a Mixed Bag
Brad Rempel-USA TODAY Sports
The Minnesota Vikings have started their 2023 season with three straight defeats and must climb out of that hole throughout the 14 remaining contests. Kevin O'Connell's group will be tested in Week 4 by the Carolina Panthers, another 0-3 team. But the Panthers entered the season with lower expectations than the purple team, so they aren't under as much pressure as the Vikes.
Vikings Contract Year Players Have Been a Mixed Bag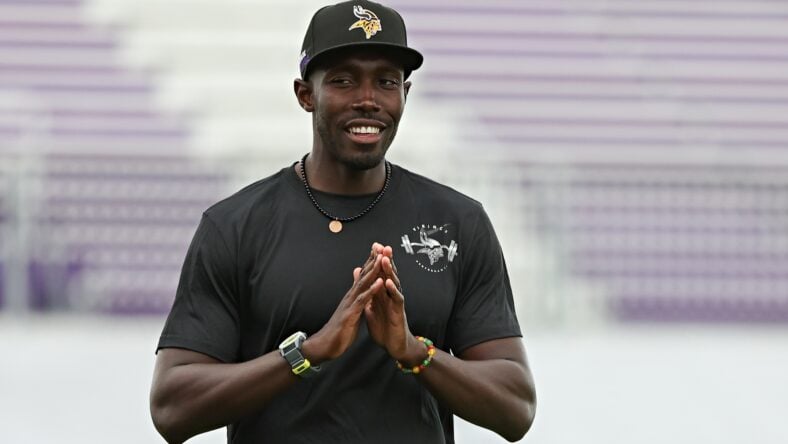 Vikings general manager Kwesi Adofo-Mensah has dropped a bunch of veterans and is trying to overhaul the roster, which is a longer process that takes time and requires patience. Despite the disappointingly slow start, a few players in the final years of the contract have been making an impression not only on their team but also the league. The chance to remain with the purple team and the league-wide market they will have in free agency is decided by their level of play in 2023. And the results have been different.
Marcus Davenport
The defender was previously with the Saints and signed in March. He was regarded as the best free-agent pass-rusher. So far, his stint with the franchise has been a catastrophe. Davenport logged four snaps in Week 2, but an ankle injury forced him to miss the other two games and the remainder of the contest in Philadelphia.
Brian Flores added the former first-rounder to have a complimentary pass-rusher to Danielle Hunter, who has been feasting this season. Other than him, Flores has no one who can consistently rush the passer with success. Minnesota desperately needs him back on the field. His first practice on a limited basis came on Thursday.
Davenport signed a one-year deal in Minnesota with the intention of getting a larger deal next offseason after proving his worth. Staying healthy and providing disruptive play was his goal, but he has accomplished neither. Even if he comes back and plays well, the missed games have likely cost him a significant amount of interest from other teams.
Danielle Hunter
The story about Hunter is the polar opposite. He is second in the NFL in sacks with five, only trailing T.J. Watt, who has one more. In addition to that, he recorded seven tackles for loss, which leads the league.
A herniated disc in 2020 and a torn pectoral muscle plagued the dynamic defender for a couple of seasons in 2020 and 2021. Similar to Davenport, folks wondered if he could stay healthy and be as disruptive as he once was. A healthy campaign in 2022 at Pro Bowl-caliber wasn't enough to earn a contract extension from the Vikings. After holding out, he at least secured a raise.
Hunter has been playing absolutely sensational through three games and will make a boatload of money next offseason. Whether that will be with the Vikings or another team remains to be seen.
Kirk Cousins
Minnesota's passer has been a controversial figure ever since stepping foot into TCO Performance Center. His 2023 season has also been a topic of debate, although the result of that debate should be obvious–he's been playing well.
Cousins is on pace for over 6,000 passing yards and 51 touchdowns. He is the leader of one of the most explosive offenses in the league despite a suspect rushing attack. One thing is clear: if Cousins continues to play at this level, he will have suitors next offseason and has the chance to sign another lucrative deal to his conditions.
However, the question is if that will be with the Vikings or somewhere else, and a lot depends on the remainder of the 2023 season. If the losing trend continues and the season is indeed a lost one, the Vikings are likelier to try something else and go in a different direction at the QB position. On the flip side, if they turn it around and feel like they aren't far away, they might decide to keep him around.
Both options are possible, but the team's result is more significant in deciding the outcome than the signal caller's level of play.
---
Janik Eckardt is a football fan who likes numbers and stats. The Vikings became his favorite team despite their quarterback at the time, Christian Ponder. He is a walking soccer encyclopedia, loves watching sitcoms, and Classic rock is his music genre of choice. Follow him on Twitter if you like the Vikings: @JanikEckardt