Rick Spielman Says QB He Drafted Should Join Packers
Feb 27, 2019; Indianapolis, IN, USA; Minnesota Vikings general manger Rick Spielman speaks to media during the 2019 NFL Combine at Indianapolis Convention Center. Mandatory Credit: Trevor Ruszkowski-USA TODAY Sports.
Rick Spielman worked for the Minnesota Vikings from 2006 to 2021, mostly in a general management capacity.
Now, he writes for The 33rd Team and isn't shy about offering his NFL analysis and opinions.
Rick Spielman Says QB He Drafted Should Join Packers
Well, the ex-Vikings bossman went full tilt this week when he suggested Teddy Bridgewater should join the Green Bay Packers.
Spielman selected Bridgewater in Round 1 of the 2014 NFL Draft as the then-long-term plan for Minnesota's quarterback of the future. Bridgewater took over during his rookie season and immediately looked the part. One season later, combined with Mike Zimmer's blossoming defense, Minnesota won the NFC North in 2015, and life was good.
But the summer of 2016 was wildly a different story. Bridgewater suffered a gruesome knee injury right before the start of the regular season, Spielman traded a 1st-Round pick to the Philadelphia Eagles for Sam Bradford, and Bridgewater's career was totally altered.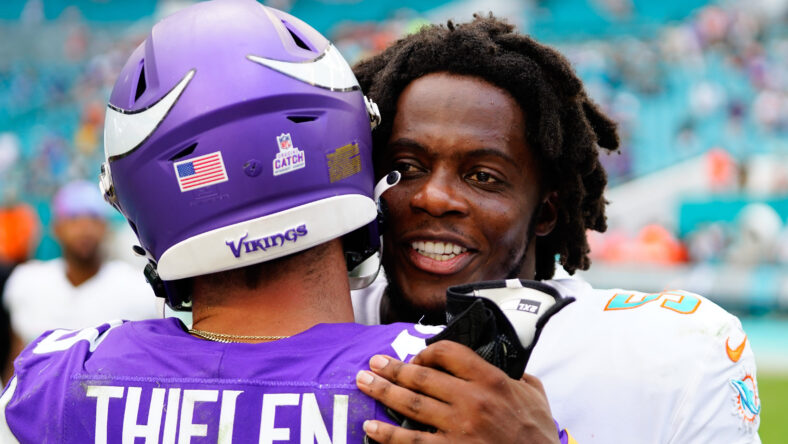 Bridgewater departed the Vikings after the 2017 season and has latched onto various teams in starting and reservist roles since, including the New York Jets, New Orleans Saints, Carolina Panthers, Denver Broncos, and Miami Dolphins. As of July 5th, he remains a free agent.
So, Spielman came along this week and suggested the Los Angeles Chargers as a free-agent destination for the 30-year-old — and the Packers. "The other team is the Green Bay Packers, who are starting the Jordan Love era. Behind him, they have rookie Sean Clifford, who they drafted in the fifth round but many viewed as a college free agent, and Danny Etling, who was a free agent from LSU a few years ago," Spielman opined.
Since leaving the Vikings after the freak injury in 2016-2017, teams led by Bridgewater are 16-21 (.432). Scaled to a 17-game season, Bridgewater has dimed 20 touchdown passes to 11 interceptions per year. In the past, those numbers would've been delectable — like 25 years ago — but teams have learned that Bridgewater is best suited for QB2.
"Teams will be patient with their young quarterbacks, but don't be surprised if one of these teams (LAC or GB) signs Bridgewater," Spielman added.
Bridgewater was arguably in peak form during a couple of spots in his career. First, in 2015, he earned Pro Bowl honors in just his second campaign, guiding the Vikings to that 2015 playoff appearance that was eventually spoiled by a missed 27-yard game-winning field goal against the Seattle Seahawks.
When he landed with the Saints, Drew Brees was hurt for multiple games in 2019 — and the Saints were undefeated to the tune of 5-0 with Bridgewater at the helm. That was the second peak of his nine-season career.
And evidently, if Spielman is correct, he could or should provide QB2 duties in Green Bay.
---
Dustin Baker is a political scientist who graduated from the University of Minnesota in 2007. Subscribe to his daily YouTube Channel, VikesNow. He hosts a podcast with Bryant McKinnie, which airs every Wednesday with Raun Sawh and Sal Spice. His Vikings obsession dates back to 1996. Listed guilty pleasures: Peanut Butter Ice Cream, 'The Sopranos,' Basset Hounds, and The Doors (the band).
All statistics provided by Pro Football Reference / Stathead; all contractual information provided by OverTheCap.com.