One Popular Ex-Viking Hasn't Signed Anywhere
Jul 25, 2014; Mankato, MN, USA; Minnesota Vikings quarterback Teddy Bridgewater (5) speaks with the media after training camp practice at Minnesota State University. Mandatory Credit: Bruce Kluckhohn-USA TODAY Sports.
At this advanced stage of the NFL's offseason, few quarterbacks remain on the free-agent wire who could make a difference, especially as a QB1.
However, men like Nick Foles, Joe Flacco, Matt Ryan, and Carson Wentz are available as QB2s and will likely be signed before the start of the regular season.
One Popular Ex-Viking Hasn't Signed Anywhere
And there's an ex-Minnesota Vikings quarterback, too, deserving of QB2 consideration — Teddy Bridgewater.
Bridgewater belongs among the Foleses, Flaccoes, Ryans, and Wentzs and should find a new NFL home before too long. But as of now, he's waiting on the call, as his days as a QB1 seemed to end after a Denver Broncos stint in 2021.
The Vikings don't have a need for the 30-year-old, already employing Nick Mullens, one of the league's top backup quarterbacks, while drafting BYU's Jaren Hall in April. The QB2 show is Mullen's, and Hall will hope to impress enough this summer and throughout the regular season [behind the scenes] to earn a look at QB1 during life after Kirk Cousins.
The Vikings selected Bridgewater in the 1st Round of the 2014 NFL Draft, on deck as the team's savior and coveted quarterback of the future nine years ago. And that plan was actually intact until the summer of 2016 when Bridgewater tore his ACL in, what was described as, one of the most gruesome injuries imaginable. He recovered, though, latching onto the New Orleans Saints in 2018. Here's Bridgewater's career destination list to date:
Minnesota Vikings (2014-2017)
New York Jets (2018)
New Orleans Saints (2018-2019)
Carolina Panthers (2020)
Denver Broncos (2021)
Miami Dolphins (2022)
Since leaving the Vikings after the freak injury in 2016-2017, teams led by Bridgewater are 16-21 (.432). Scaled to a 17-game season, Bridgewater has dimed 20 touchdown passes to 11 interceptions per year. In the past, those numbers would've been delectable — like 25 years ago — but teams have learned that Bridgewater is best suited for QB2.
Bridgewater was arguably in peak form during a couple of spots in his career. First, in 2015, he earned Pro Bowl honors in just his second campaign, guiding the Vikings to a 2015 playoff appearance that was eventually tarnished by a missed 27-yard game-winning field goal against the Seattle Seahawks.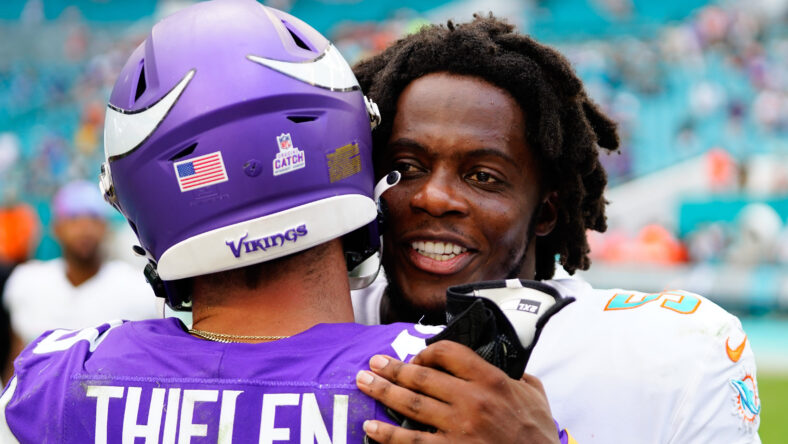 When he landed with the Saints, Drew Brees was hurt for multiple games in 2019 — and the Saints were undefeated to the tune of 5-0 with Bridgewater at the helm. That was the second peak of his nine-season career.
The Detroit Lions were reportedly linked to Bridgewater back in April, but nothing materialized.
Bridgewater should fetch about $5 to $7 million annually with his next contract.
---
Dustin Baker is a political scientist who graduated from the University of Minnesota in 2007. Subscribe to his daily YouTube Channel, VikesNow. He hosts a podcast with Bryant McKinnie, which airs every Wednesday with Raun Sawh and Sal Spice. His Vikings obsession dates back to 1996. Listed guilty pleasures: Peanut Butter Ice Cream, 'The Sopranos,' Basset Hounds, and The Doors (the band).
All statistics provided by Pro Football Reference / Stathead; all contractual information provided by OverTheCap.com.