Every Vikings Storyline Heading into 2023 — All of Them
Dec 17, 2022; Minneapolis, Minnesota, USA; Minnesota Vikings wide receiver Justin Jefferson (18) before the game against the Indianapolis Colts at U.S. Bank Stadium. Mandatory Credit: Jeffrey Becker-USA TODAY Sports.
The Minnesota Vikings kick off the 2023 regular season in 110 days, looking to improve or maintain a 13-4 record under second-year head coach Kevin O'Connell.
But first, mandatory minicamp begins in June, followed by training camp in July. After that, three preseason games help determine roster battles, roster trimdowns are due by August 29th, and the regular season starts on September 10th.
Every Vikings Storyline Heading into 2023 — All of Them
And to prep you for the Vikings 2023 season, these are 37 storylines to monitor — questions facing the franchise — from now until next January or February. For curious minds, these are last year's 37 storylines.
The storylines are listed in no particular order.
1. Can the Vikings Stave Off Regression?
The Vikings won 13 games in 2022 while getting outscored by opponents to the tune of three points. What on earth? Accordingly, Minnesota is the league's most popular regression candidate, per everyone who's not a Vikings fan.
Even if Minnesota doesn't ignite a 13-4 record, is it still a better team at 10-7 or 11-6?
2. How Significantly Does Brian Flores Improve the Defense?
Minnesota said goodbye to Eric Kendricks, Dalvin Tomlinson, Za'Darius Smith, Patrick Peterson, Duke Shelley, and Chandon Sullivan. The trade-off? Hiring Brian Flores to 'do more with less.'
General manager Kwesi Adofo-Mensah signed up for youth, speed, and affordability on defense this offseason. Fans will determine this autumn if Flores' Belichickian ways truly nudge the defensive performance to the middle of the NFL pack or higher.
3. Is This Really Kirk Cousins' Last Year in Minnesota?
This soon-to-be 35-year-old man isn't under contract with the Vikings beyond 2023. Do Vikings fans continue the popjoy of envisioning life after Cousins or come to cherish his durability and consistency? Also remember — Cousins can be extended at any time. His exodus isn't mandatory.
4. Is Alexander Mattison the RB1? Or a Real RB Committee?
Can you remember the last time the Vikings employed a running back by committee? If Dalvin Cook is indeed traded or released, it seems the club is heading that way.
Or maybe Mattison becomes the faux-bellcow. Minnesota, for now, has Cook, Mattison, Ty Chandler, rookie DeWayne McBride, and Kene Nwangwu in the RB room. That's a lot of dudes.
5. Does Jordan Addison Win WR2 Right Away?
K.J. Osborn was on track to become the Vikings WR2 in 2023, but then Jordan Addison entered the chat. Osborn will hope to keep Addison at a distance as WR3, but that may not work. Folks will monitor Addison's outlook in winning the summer WR2 battle.
6. Does the OL Continuity Translate to Real Success?
The Vikings offensive line wasn't despicable last season — for the first time in five years — so some believed it was actually good. Well, it wasn't good-good, instead allowing not-horrible to jibe with adjectives like good. The franchise is on track to return the same five OL starters. We shall see if that's a successful blueprint.
It should be. If the Norse gods consent, Minnesota is overdue for a terrorizing reign of upper-echelon OL performance.
7. Will Danielle Hunter Get Paid?
Hunter is scheduled to earn $5 million new dollars in contract money this season. In prolific EDGE rusher-speak, that's an utter insult. The Vikings should probably extend Hunter by three years. You don't want to think about what happens if they do not.
8. Where Are the Jefferson and Hockenson Extensions?
Speaking of extensions, it's a foregone conclusion that Justin Jefferson and T.J. Hockenson will be around for the long haul. But, you know, they actually have to sign those deals before too long. We can't just say, "It's fine; it'll get done." Watch for when.
9. Does Jalen Reagor Get Cut in August?
Quietly, Adofo-Mensah signed Brandon Powell in free agency, and he's basically Reagor without nifty 1st-Round draft stock. Reagor didn't contribute much in 2022, so it won't be weird at all if he's waived in August.
10. Does Justin Jefferson Just Get Better and Better?
Jefferson will likely get even better in 2023, but how good — really — can that be? Anything better than the first three years will truly nibble at Jerry Rice, Calvin Johnson, and Randy Moss status. Does the guy just improve? He hasn't even turned 24 years old. Good Lord.
11. Is Jalen Nailor Auditioning for a 2024 WR Gig?
A severely under-the-radar talker, the aforementioned Osborn will become a free agent in 10 months. Is Nailor the future WR3? He played great last year — in garbage time. The guy nicknamed Speedy will stealthily vie for a 2024 gig.
12. Ed Ingram's Development – Yes or No?
Ingram had ups and downs in 2022 like thousands of rookies before him. But because the Vikings signed no free-agent guards and drafted zero, they evidently enjoy Ingram. Does he improve on the 57.1 Pro Football Focus grade?
13. Is Brian O'Neill Completely Healthy by Week 1?
All signs point to O'Neill in Week 1 at right tackle, but there's a small chance that Oli Udoh will run the show for a few weeks. O'Neill formulates one of the best-in-the-business offensive tackle duos with Christian Darrisaw, and Vikings fans will yearn for his Week 1 readiness.
14. How Does Jaren Hall Look in the Preseason?
Rejoice — you don't have to watch Sean Mannion ever again in the preseason. In fact, you'll get the opposite, experiencing the Hall Preseason Era. He's the Vikings lottery-ticket plan for life after Cousins. If Hall looks like Kyle Sloter in August exhibition games, some Vikings fans will lose their minds in a good way, especially the Cousins truthers.
15. How Many Carries Does DeWayne McBride Receive?
Adofo-Mensah drafted a guy in the 7th Round of April's draft who could've been a 3rd-Rounder approximately eight years ago. He's DeWayne McBride, and he wants his carries.
16. Was Khyiris Tonga a One-Hit Wonder?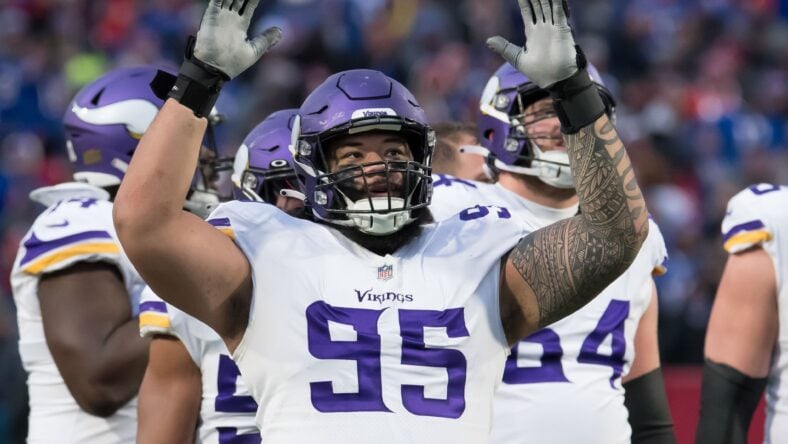 Tonga somehow graded as PFF's 13th-best interior defensive lineman last year, and no one knew of his existence at this time on the calendar in 2022. With Dalvin Tomlinson gone, Tonga might start, and Vikings faithful will learn if his 2022 arrival was a flash in the pan.
17. Do the Vikings Miss Duke Shelley? How Does He Peform in LV?
Keep an eye on this one, for jealousy's sake. Minnesota could've re-signed Shelley, a mini-legend, for 1.3 million bucks. But they'd rather play against him and his Raiders in December.
Perhaps Shelley can carve out a Daniel Carlson-like path in Las Vegas.
18. When Is the First Close-Game Loss?
The Vikings were 11-0 in one-score games during O'Connell's first season — a mind-boggling statistic that set an NFL record. They have to lose a squeaker at some point, so when is it?
19. Who's the '3rd' Pass Rusher?
This could be Patrick Jones II, D.J. Wonnum, or rookie Andre Carter II. It's the guy who receives the most outside linebacker snaps next to Danielle Hunter and Marcus Davenport.
20. Does UDFA Ivan Pace Jr. Get Ample Defensive Snaps?
Pace Jr. took his undrafted situation personally and claimed 31 NFL teams were buffoonish by not drafting him. If he wants to make them pay, he must a) Make the Vikings 53-man roster b) Get defensive snaps.
21. Is Everyone Right about Brian Asamoah's Breakout?
Asamoah forced turnovers and flew all over the damn place on special teams. Now he's on tap as a starting inside linebacker. He has big shoes to fill after Eric Kendricks' departure westward.
22. Does Marcus Davenport Stay Healthy and Consistent?
Sometimes Davenport plays wonderfully; then he doesn't. Sometimes Davenport is injured; then he'll be healthy. Does the topsy-turviness stabilize with the Vikings?
23. Will Andre Carter II Make the 53-Man Roster?
Adofo-Mensah threw a lot of guaranteed cash at Carter II, an EDGE rusher from Army, ensuring he'll at least make the team's practice squad. With Za'Darius Smith traded to Cleveland, though, a roster spot is available to Carter II.
24. Does Andrew Booth Deliver on 2nd-Round Draft Stock?
Perhaps the most telling storyline of the summer, you will learn if Adofo-Mensah's draft acumen is worth a damn by Booth's performance in 2023. Minnesota is counting on him as a starter this season. If they did not, the Vikings could've signed a second veteran CB after Byron Murphy.
Booth's health and production are absolutely vital to the Vikings 2023 hopes.
25. Who in the Hell Are the Starting CBs?
Rookie Mekhi Blackmon could snag a starter's job. Perhaps it's just Akayleb Evans and Andrew Booth who accompany Byron Murphy on the field most of the time. But as of May 23rd, fans only have CB theories regarding the Vikings starters.
26. Is Tay Gowan Right about Being Overlooked?
Tay Gowan has been telling his audience on Twitter that he's worthy of a CB2-CB3 job on the 2023 Vikings depth chart. Is that smoke and hype or the real deal?
27. Does Camryn Bynum, a 2022 Starter, Make the Team?
Bynum started every game for the 2022 Vikings, but Lewis Cine and Jay Ward have been drafted in back-to-back years. Something's gotta give. Harrison Smith, Lewis Cine, and Bynum can't all start at safety.
28. Is Lewis Cine as Good as Everyone Thinks?
Cine is mean, and his reputation is pristine. He couldn't usurp Bynum for a starting job last year, but this year must have the special sauce. And when he gets on the field, will he be dominant — or just a guy, kind of like Bynum?
29. Is Jay Ward More of a Safety or CB?
There was a big fat S next to Ward's name on popular draft boards. He's listed as a safety but might just be a slot cornerback.
30. Who Are the Summer FA Signings?
If the Vikings indeed trade Dalvin Cook, they'll have about $20 million in cap space. That should be more than enough to sign the summer's sexiest free agents — or snipe men off the post-roster-cut wire. Who will those men be?
31. Does Ndamukong Suh Chatter Heat Up?
Last year, Minnesota was reportedly interested in adding Suh to the guts of its defensive line. Well, he's available again but says he won't sign anywhere until after training camp.
32. Will Greg Joseph Iron out the Extra Points?
Joseph must fix these bottom two categories:
Greg Joseph,
NFL Rankings,
in 2022:
Game-Winning Field Goals = 1st
FG Conv % = 28th
Extra Point Conv % = 31st
33. Do the Vikings Actually Use Kene Nwangwu on Offense?
This question was asked last year — chiefly because Nwangwu is faster than sound — and the answer was largely no. There has to be a way to fold in Nwangwu's speed on offense. The Chiefs could probably do it, right? Why not the Vikings?
34. Will Harrison Smith Slow Down?
Harrison Smith is 34 years old, and the end is nigh. But he's not required to slow down as a Vikings starting safety. Will it happen?
35. Is Adam Thielen a Legitmate WR1 in Carolina?
Adam Thielen signed up for the big bucks on a bad team and a WR1 target load. He believes his WR1 days are still very much alive, even though he hasn't tabulated 1,000 yards in a season since 2018. Can he prove everyone wrong with Andy Dalton and Bryce Young flingin' it?
36. Does Cousins Get Better with the Same Playcaller?
Offensive coordinators connected to Cousins get promoted. Well, now the Vikings employ O'Connell as the head coach, and he can't be promoted. Cousins is accountable for 4,000+ passing yards and 30+ touchdowns annually. Perhaps those numbers can increase with the same playcaller for once. He hasn't had such continuity since the Washington days. That coach's name was Sean McVay.
37. Where Does Dalvin Cook Land?
This storyline should climax before the rest. Cook will probably be traded or released around June 1st. He might land with the Miami Dolphins, Buffalo Bills, Cincinnati Bengals, Dallas Cowboys, or Denver Broncos, for example. Curious minds want to know the where.
---
Dustin Baker is a political scientist who graduated from the University of Minnesota in 2007. Subscribe to his daily YouTube Channel, VikesNow. He hosts a podcast with Bryant McKinnie, which airs every Wednesday with Raun Sawh and Sal Spice. His Vikings obsession dates back to 1996. Listed guilty pleasures: Peanut Butter Ice Cream, 'The Sopranos,' Basset Hounds, and The Doors (the band).
All statistics provided by Pro Football Reference / Stathead; all contractual information provided by OverTheCap.com.