Kirk Cousins Took 'Massive Leap' in 1 Area Last Year
Kirk Cousins
Minnesota Vikings quarterback Kirk Cousins is ahead of Aaron Rogers, Brett Favre, Daunte Culpepper, Warren Moon, and Troy Aikman, plus a stat-mate with Dan Marino.
If you can believe that, well, you're staring at game-winning drive statistics from NFL history.
Kirk Cousins Took 'Massive Leap' in 1 Area Last Year
Sourcing Pro Football Reference | Stathead this week, a Tom Brady-themed Twitter account highlighted game-winning drives numbers by quarterback, and Cousins was sandwiched between Dan Marino and Matt Ryan, successfully completing 42% of all eligible game-winning drives in his career. Predictably, Brady led the way at 56.7% or 72 of 127 attempts.
Philip Rivers lived near the bottom, achieving 30.5% of game-winning drives or 36 of 118. Here's the evidence from Tom Brady Facts on Twitter:
And the full tweet:
Pro Football Focus' Steve Palazzolo observed the tweet and opined on Cousins' apparent reformation with the stat, "Kirk Cousins took a massive leap on this list in 2022." Cousins tied an NFL record last year with eight game-winning drives while propelling the Vikings to a flawless 11-0 record in games decided by eight points or fewer. The latter was also an NFL record.
Indeed, if this stat circulated before the 2022 season, Cousins would've lived in a different tier, actually right next to former league MVP Rich Gannon around 34%.
One thing was different about Minnestoa last year, possibly explaining the about-face: new head coach Kevin O'Connell. Prior to his arrival, the Vikings also fired up close games in the 2020 and 2021 seasons but usually lost because a leaky defense ruined the days or nights. Last year, however, the defense strangely flipped the script, playing mostly woeful in Quarters 1 through 3 but flexing with the game on the line. Therefore, the Cousins game-winning drives from 2020 and 2021 — that were squandered — were held in 2022. And voila, the Vikings finished the season with a 13-4 record.
Funny how that works.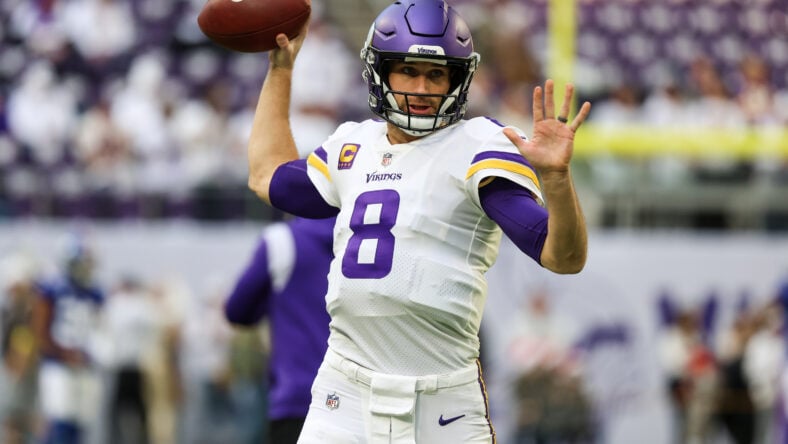 Moreover, before the 2022 season began, newcomers O'Connell and his boss Kwesi Adofo-Mensah preached 'situation mastery,' evidently identifying the team's late-game defensive problems from the previous two seasons. Well, O'Connell and Adofo-Mensah found the special sauce because game-winning drives and 4th Quarter comebacks that were canceled by clumsy defense in 2020 and 2021, again, turned into wins in 2022. That's how the Vikings won the division, winning close games ad nauseam.
Now, Cousins and his team's defense must do it again. Most pundits and oddsmakers expect the team to regress from a 13-4 win-loss, but that doesn't mean they have to be bad at 11-6 or so.
Hell, they could be a better football team with a worse record during O'Connell's second act.
---
Dustin Baker is a political scientist who graduated from the University of Minnesota in 2007. Subscribe to his daily YouTube Channel, VikesNow. He hosts a podcast with Bryant McKinnie, which airs every Wednesday with Raun Sawh and Sal Spice. His Vikings obsession dates back to 1996. Listed guilty pleasures: Peanut Butter Ice Cream, 'The Sopranos,' Basset Hounds, and The Doors (the band).
All statistics provided by Pro Football Reference / Stathead; all contractual information provided by OverTheCap.com.