Vikings Earn Spot on an NFL's 'Worst' List
Dec 17, 2022; Minneapolis, Minnesota, USA; Minnesota Vikings fans react during the game against the Indianapolis Colts at U.S. Bank Stadium. Mandatory Credit: Jeffrey Becker-USA TODAY Sports
The Minnesota Vikings 2023 offseason began moments after the New York Giants escorted the purple team from the NFC's Wildcard playoff, as many fans wondered how the club could match or surpass 13 wins again in Kevin O'Connell's second act.
Vikings Earn Spot on an NFL's 'Worst' List
The franchise subtracted Adam Thielen, Eric Kendricks, Dalvin Tomlinson, Dalvin Cook, and Patrick Peterson, among others, this offseason, while onboarding newcomer free agents Marcus Davenport and Byron Murphy. General manager Kwesi Adofo-Mesnah also drafted USC wideout Jordan Addison to partner with Justin Jefferson.
But no offseason transaction was perhaps as impactful as the hire of Brian Flores to run the 2023 defense after O'Connell cut ties with defensive coordinator Ed Donatell following an underwhelming 2022 season, at least on defense.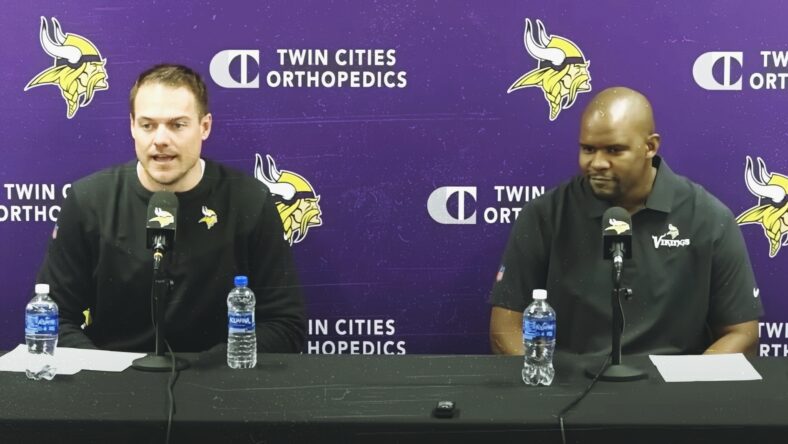 The problem, however, is some don't believe Flores can fix Minnesota's defense, especially those examining the Vikings from a national lens. Bleacher Report ranked the NFL's five worst defenses this weekend and nominated the upcoming Flores defense as the fourth-worst.
Last year, the Vikings defense ranked 27th per DVOA, and if BR's David Kenyon is correct, the unit will worsen.
Kenyon wrote, "Last year, the Vikings ended 24th in blitz rate. But they hired Brian Flores, whose mindset can hardly be simply described as aggressive. During his last two seasons as the Miami Dolphins' head coach (2020-21), his teams ranked second in the category both years. That philosophy should help a defensive front that is noticeably thin beyond Danielle Hunter, who is rumored for potential departure."
Hunter could be traded this summer if Adofo-Mensah fundamentally disagrees with paying the 28-year-old north of $20 million per season.
"Simultaneously, it'll put more pressure on what's already a questionable group of cornerbacks. While free-agent addition Byron Murphy is solid, he basically just replaces Patrick Peterson. Minnesota desperately needs Akayleb Evans, Andrew Booth Jr. and fourth-round pick Jay Ward to develop in a hurry. Perhaps, like 2022, the offense can make up for a shaky defense. The risks of a blitz-heavy approach are evident, though," Kenyon concluded.
Kenyon's concerns are warranted, but it is unclear if the Vikings are truly on tap for another atrocious year on defense. They'll be faster, meaner, and more aggressive all over the place, but we shall see if those attributes supersede the experience of departing veterans.
The three teams allegedly worse on defense than the Vikings? The Arizona Cardinals, Los Angels Rams, and Las Vegas Raiders.
---
Dustin Baker is a political scientist who graduated from the University of Minnesota in 2007. Subscribe to his daily YouTube Channel, VikesNow. He hosts a podcast with Bryant McKinnie, which airs every Wednesday with Raun Sawh and Sal Spice. His Vikings obsession dates back to 1996. Listed guilty pleasures: Peanut Butter Ice Cream, 'The Sopranos,' Basset Hounds, and The Doors (the band).
All statistics provided by Pro Football Reference / Stathead; all contractual information provided by OverTheCap.com.