Can He Play Guard? Yes, He Can.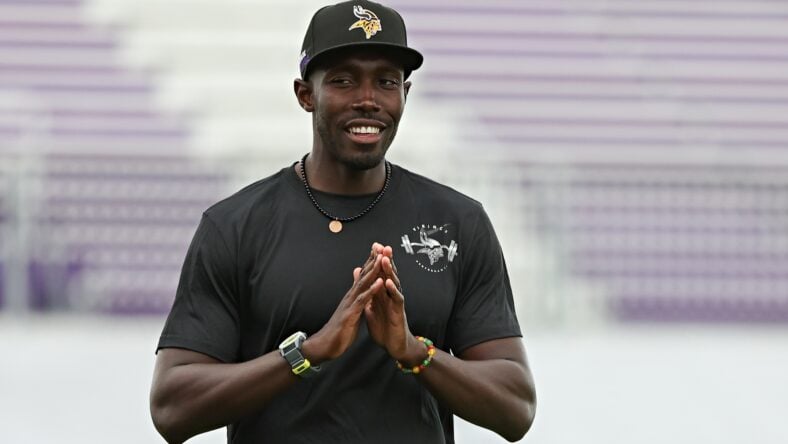 Jul 28, 2022; Minneapolis, MN, USA; Minnesota Vikings general manager Kwesi Adofo-Mensah looks on during training camp at TCO Performance Center. Mandatory Credit: Matt Krohn-USA TODAY Sports.
The Minnesota Vikings blew their season start and sit with a 0-2 record at the bottom of the standings. Coming off a 13-4 season with some luck involved to get those wins in the first place, the Vikings made some serious changes in the offseason, starting to overhaul the defense and making it an emphasis to run the ball better. The latter part hasn't worked out so far.
Can He Play Guard? Yes, He Can.
The offensive line was one thing the franchise didn't address in the offseason. All five starters from last season returned, and the decision-makers didn't sign or draft a single player competing for a starting role. A truly mind-boggling decision, considering the level of play of the group up front that ended with Kirk Cousins at the top of the list with the most-hit QBs in the 2022 season.
Throughout the first two weeks, the offensive line remained shaky, showing some clear weaknesses in run-blocking and also some struggles to keep guys away from Cousins. On Monday, however, the Vikings surprisingly signed offensive guard Dalton Risner.
Ian Rapoport reported on X: "The Vikings are signing FA G Dalton Risner, sources say. The former Broncos starter — and one of the top free agents available— lends valuable experience to Minnesota's line."
Risner visited the Vikings in training camp but left with a deal. Why? Well, that is speculative. The Vikings may have wanted to give their line a chance first before investing in someone new. Contract demands may have also played a role.
Fans demanded the signing, Risner publically flirted with the Vikings on social media, and here we go. He is a Viking.
Two games in, the Vikings sign the veteran who started four seasons in Denver. Risner had been rumored to be the Vikings' pick in 2019 until they took Garrett Bradbury with their first-round selection. Since then, Risner has moved to guard and become a solid player at the Vikings' weak spot.
The former Bronco allowed 29 pressures in 2022, Ingram allowed 58, and Cleveland 53. He also allowed only 6 QB hits, the two Vikes combined for 38. Similar to what his scouting report said coming out of college, he is still a great pass-blocker. Considering Minnesota's pass-heavy offense that came with Kevin O'Connell, their passing percentage was third in the league last year and is at the top this season; having good pass-blockers should be something to strive for.
According to PFF, no player allowed more QB hits than Cleveland in 2022. He also ranked fourth-worst in pressures allowed. His counterpart, Ed Ingram, has been even worse as he allowed the most sacks, second-most hits, and the most pressures, not just on the team, in the whole league. Risner is certainly an upgrade over Ingram and perhaps over Cleveland, too, especially in pass protection. Why he was available this long is a mystery.
In 2023, Cleveland has played quite well, so he is unlikely to be replaced if not for a trade. The fourth-year player is in the final season of his rookie deal, and the Vikes could opt to trade him away instead of losing him for nothing next offseason.
Also, a possible scenario is that Risner is coming in as a backup, especially because Oli Udoh is out for the season with a quad injury. The timeline of the signing would make sense in that regard. However, he signed a contract for a maximum of $4 million with $2.25 million guaranteed. That is starter money, putting Ingram's job in jeopardy, a man who allowed seven QB pressures and four QB hits in two games, in addition to suspect run blocking and comically forcing a fumble.
One problem of Risner's game is his run-blocking. He is a prolific pass-protector and can help solidify that part of Minnesota's line. Alexander Mattison is unlikely to have larger holes to run through, but keeping Cousins upright should be a priority.
An advantage of Risner is his position flexibility. He can play every position across the offensive line and has been a right tackle in college and a left guard in the NFL. In addition, he has stated in the past that he can play center if needed. That gives the Vikings some flexibility in case of injuries. Center Garrett Bradbury and left tackle Christian Darrisaw missed the Week 2 matchup injured.
It remains to be seen how fast Risner can get used to the playbook and the offense in general. The chemistry between the linemen is also important because they need to function as a unit, so he might be eased in.
Nevertheless, the Vikings signed a serious offensive guard, and it might be the move the team needed to turn the season around. The explosive passing attack may have just gotten more dangerous.
---
Janik Eckardt is a football fan who likes numbers and stats. The Vikings became his favorite team despite their quarterback at the time, Christian Ponder. He is a walking soccer encyclopedia, loves watching sitcoms, and Classic rock is his music genre of choice. Follow him on Twitter if you like the Vikings: @JanikEckardt