Teddy Bridgewater Might Sign Where?
Nov 19, 2017; Minneapolis, MN, USA; Minnesota Vikings quarterback Teddy Bridgewater (5) against the Los Angeles Rams at U.S. Bank Stadium. Credit: Brace Hemmelgarn-USA TODAY Sports.
Teddy Bridgewater's career with the Minnesota Vikings sadly ended after the 2017 season.
The Vikings were just finishing an almost storybook season with Case Keenum at the helm and later signed current QB1 Kirk Cousins to a large and controversial guaranteed contract.
Teddy Bridgewater Might Sign Where?
Since the start of 2018, Bridgewater has evolved into a journeyman passer and now might join a Vikings rival — the Detroit Lions.
Bridgewater worked out in Detroit this week, and a contract — at some point — could follow. NFL Network's Ian Rapoport tweeted Monday, "The Lions hosted FA QB Teddy Bridgewater for a visit, and while no signing is imminent, the two sides will stay in touch."
The Miami Dolphins were Bridgewater's previous employer, as the former Viking served as Tua Tagovailo's backup in 2022.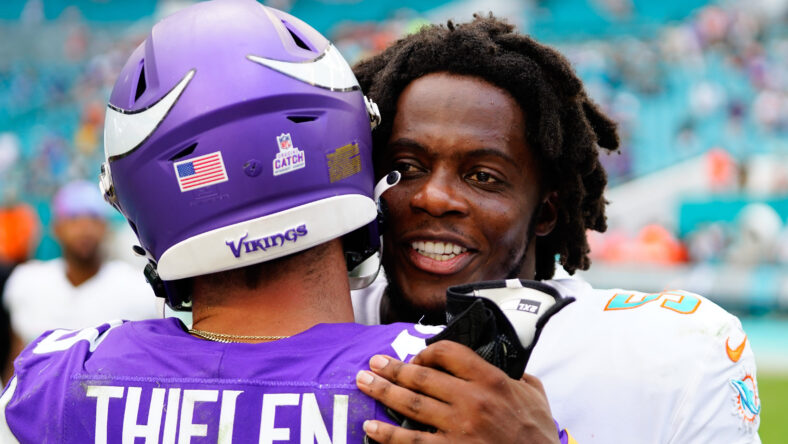 Per Rapoport, it doesn't sound like the Lions are flocking to the table to sign Bridgewater, but a relationship later this summer or autumn should be monitored. Jared Goff, Nate Sudfeld, and rookies Hendon Hooker + Adrian Martinez live in the Lions current QB room.
Minnesota selected Bridgewater in Round 1 of the 2014 NFL Draft as the then-long-term plan for Minnesota's quarterback of the future. Bridgewater took over during his rookie season and immediately looked the part. One season later, combined with Mike Zimmer's blossoming defense, Minnesota won the NFC North in 2015, and life was good.
But the summer of 2016 was a wildly different story. Bridgewater suffered a gruesome knee injury right before the start of the regular season, then-GM Rick Spielman traded a 1st-Round pick to the Philadelphia Eagles for Sam Bradford, and Bridgewater's career was totally altered.
Bridgewater departed the Vikings after the 2017 season and has latched onto various teams in starting and reservist roles since, including the New York Jets, New Orleans Saints, Carolina Panthers, Denver Broncos, and Miami Dolphins. As of July 25th, he remains a free agent, with the Lions perhaps on deck to sign the 30-year-old down the road.
Since leaving the Vikings after the freak injury in 2016-2017, teams led by Bridgewater are 16-21 (.432). Scaled to a 17-game season, Bridgewater has tossed 20 touchdown passes to 11 interceptions per year. In the past, those numbers would've been appetizing — like 25 years ago — but teams have learned that Bridgewater is best suited for QB2.
Bridgewater was arguably in peak form during a couple of spots in his career. First, in 2015, he earned Pro Bowl honors in just his second campaign, guiding the Vikings to that 2015 playoff appearance that was eventually spoiled by a missed 27-yard game-winning field goal against the Seattle Seahawks.
When he landed with the Saints, Drew Brees was hurt for multiple games in 2019 — and the Saints were undefeated to the tune of 5-0 with Bridgewater at the helm. That was the second peak of his nine-season career.
The aforementioned Spielman recently suggested Bridgewater should join the Packers in 2023.
Detroit is the favorite to win the NFC North this season, per oddsmakers, with the Vikings tentatively scheduled for second place with eight or nine wins.
---
Dustin Baker is a political scientist who graduated from the University of Minnesota in 2007. Subscribe to his daily YouTube Channel, VikesNow. He hosts a podcast with Bryant McKinnie, which airs every Wednesday with Raun Sawh and Sal Spice. His Vikings obsession dates back to 1996. Listed guilty pleasures: Peanut Butter Ice Cream, 'The Sopranos,' Basset Hounds, and The Doors (the band).
All statistics provided by Pro Football Reference / Stathead; all contractual information provided by OverTheCap.com.