The Vikings Most Important Free Agent from a National Perspective
The Minnesota Vikings enter the offseason with a lot of uncertainty, especially from a roster-building perspective. Many key players are aging, and contracts are expiring. In addition, the cap space is a major problem for the organization.
General manager Kwesi Adofo-Mensah has to prove his value by righting the ship and setting the team up for success in the near future. Re-signing the right free agents will be a big part of that.
The Vikings Most Important Free Agent from a National Perspective
Minnesota has a few starters entering free agency. Both cornerbacks Patrick Peterson and Duke Shelley played on one-year deals and are free to sign with any team in March. Defensive tackle Dalvin Tomlinson is a free agent after signing a contract with the purple team a couple of years ago.
Running back Alexander Mattison, center Garrett Bradbury, and tight end Irv Smith Jr. were drafted by former general manager Rick Spielman in 2019, and now all have expiring rookie deals.
Cody Benjamin from CBS Sports named the most important free agent for all 32 teams. His choice for the Vikings is Garrett Bradbury.
Cornerback Duke Shelley flashed much-needed spunk in an otherwise porous secondary late in 2022, but Bradbury's role as the anchor of Kevin O'Connell's front might be a touch more important, especially considering his growth after a frustrating start to his career. Kirk Cousins stepped up as a more resilient QB with Bradbury as his interior bodyguard.

Cody Benjamin, CBSsports
Shelley, indeed, played outstanding in his tenure with the Vikings. The Bears cut him after their preseason, and Adofo-Mensah signed him to the practice squad. Unbelievably, Shelley didn't get his chance until multiple cornerbacks were injured.
He looked like the best Vikings' cornerback since prime Xavier Rhodes in 2017. Shelley will get a nice pay raise in free agency. The question is if the Vikings are willing to match it. Considering the top cornerbacks on the roster, Cameron Dantzer, Akayleb Evans, and Andrew Booth, they should offer Shelley a lovely deal to bring him back.
Bradbury will be a big name to follow when free agency begins in roughly six weeks. Offensive linemen are highly sought after in the NFL. More than half of the teams are desperate to upgrade their units. The center struggled heavily in his first three seasons in the league, and fans wanted him replaced by literally anyone else.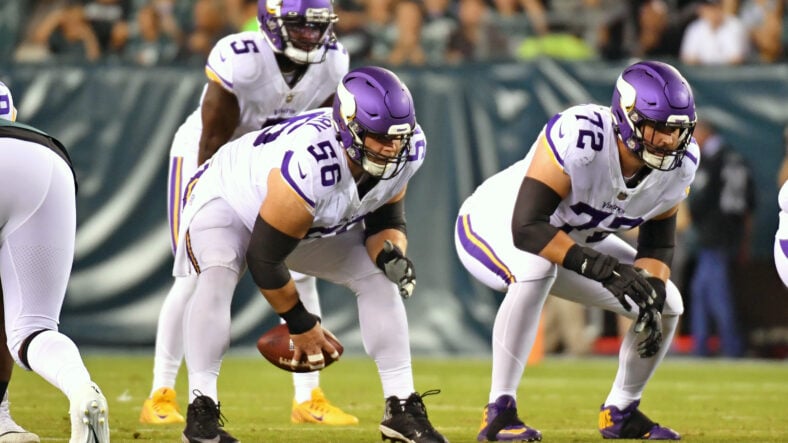 However, Adofo-Mensah and head coach O'Connell trusted the former first-rounder enough to give him the job without bringing in any real competition in the draft or free agency. He paid the trust back with solid play. The Vikings missed his presence when he had to sit out the final five games of the regular season.
However, while he is a solid one, he is still not a great center — by any means. Yet, his projected deal will command a double-digit million-dollar salary per season. It's unlikely that the Vikings will match that and try to re-sign him, considering their cap problems.
Centers are relatively easy to find in the draft, even in later rounds. It's much more plausible for the purple team to look for his replacement at some point in the draft. Another option could be to substitute Bradbury with a cheaper free agent.
Despite considerable investments in the offensive line in the last half of a decade, the Vikings still struggle to protect their quarterback. Kirk Cousins was hit more than any other passer in the league in 2022.
Preferencing pass protectors over run blockers could be something the new regime does, especially considering the pass-happy offense of Kevin O'Connell. Only three teams passed more relative to the running game than the Vikings. Bradbury doesn't fit that mold, as his run blocking has been his specialty while offering questionable pass protection.
---
Janik Eckardt is a football fan who likes numbers and stats. The Vikings became his favorite team despite their quarterback at the time, Christian Ponder. He is a walking soccer encyclopedia, loves watching sitcoms, and Classic rock is his music genre of choice. Follow him on Twitter if you like the Vikings: @JanikEckardt