Revamp in Order for Vikings Interior OL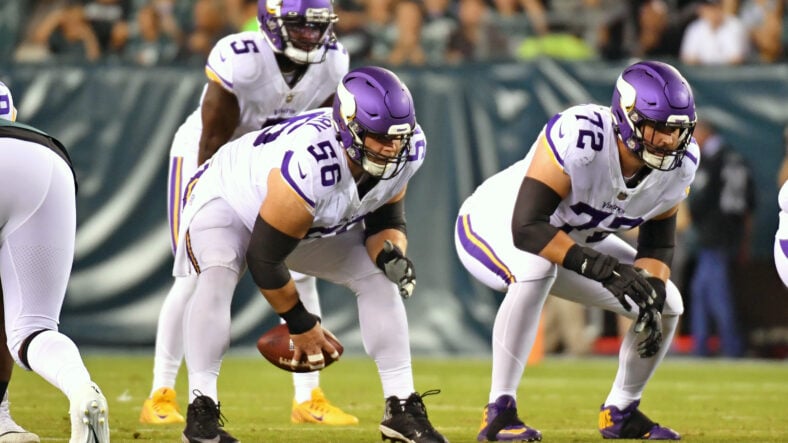 Sep 19, 2022; Philadelphia, Pennsylvania, USA; Minnesota Vikings center Garrett Bradbury (56) snaps the football along side of guard Ezra Cleveland (72) against the Philadelphia Eagles at Lincoln Financial Field. Mandatory Credit: Eric Hartline-USA TODAY Sports
Since Kirk Cousins arrived in Minnesota in 2018 to quarterback the Vikings, fingers have been pointed at the offensive line. There was improvement in 2022, but once again, the unit fell way short against the top-tier defensive fronts.
The middle of the line was the reason for most of the problems. So, do the Vikings need a complete offensive line revamp going into 2023?
Set at OT
The Vikings look well-set at offensive tackle. Brian O'Neill has marshaled the right side for five seasons with consistency. He was arguably having the best season of his career before his injury in the penultimate game in Green Bay, bringing his season to a premature end. His 83.1 grade from Pro Football Focus was the seventh-highest in the league, but impressively for Minnesota, not the highest-graded tackle on the Vikings roster.
Revamp in Order for Vikings Interior OL
That is Christian Darrisaw, who proved himself to be the franchise left tackle the Vikings hoped for when they drafted him in the first round of the 2021 draft. His PFF grade of 90.4 was second only to San Francisco's Trent Williams — the best tackle in the game right now.
Disappointingly, Darrisaw missed a chunk of football in the middle of the season due to a concussion. The Vikings will hope he has better luck with his health in Year 3.
Backing up the starters, the Vikings currently have Vederian Lowe slated for the 2023 season. Oli Udoh is set to be a free agent. Playing in his natural position deputizing for O'Neill to end the season, Udoh impressed, particularly in pass protection. If a cheap deal can be agreed upon, I wouldn't be surprised to see Udoh back next season.
Do Vikings Need Complete Interior OL Revamp?
Let's talk about that interior, then. It wasn't a complete disaster like in recent years. Against some defenses, it was able to hold its own. However, when faced with some of the better defenses the league had to offer, like the Eagles, Cowboys, Packers, and Giants in the playoff game, it once again came up short. 
Cousins was pressured on 166 snaps this last season, more than any other quarterback in the league. When you pay a considerable sum of money to a pocket passer, that's not what you need.
Cousins consistently took big hits from rushing defenders who usually come straight up the middle, seemingly unhindered. That needs to change. Minnesota is fortunate that Cousins is a verified Iron Man who takes these hits without injury week after week.
Let's look at the three starting linemen from 2022 and decide whether they should be back in 2023.
Garrett Bradbury
The obvious place to start is pending free agent Garrett Bradbury. The 2019 first-round draft pick had been a major disappointment since he was drafted. After the Vikings decided not to pick up his 5th-year option, it became a contract year for Bradbury. Under new coaches, he was much improved. His 67.5 grade from PFF was comfortably the best of his career, and he looked like a competent starting center. Unfortunately, a back injury kept him out of the last five games of the regular season.
Bradbury played well enough this season to garner interest from other teams looking for a center. According to Spotrac, Bradbury's market value is an average annual salary of $11.9 million. That sounds like too much for someone who still struggled to hold his ground against the bigger and more elite interior pass rushers. 
Verdict: In O'Connell's more pass-focused offense, a bigger center who excels more in pass protection is the way to go.
Ezra Cleveland
Drafted as a left tackle in the second round of the 2020 draft, Ezra Cleveland has played exclusively at guard for the Vikings. During his time in Minnesota Cleveland, he has been the best guard on the Vikings roster. Unfortunately, the competition has ranged from poor to inept. His PFF grade of 73.4 suggests the Vikings have themselves a competent starting left guard. The Vikings could do much worse than Cleveland, but a closer look at his PFF grade shows something telling.
Cleveland has an excellent run-blocking grade of 80.3. However, his pass-blocking grade is a relatively poor 53.2. Cleveland has trouble handling the bigger, more powerful, and skilled interior pass rushers. With O'Connell's approach to offense heavily focused on the passing game, a guard who is almost a run-game specialist might not be the future. 
Verdict: Minnesota could try and move Cleveland to a team that is more focused on the run game and try to find a better pass protector to play next to franchise left tackle Christian Darrisaw. Alternatively, use mid/late round draft capital to provide competition at left guard.
Ed Ingram
In his rookie season, right guard Ed Ingram was served a baptism of fire. He had an excellent performance in Week 1, but it was a rocky road from that point on. There were some brutal performances in pass protection in the first half of the season and an unfortunate habit of standing on his quarterback. However, there were signs of improvement in the second half of the season, where he started to look like he might be figuring it out.
He finished the season with a disappointing PFF grade of 57.1, which was hampered by his poor pass-blocking grade of 44.4.
Sometimes it takes a rookie a year to fully acclimatize to the NFL. See New York Giants offensive tackle Andrew Thomas, who had a miserable rookie season in 2020. He improved in his second season, and in Year 3, he proved to be a top 5 tackle in the league. I'm not expecting such a meteoric rise from Ingram, but I do believe he will get the chance to show improvement in 2023.
Verdict: Ingram gets a year to show progress. If he fails to do so, then the Vikings must find a replacement next year. A solid, cheap veteran signing as a backup plan would be sensible.
---