The Ultimate Guide to Vikings at Bills
Jun 15, 2022; Orchard Park, New York, USA; Buffalo Bills wide receiver Stefon Diggs. Mandatory Credit: Rich Barnes-USA TODAY Sports.
Jonathan Haak and Janik Eckardt team up for an in-depth preview of Sunday's Vikings road game against the Buffalo Bills.
Bold Prediction
Jonathan: Offensive Fireworks
The Vikings have way too much talent on offense, both on the field and in the coaching staff, to keep struggling as they have been. It's only a matter of time before this offense puts together a complete performance and establishes itself as an offensive juggernaut, so why not put it all together against an elite team like Buffalo? This is also a Buffalo defense that is quite overrated, as they have annihilated a few struggling offenses to really pad their stats.
Another point in Minnesota's favor is Buffalo's defensive line is definitely not the most talented D-Line that the Vikings will face this season, especially with Gregory Rousseau out with injury, meaning Buffalo won't be able to take advantage of Minnesota's biggest offensive weakness, terrible pass blocking on the interior. Without Tre'Davious White, the Bills' CBs are also a possible weakness, which is not good for any team who is about to face Kirk Cousins and Justin Jefferson.
Janik: Dalvin Is Cooking
Dalvin Cook had one 200-yard game in each of the last two seasons. On Sunday, he will reach that milestone for the first time in 2022. Cook cracked the 100-yards only once this season, in Week 8 against the Cardinals. However, the Bills play almost exclusively with two-high safeties and focus on passing defense. Therefore, Cook will have ample opportunities to run the football.
Just last week, the Bills allowed the Jets, with their suspect offensive line, to run all over them in a game that resulted in the Bills' second loss of the season. The Jets didn't even have Breece Hall in their lineup, as the star running back tore his ACL the week before. Michael Carter handled the rushing duties. The Vikings' offensive line can open some holes against a four-man defensive front but struggles against teams with five players at the line of scrimmage, and the Bills usually use four.
Vikings X-Factor
Jonathan: Interior Offensive Line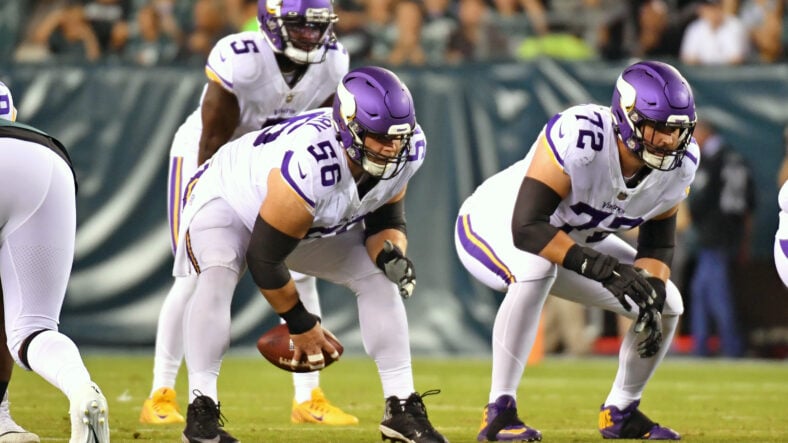 I have no worries about Christian Darrisaw. I have no worries about Brian O'Neill. Come gameday, both of Minnesota's tackles will show up and show out, as they have in every game this season. When you look at the players suited up in between those two stalwart tackles, the worries come in.
Ezra Cleveland is coming off his worst game of the season, and Ingram has struggled in three consecutive games. If the Vikings offense wants to reach its true potential, those two plus Bradbury need to all put it together and allow this offensive line to finally have a dominant performance from tackle to tackle.
Janik: Vikings Linebackers
Josh Allen is among the best passers in the NFL, but teams also fear his ability to scramble. He already rushed for 392 yards and 4scores in 2022. plus rushing for 40 yards in six games. His running ability is especially dangerous on third downs when the defense expects a pass, and he just takes off and runs for the first down.
Jordan Hicks and Eric Kendricks have to account for his runs and stop him before he torches the Vikings' defense. The edge rushers must set the edge and prevent him from rushing outside. Tackling is also a significant factor, as Allen is hard to bring down with his huge body. He looks and runs like a tight end.
Bills Player to Watch
Jonathan: Stefon Diggs
Here is a name Vikings fans are very familiar with: superstar wide receiver Stefon Diggs. Suffice it to say Minnesota's secondary is going to have their hands full covering Diggs on Sunday, regardless of who ends up playing at QB for the Buffalo Bills.
Diggs has likely had this game circled for a couple of years now, and he will be fired up to play against the squad that drafted him and the team that he gave such memorable moments as the famous Minnesota Miracle. Win or lose, it will be fun to watch Diggs on Sunday, both on and off the field, because no matter what happens, he is going to show some emotions.
Janik: Von Miller
The edge rusher has been one of the most dominant forces of the NFL in the last decade. He has seen it all in the league, as he's a two-time Super Bowl champion, including one Super Bowl MVP, a seven-time All-Pro, an eight-time Pro Bowler, and a former Defensive Player of the Year. He'll play against the emerging Vikings' superstar, Christian Darrisaw.
The second-year player is playing like an All-Pro candidate and will face some tough competition. Miller already recorded seven sacks in 2022 after signing a huge six-year $120 million deal with the Bills in the offseason.
Final score prediction
Jonathan: Vikings 31 – Bills 24
Obviously, this game hinges greatly on who's actually playing QB this Sunday. Still, I think Minnesota stands a great chance against a very banged-up Buffalo Bills squad and one that has struggled in recent weeks, even with Allen in. Minnesota will finally put together a complete offensive performance against one of the better defenses they'll play this season. It will walk out of Buffalo with a victory that will put the talking heads on notice, giving Minnesota a pristine 8-1 record going into a tough Dallas game.
Janik: Vikings 27 – Bills 30
The Bills are banged-up, but the team is still outstanding. Minnesota will lose a game at some point, and the Bills are a formidable opponent. After six consecutive one-possession victories, the Vikings finally face an opponent that can take advantage in obvious passing situations late in games. However, the Vikings are also a tough opponent and are not the opponent for a Bills' blowout. If Case Keenum actually starts against his former team, the Vikings would win a close game.
---