Gorski's 2022 Vikings 7-Round Mock Draft
Nov 28, 2020; Seattle, Washington, USA; Washington Huskies defensive back Trent McDuffie (22) reacts following a turnover on downs against the Utah Utes during the third quarter at Alaska Airlines Field at Husky Stadium. Mandatory Credit: Joe Nicholson-USA TODAY Sports
The 2022 NFL Draft is currently two weeks away, and the Minnesota Vikings are slated to own eight picks, beginning in round one with the 12th overall selection. This will be the third time in franchise history Minnesota has owned the no. 12 draft position; they selected quarterback Christian Ponder in 2011 and running back Chuck Foreman (Vikings Ring of Honor Member) in 1973.
Trade
Minnesota Vikings Receive: Pick 16, 98 and 2023 second-round pick 
New Orleans Saints Receive: Pick 12
Minnesota is in a prime position to trade down if both Ahmad "Sauce" Gardner and Derek Stingley Jr. are off the board. Reports have come out recently that both Pittsburgh and New Orleans are going to explore a trade-up if Malik Willis or Kenny Pickett start to slide down the boards and general manager Kwesi Adofo-Mensah should absolutely pick up the phone and figure out a deal to move back.
Being able to move down four spots and acquire an extra third round in this year's draft class and a second next year is where negotiations should start. The goal in any trade back should be to land ammunition for a quarterback-heavy 2023 draft class so they can finally find their heir apparent to Kirk Cousins and the Saints offer under this scenario is a good deal.
Round 1, Pick No. 16: CB Trent McDuffie Washington
PFF Grade: 86.8
NFL Comparison: Jaire Alexander
Minnesota needed to find a way to come away with a cornerback in the first round. Fortunately, after trading back four spots, McDuffie falls right into their laps. He measures at 5'11" at 193 lbs. and has often been compared to fellow division rival Jaire Alexander from the Green Bay Packers. They have similar play styles with the ability to play both outside and in the nickel.
McDuffie appeared in 11 games last season as a redshirt sophomore and finished with 35 tackles, four tackles for loss, and a sack with six pass deflections. He played 296 snaps in coverage, allowing only 16 receptions for 111 yards which resulted in him only allowing 10.09 yards per game along with a passer rating of 52.
He has the talent, intangibles, and IQ to be a lockdown corner in the league. Being able to learn under future Hall of Fame defensive back Patrick Peterson should pay dividends for McDuffie's career.
"Of all the defensive backs that (former Washington) coach (Chris) Petersen recruited, he might be the best," said a Scouting Director for an NFC team. "The talent, athleticism, and makeup are all really clean."
Trade
Minnesota Vikings Receive: Pick 38
New York Jets Receive: Pick 46 and a 2023 fourth-round pick
Kevin O'Connell plans to implement an 11 personnel offense in Minnesota, which will consist primarily of three-and-four wide receiver sets compared to the Zimmer era's two-and-three receiver sets. Adam Thielen is also 32 years old, and KJ Osborn is a nice story, but he isn't the long-term answer to play on the opposite side of Justin Jefferson going forward in the KOC/KAM era.
Minnesota has already done homework on USC wide receiver Drake London and Ohio State wide receiver Garrett Wilson according to Darren Wolfson from Five Eyewitness news. There is a good chance Minnesota potentially targets a wide receiver early in the draft.
Moving up eight spots with the Jets to secure pick 38 is a move you make if the right guy becomes available and only parting ways with a 2023 fourth round is good value that Adofo-Mensah could explore.
Round 2 Pick No. 38 (Via NYJ): WR Skyy Moore Western Michigan
PFF Grade: 91.8
NFL Comparison: Golden Tate
Skyy Moore would be a homerun pick for Minnesota, he has the ability to become a weapon all over the field, but he is expected to stick in the slot early on at the NFL level. He is 5'10 and weighs around 195 pounds with blazing 4.39 speed. On tape, Moore plays bigger than he actually is and thrives under the lights, no moment is too big for him and his energy on the football field is a perfect complement to Jefferson.
Moore played in 12 games last season as a redshirt sophomore and finished with 95 receptions (tied 9th in FBS) for 1,292 yards (13.6 YPC) and 10 touchdowns. He played 405 snaps this past season, in which 295 appeared on the outside and 140 inside as the slot receiver. Moore comes across as more comfortable inside due to his struggles to create separation on the outside against bigger and more physical defensive backs, but he's too physically talented to keep off the field.
Adding Skyy Moore to an already impressive skills group of Justin Jefferson, Adam Thielen, and KJ Osborn will keep defensive coordinators up late at night, and Kirk Cousins will finally have a true deep threat to take the top off defenses since Stefon Diggs left.
Round 3 Pick No. 77: Dylan Parham Memphis
PFF Grade: 78.8
NFL Comparison: Andy Levitre
Dylan Parham would make a lot of sense because Minnesota still hasn't resolved the right guard position. He's primarily played right guard but has shown flexibility to play tackle, and Minnesota has always loved versatility when it comes to drafting offensive lineman.
Parham played 12 games last season, including 545 pass-blocking snaps and 336 run-blocking snaps. He was impressive last season in his first full year at right guard, and he didn't allow a single sack but did give up two quarterback hits and eight hurries.
Parham truly does fit Minnesota's mold, and he will compete with Jesse Davis and Wyatt Davis for the right guard position. Drafting Parham also gives flexibility all over the line. Many experts believe he could play center as well, which would give him experience at four out of the five offensive line positions.
Round 3 Pick No. 98: C Luke Fortner Kentucky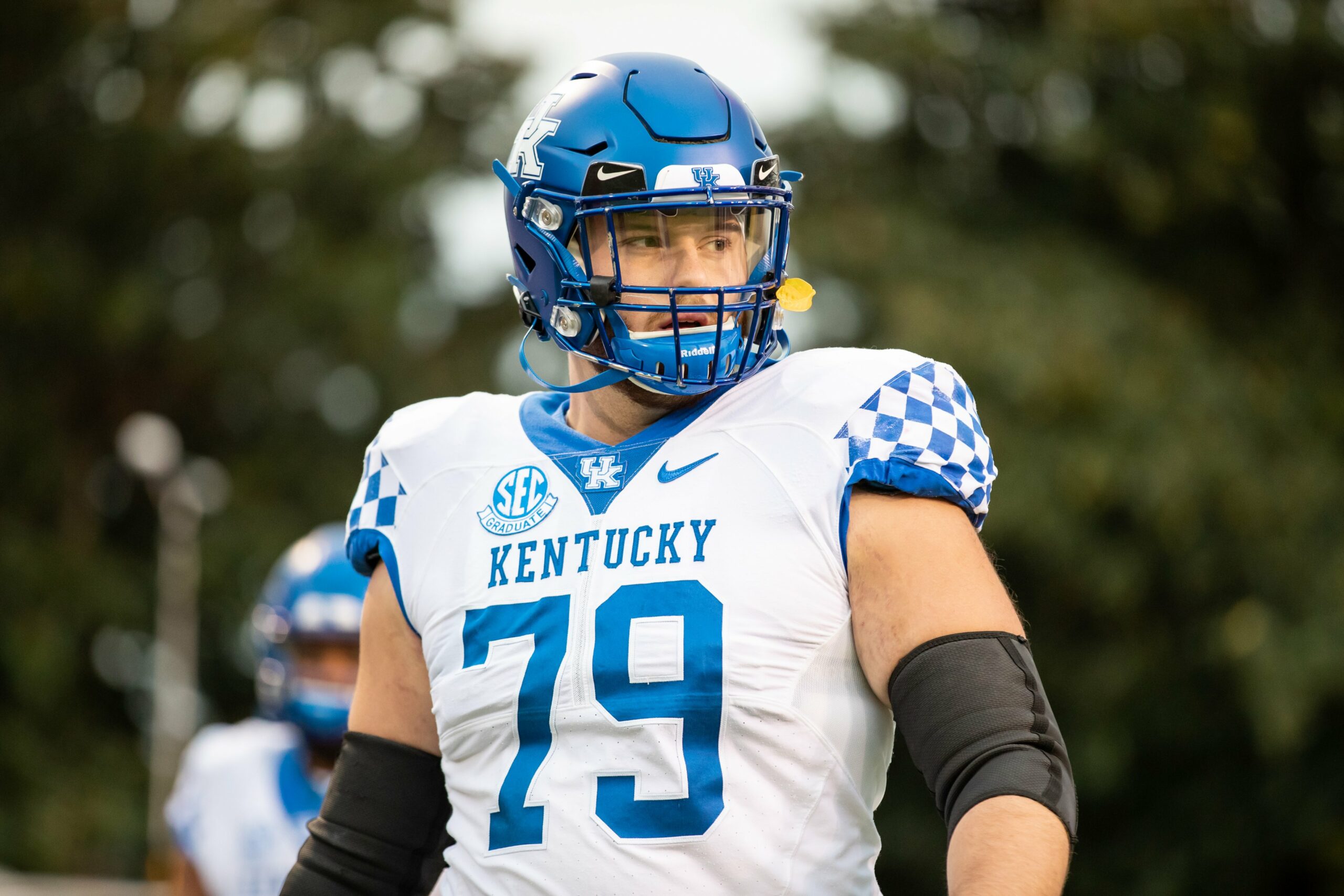 PFF Grade: 85.0
NFL Comparison: Matt Skura
Luke Fortner has the potential to be Minnesota's day one starting center; he's the complete package and an instant upgrade over 2018 first-round bust Garrett Bradbury. Fortner measures at 6'4″, 307 lbs. and is described as an absolute mauler that will bury players into the turf, and he's a high charter teammate on and off the field, according to NFL Network's Lance Zierlein.
He played in 13 games last season, including 429 pass-blocking snaps and 419 run-blocking snaps. He played center for the first time in his career and absolutely flourished in the new role, and he only allowed two sacks but only allowed one quarterback hit and two hurries.
Fortner seems to check all of the boxes that Minnesota looks for in their offensive lineman, but more importantly, he provides flexibility since he has played both guard and center. If Minnesota drafts Fortner, there could be a scenario where Bradbury is dealt for a late-round pick during draft day weekend.
Round 5 Pick No. 156: CB Cordale Flott, LSU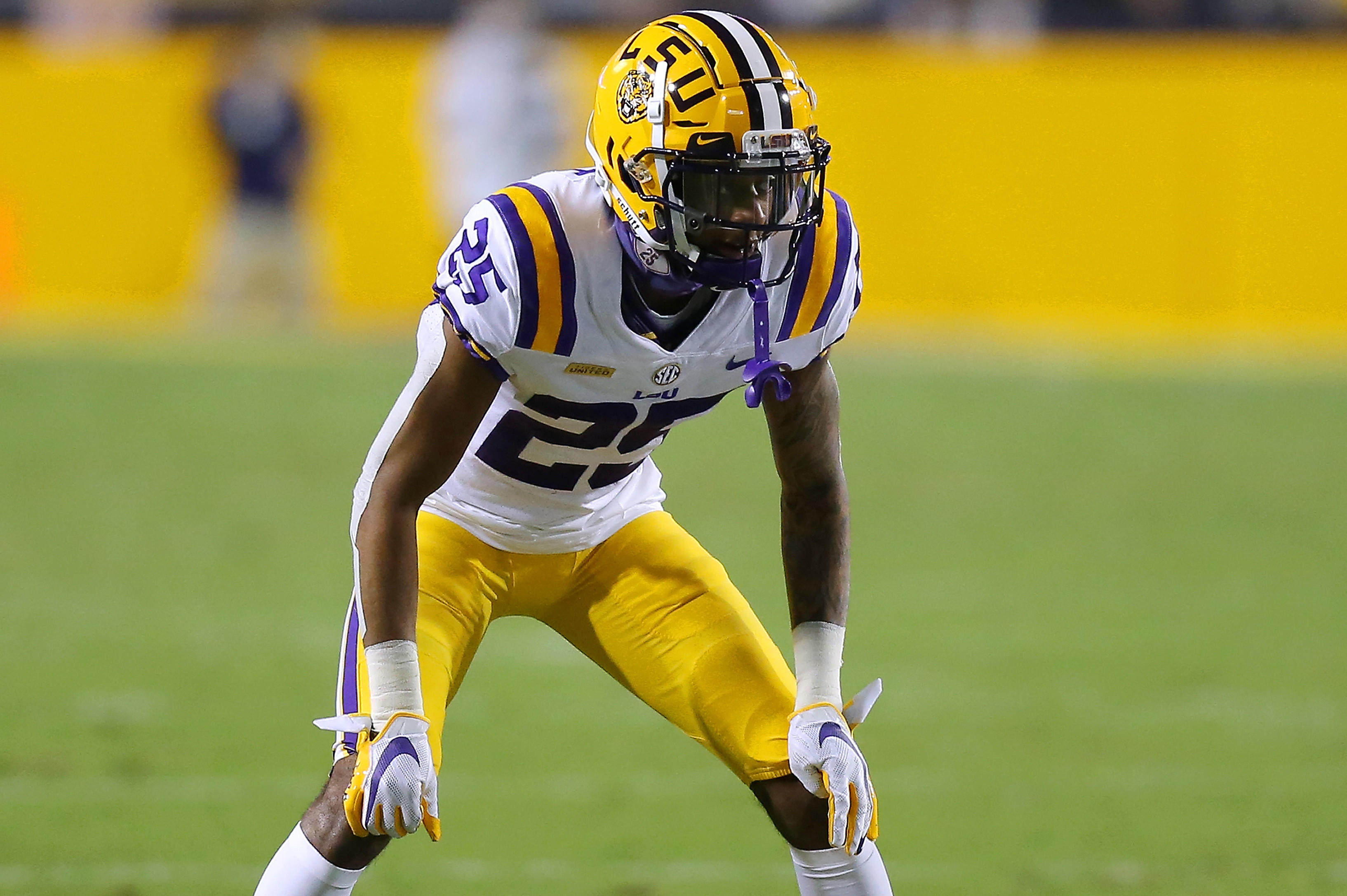 PFF Grade: 81.3
NFL Comparison: Walter Thurmond
Minnesota should continue adding to the secondary, and since they will likely miss out on Derek Stingley Jr. and Cordale Flott might not be a second choice out of LSU. The Vikings defensive backs coach Daronte Jones came from LSU as their defensive coordinator, so he has already developed a relationship with Flott. Patrick Peterson also could take him under his wing and groom him considering Peterson was drafted out of LSU as well.
Flott appeared in 11 games last season and finished with 40 tackles, three pass deflections, and a forced fumble to go along with an interception. He played 347 snaps in coverage, allowing only 23 receptions for 249 yards which resulted in him only allowing 22.63 yards per game.
As Minnesota enters the fifth round, finding depth is absolutely vital, and Flott has the potential physically to be an everyday outside corner. Teaming up Flott with Peterson, Dantzler, McDuffie, and Sullivan would complete an overhaul to a cornerback unit that was arguably the worst in football last season.
Round 6 Pick No. 184: RB ZaQuandre White, South Carolina
PFF Grade: 82.5
The Minnesota Vikings will need to decide on both Dalvin Cook and Alexander Mattison after the 2022 season. Cook is getting older and Mattison will likely land starter money on the open market. It's time to look for a potential Mattison replacement, and ZaQuandre White has the tools to be his replacement.
White played in just nine games last season, but he did rush for 557 yards on 87 carries and scored two touchdowns while averaging an impressive 6.3 yards per carry. He's a very shifty running back, and I think he has the potential to transition to wide receiver. Similar to Nwangwu, he could be too explosive to keep off the field.
By no means would White be guaranteed a roster spot, but he would probably have a good chance at sticking around on the practice squad. This gives Minnesota an opportunity to groom him and have insurance in case Mattison departs in free agency or Dalvin Cook is hypothetically traded next offseason.
Round 6 Pick No. 191: DT Curtis Brooks, Cincinnati
PFF Grade: 82.3
Curtis Brooks could be the steal of the draft for Minnesota. He was a part of the Cincinnati Bearcats defense that carried them to their first-ever College Football Playoff appearance. Finding some defensive projects late in the draft will be critical for Adofo-Mensah, and Brooks checks all boxes. 
Brooks played in 14 games last season, recording nine sacks, six quarterback hits, and 28 hurries to go along with a forced fumble. He also has plenty of experience playing on the defensive line that includes 294 snaps in the A gap and 216 snaps in the B gap.
He fits exactly what Minnesota is looking for and has the potential to make the final 53-man roster. By no means is Armon Watts guaranteed a starting spot, but Brooks can absolutely compete in training camp. Taking Brooks could be a low-risk, high reward, and a possible late-round gem for Minnesota.
Round 6 Pick No. 192: K/P Matt Araiza, San Diego State
PFF Grade: N/A
Minnesota hasn't had the best of luck when it comes to special teams, but Matt Araiza could be the answer. Greg Joseph was brought back, but the biggest question is what happens at punter? Jordan Berry played well last season, but Araiza could be the long-term answer, and he has the experience of playing both kicker and punter.
Araiza played all 14 games last season and punted for 4,044 yards and averaged 51.2 yards per punt. He also has experience as their placekicker, and during his career, he converted 50-of-68 field goals with his longest at 48 yards.
The Vikings could create an open punter competition between Berry and Araiza, but I think the smart move would be to roll with a cheaper and younger option in Araiza. If Joseph has any hiccups during the season, Araiza could step in and play both positions. He is a no-brainer pick for Minnesota, which has a history of special team failures.
Round 7 Pick No. 250: LB Nephi Sewell, Utah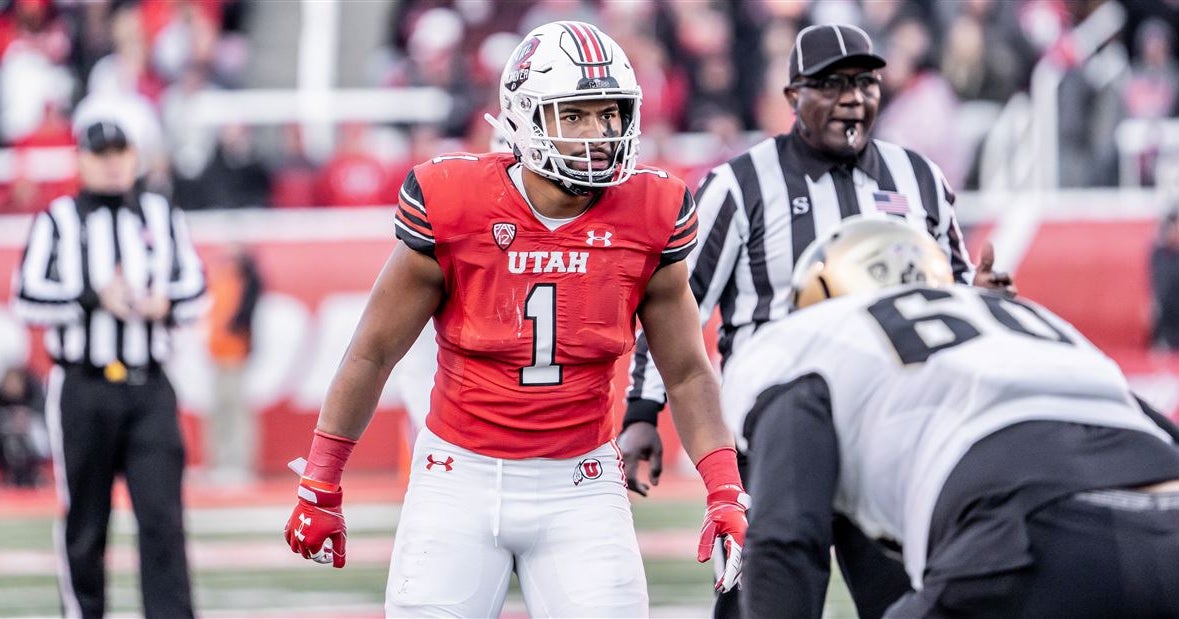 PFF Grade: 72.0
Minnesota will be looking for some late-round gems late and Nephi Sewell could make a lot of sense here if they don't target a linebacker early. He's the brother of Detroit Lions offensive lineman Penei Sewell, and he's been an outstanding player at Utah. He was the second-highest graded PFF linebacker in the Pac-12 last season behind teammate and first-round projected linebacker Devin Lloyd.
Sewell played 13 games last season as a redshirt junior and recorded 89 total tackles that included 7.5 for losses to go along with an interception and forced fumble. The season prior, he ended up with two interceptions, two pass deflections and a forced fumble.
Drafting Sewell and developing him at linebacker could make some sense considering Eric Kendricks is getting older with a high cap hit. Since Minnesota is running a 3-4 defensive scheme, they will likely use more linebackers on the final 53 compared to before. Sewell has upside and is a nice project for Minnesota in round seven.