Vikings CB's Advice on Officiating: "Debate Your Mama."
The Minnesota Vikings chipped off the New England Patriots on Thanksgiving, a team with the NFL's best defense heading into Week 12.
And en route to the 33-26 triumph, controversy swirled about a would-be touchdown that was called back via replay review.
But the man who defended Hunter Henry's incompletion on the field, Chandon Sullivan, has advice for it-was-a-touchdown truthers, "Debate your mama."
The play fundamentally changed the game, as the Vikings marched thereafter and closed out New England, temporarily leaving the Patriots in the AFC's eighth playoff seed at 6-5. The Vikings, on the other, remain in the No. 2 hole inside the NFC postseason race behind the Philadelphia Eagles.
Here's the Sullivan tweet:
This is quasi-Zapruder film of the play in question:
This is what Patriots fans see and saw:
The black glove — no, this isn't the Simpson trial — is very clearly underneath the ball. But Vikings fans cling to the next frame, which vividly illuminates the ball hitting the turf.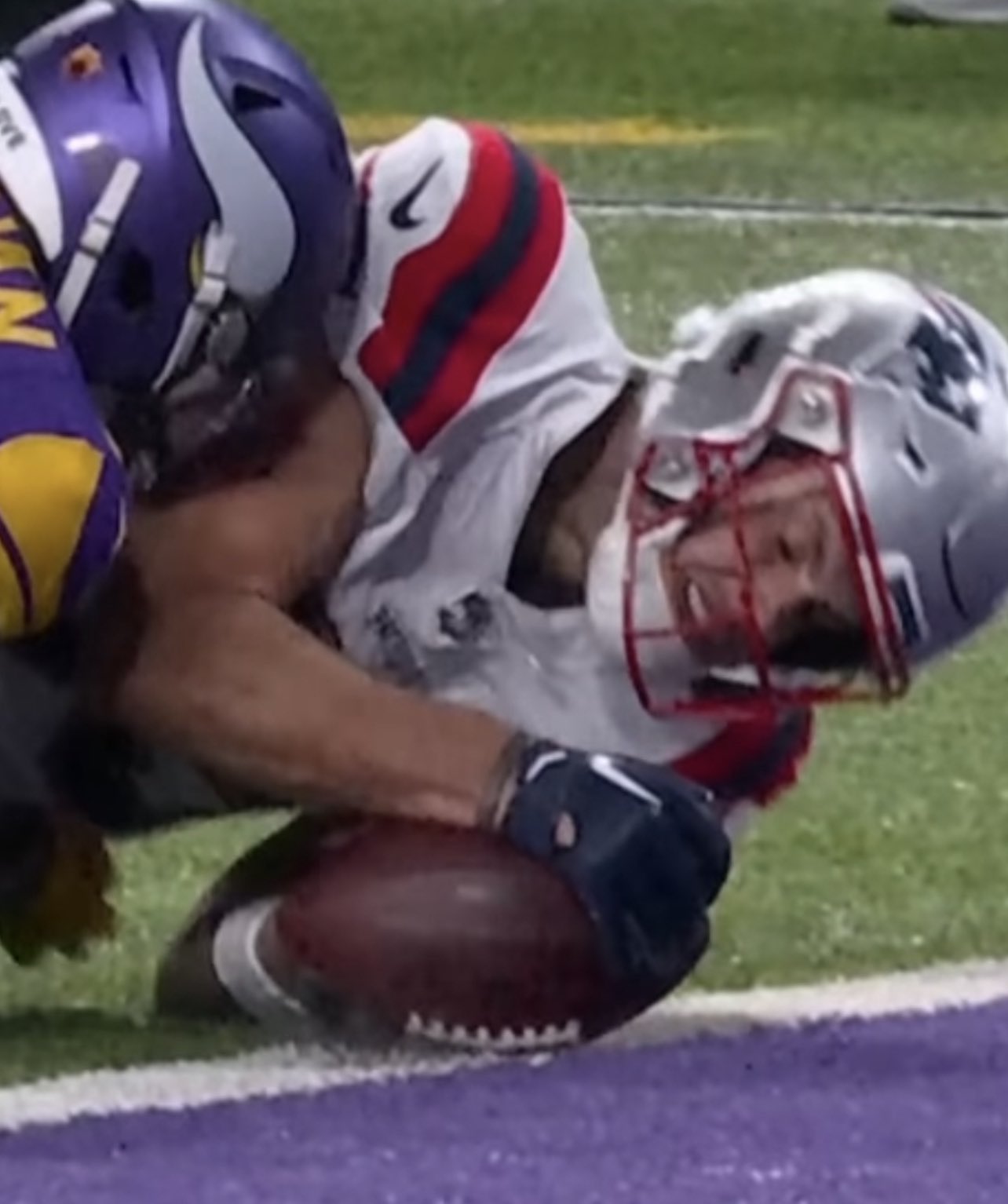 After the game, Tony Dungy aptly summarized HenryGate on Twitter, "One thing is pretty clear to me in seeing the reaction to this Hunter Henry play from last night. People see what they want to see."
Vice President of NFL Officiating Walt Anderson defended the call:
Overall, the play is over, the Vikings won, New England lost, and the defender on the play insists you debate your mother.
The Vikings host the New York Jets in Week 13, owning an early three-point spread advantage per oddsmakers. Minnesota needs either two wins or two Detroit Lions losses (or combination thereof) to wrap up the NFC North for the first time since 2017.
Minnesota's victory over the Patriots was the team's first against New England in 22 years.
---
Dustin Baker is a political scientist who graduated from the University of Minnesota in 2007. Subscribe to his daily YouTube Channel, VikesNow. He hosts a podcast with Bryant McKinnie, which airs every Wednesday with Raun Sawh and Sal Spice. His Viking fandom dates back to 1996. Listed guilty pleasures: Peanut Butter Ice Cream, 'The Sopranos,' and The Doors (the band).