Stefon Diggs' Cryptic Tweets Raise Eyebrows. Again.
Stefon Diggs
Within 24 hours, Tyreek Hill was unthinkably traded by the Kansas City Chiefs to the Miami Dolphins, and now Stefon Diggs' cryptic tweets are raising eyebrows — again.
The 2022 NFL offseason has evolved with tremendous adventure, as Russell Wilson, Deshaun Watson, Davante Adams, Tyreek Hill, Khalil Mack, Carson Wentz, and Matt Ryan have all been traded — some of those transactions truly unforeseen and rim-rocking.
So when Stefon Diggs, who has a history of opaque tweets, posts this to Twitter, wheels begin to spin.
Of course, this could mean absolutely nothing, just thoughts of the day by Diggs pertaining to something unrelated to football.
Yet, the Tyreek Hil trade kicked up from nowhere, and a deal from the Chiefs to Dolphins was done within an hour. The days of surmising trade talks are foolish or gossipy seem to be over because the rumor mill has an impressive record amid the last few months.
Diggs played for the Minnesota Vikings for five seasons, drafted from the 5th Round of the 2015 NFL Draft. He quickly rose to prominence. His legacy culminated when Case Keenum connected with the Maryland alumnus to orchestrate The Minneapolis Miracle, a walk-off touchdown that eliminated the New Orleans Saints from playoff contention in 2017.
Two years later, Diggs grew antsy in Minnesota, disgruntled with the run-happy offense showcased by former head coach Mike Zimmer. Diggs started tweeting comments — like the one illustrated above — forcing fans to ponder life without Diggs.
Ultimately, Diggs got his way and was traded to the Buffalo Bills in 2020, later netting Justin Jefferson, Camryn Bynum, Zach Davidson, Janarius Robinson, and Kenny Willekes for the Vikings.
The cryptic-tweet leadup to the trade was constant and lasted months, ending with this farewell post by Diggs:
The Bills would have little structural incentive to trade Diggs as the veteran wideout has been marvelous in the AFC East. Since departing the Vikings, Diggs ranks fourth leaguewide in receiving yards behind [in order] Justin Jefferson, Davante Adams, and Cooper Kupp.
Too, Diggs may want a revised contract. During 2022 free agency, players like Christian Kirk netted mammoth deals, creating a sizable gap between Diggs' current $14.4 million per-season salary and lower-tier wide receivers.
Otherwise, if it's not a trade looming or contractual grievance — then this famous tweet explains it.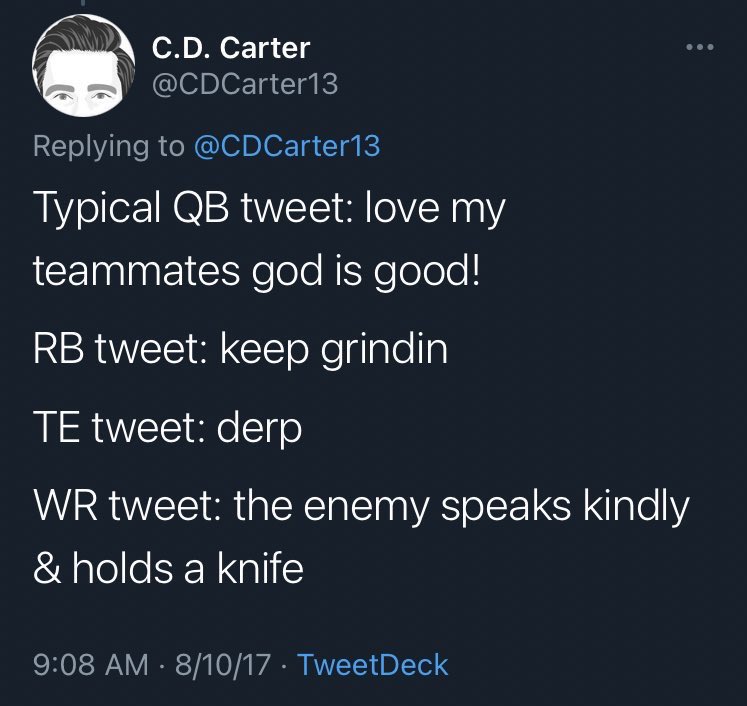 ---
Dustin Baker is a political scientist who graduated from the University of Minnesota in 2007. His YouTube Channel, VikesNow, debuts in March 2022. He hosts a podcast with Bryant McKinnie, which airs every Wednesday with Raun Sawh and Sally from Minneapolis. His Viking fandom dates back to 1996. Listed guilty pleasures: Peanut Butter Ice Cream, 'The Sopranos,' and The Doors (the band).