Former Viking QB's Urinal Bothers Packer Fans
Packers Urinal
In jest, fans of the Minnesota Vikings post pictures of themselves to social media next to a Green Bay Packers-themed urinal located at the home of former Vikings quarterback Tommy Kramer.
It's a rite of passage for former players, fans, etc., who visit Kramer's home — in the spirit of the Vikings-Packers 62-year rivalry.
Over the weekend, Kramer evidently installed a new urinal, which re-ignited the ire of Packers fans on Twitter. The bathroom hardware was called "weird," "sad," "rent-free," and "bizarre" by various Packers commenters.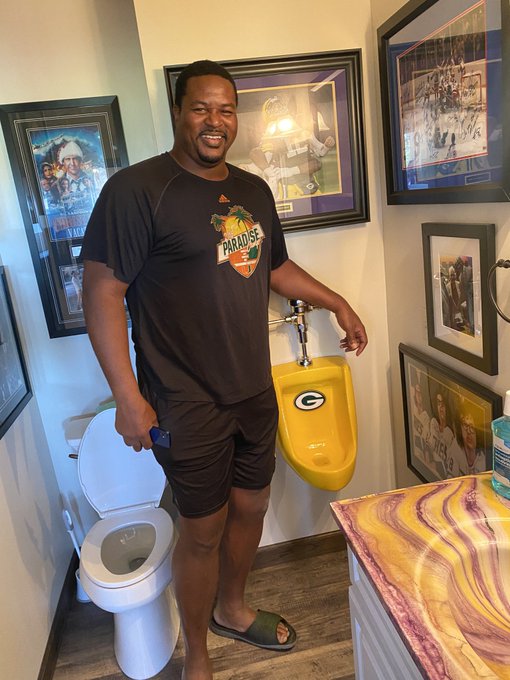 Particularly, the photo above the urinal of Anthony Barr was skewered, as some Twitter users decided the picture glorified an injury to Packers quarterback Aaron Rodgers.
Overall, though, Packers fans used the tweet by Kramer to switch the topic, deciding it was smart to lift up Kramer's 6-9 "quarterback record" against Green Bay during his playing days.
It is unclear how the installation of the urinal relates to a player's win-loss record some 35 years ago.
Others scrutinized the urinal facetiously as the "best moment in Vikings history."
Meanwhile, another fan called the latrine a metaphor.
Kramer played for the Vikings from 1977 to 1989. He ranks second in franchise history in passing yards and passing touchdowns. In addition to the lightheartedness of the urinal, he engages current Vikings fans more than most. Kramer can be frequently found around the midwest signing autographs for fans. He even has a Vikings-themed limousine in which he hosts fans.
Last November, Kramer reached out to a man whose Viking-fan father passed away, connecting for a game together.
The Vikings and Packers play in Week 1 at U.S. Bank Stadium. Regular urinals are used at the facility.
---
Dustin Baker is a political scientist who graduated from the University of Minnesota in 2007. Subscribe to his daily YouTube Channel, VikesNow. He hosts a podcast with Bryant McKinnie, which airs every Wednesday with Raun Sawh and Sally from Minneapolis. His Viking fandom dates back to 1996. Listed guilty pleasures: Peanut Butter Ice Cream, 'The Sopranos,' and The Doors (the band).