2014 Minnesota Vikings: Schedule Released, Functionally
The Minnesota Vikings have unofficially released their 2014 schedule, which really just orders what we know in terms of who we play. Via @adamisthesoty (h/t to @VikingsCorner for pointing me in the right direction), it was released in image form, as below: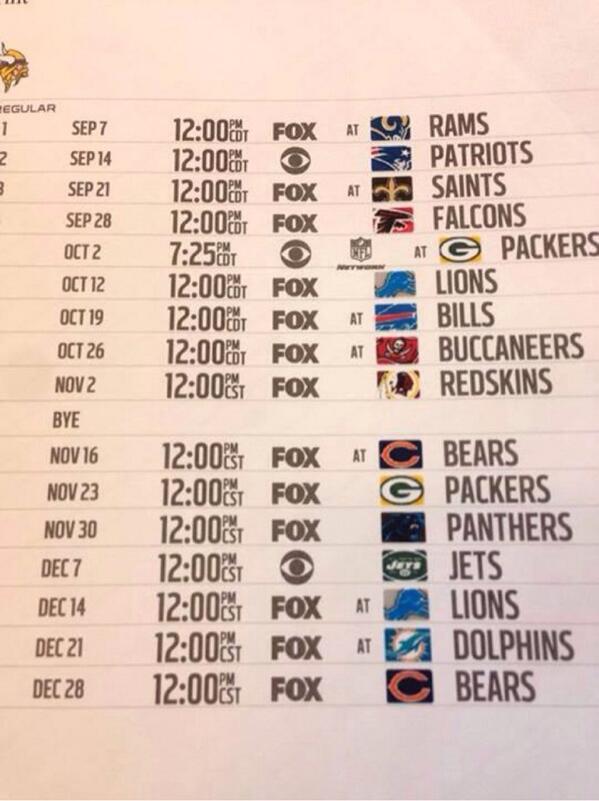 Hooray.
The Vikings home opener will be against one of the few teams that made the AFC exciting last year, with the New England Patriots in Week 2, but their first game will be against the "weakest" of the NFL's strongest 2013 division, the St. Louis Rams. With tons of draft picks (a result of the RGIII trade), the Rams are poised to cause a lot of damage, especially if they trade down in the 2014 draft, too.
Minnesota will shortly thereafter play against the New Orleans Saints, hopefully reviving a rivalry that sparked and died after Favre became bad.
The only nationally televised game (before flexing) will be against the Packers on the NFL Network, and that will be at Lambeau. The Vikings' notorious weakness for primetime games won't bite them too much, then.
As has become the norm, the Vikings are finishing out against a divisional team, but the NFL has chosen not to let the NFC North finish with any of their strong traditional rivalries, with the Packers playing the Lions in the last week, and the Vikings against the Bears (which is a rivalry, but not the same as Vikings-Packers or Packers-Bears).
If strength-of-schedule means anything (it doesn't), then the beginning of the season looks like it will be tough, with the rest looking a bit easier. In text:
WEEK ONE: September 7th—12:00PM CDT at St. Louis Rams
WEEK TWO: September 14th—12:00 PM CDT vs. New England Patriots
WEEK THREE: September 21st—12:00 PM CDT at New Orleans Saints
WEEK FOUR: September 28th—3:25 PM CDT vs. Atlanta Falcons
WEEK FIVE: October 2nd—7:25 PM CDT at Green Bay Packers
WEEK SIX: October 12th—12:00 PM CDT vs. Detroit Lions
WEEK SEVEN: October 19th—12:00 PM CDT at Buffalo Bills
WEEK EIGHT: October 26th—12:00 PM CDT at Tampa Bay Buccaneers
WEEK NINE: November 2nd—12:00 PM CDT vs. Washington Redskins
WEEK TEN: BYE
WEEK ELEVEN: November 16th—12:00 PM CDT at Chicago Bears
WEEK TWELVE: November 23rd—12:00 PM CDT vs. Green Bay Packers
WEEK THIRTEEN: November 30th—12:00 PM CDT vs. Carolina Panthers
WEEK FOURTEEN: December 7th—12:00 PM CDT vs. New York Jets
WEEK FIFTEEN: December 14th—12:00 PM CDT at Detroit Lions
WEEK SIXTEEN: December 21st—12:00 PM CDT at Miami Dolphins
WEEK SEVENTEEN: December 28th—12:00 PM CDT vs. Chicago Bears
It looks like a relatively late bye (Week 10 was big for byes in the last two years) and four of the last seven games (traditionally cold) outdoors in cold climates.
UPDATE: PER THE VIKINGS OFFICIAL PUBLIC RELATIONS TWITTER, THE ATLANTA GAME WILL ACTUALLY BE 3:25 PM CDT
@GoesslingESPN 3:25 pm CT kickoff scheduled for 9/28 vs. Atlanta Falcons.

— Vikings PR (@VikingsPR) April 24, 2014
Well, then.
ALSO UPDATE: I guess the Vikings will play against Leslie Frazier in Week Eight, so there you go. Grudge something against the old NFC Central rival.